Checklist: 9 Ways to Keep Sponsors Happy, Before and After the Event
Here's how to engage, surprise, and delight top event donors—and keep them coming back for more.
August 28, 2015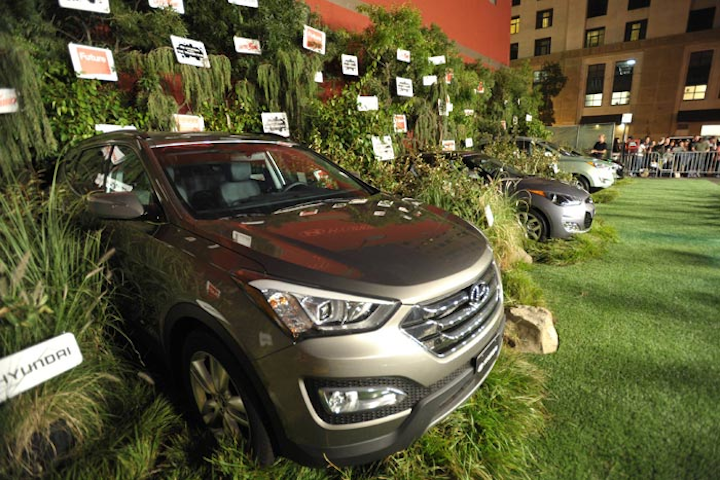 Photo: John Shearer/Invision for Full Picture/AP Images
Years ago, putting a sponsor's logo on an event program or banner may have been considered adequate acknowledgement for a company's involvement in an event. But with the advent of the digital age—and a new frontier of customized sponsorship packages—everything has changed. Here's how to develop packages that cater to sponsors' unique needs, keep partners satisfied during events, and up the chances of a return commitment.
1. Cater to your sponsors' unique needs.
The days of prepacked sponsorship benefits are over. "When you meet with your sponsors for the actual event, ask regularly: What do they want? And, what's their objective?" advises Toni Short, founder and chief experience officer of the Shortlist Agency in New York. "Listen, and be flexible and open. Really ask: What turns the needle for you, and how can we achieve that, instead of coming to sponsors with an already curated package that potentially doesn't quite fit what they're looking for."
Indeed, "keeping a sponsor happy begins long before the event," says Paula Menzes, director of sponsorship and cause marketing for SickKids Foundation in Toronto. "It starts the day of your first discussion about engaging them in the event. Success is based on understanding the sponsor's purpose, goals, and brand. Do not send out a generic pitch with all the engagement levels outlined in a laundry list of levels. Do your research; understand the market, the business sector, and the way your opportunity fits into the prospect's mix."
2. Get to know your clients on a personal level.
"We try to learn the DNA of the sponsor and their brand proposition, but we also try to learn a little bit more about who the people [behind a company] are," says Vince Thompson, founder, chairman, and C.E.O. of Melt in Atlanta. "If we're doing an event for a charity and we have a major underwriter, we try to find out if that underwriter has an emotional stake in the cause. So, if we're doing a fund-raiser for arthritis, for example, we find out if they have somebody in their family that suffered from arthritis. [To make sponsors feel acknowledged], you really need to dive deep into not only the DNA of the sponsor company, but the DNA of the people who actually are writing the check. Do something that really humanizes the investment."
3. Integrate sponsors organically into the event.
When designing a sponsor activation at an event, Menzes says, "endeavor to become an extension of [the sponsor's] brand in the execution. Above all, the acknowledgement should be in line with the sponsor's brand, reflective of its organizational culture, and reflective of the event's brand."
"One of my personal favorite [ways to integrate sponsors] is activating a sponsor's brand and product on site and enabling them to completely and very visibly 'own' something," says Keith Gordon, chief operating officer of Fight For Children in Washington, which hosts an annual Fight Night. "This can be done to almost any scale, but really depends on the type of event. From branded drinkware to branded entertainment, to outfitting personnel, to transforming entire spaces into experiences, the sky's the limit."
"The old format that we were all used to was: here's a board, and this is where the sponsors live," Short says. "Now, sponsors are a part of everything, whether it's having specialty drinks or food—or entire food stations—named after them, or having an experience that lets people integrate with their brand in a natural way. This may be something as simple as having a phone-charging station, which nobody can get enough of it because we all need it. Sponsors want to get outside of the box and be really integrated into the event, instead of having their logos on a screen." As Menzes puts it: "Avoid logo soup."
4. Don't forget the digital space.
"Social media has opened up so many more lanes of acknowledgment, appreciation, and integration," Thompson says.
"In the old days, we might have given sponsors a poster or a banner at a gala," Short says. "Now, a [sponsor benefit] could be getting someone to tweet or Instagram on their behalf. Companies will tell you: We want a certain number of tweets throughout the event—that's going to have more impact than having our logo on every napkin."
5. Pamper sponsors with on-site perks.
"With Fight Night, we've traditionally provided our highest-level sponsors with access to extremely limited, highly desirable elements of events, such as exclusive meet and greets with celebrities, actors, musicians, and athletes," Gordon says. "We also provide a higher level of service and attention to their needs. There are many ways to accomplish this, including changing up the total number of courses in their dinner—five versus three, for example—providing a different size, setting, or location of their table, even slightly elevating them so they're higher than the rest of the room."
Thompson and his team have recreated atmospheres that resemble Oscar or Emmy ceremonies for their V.I.P. sponsors, setting up red-carpet entrances or step-and-repeats. "The competitive market for sponsor dollars has driven sponsors to have a higher expectation of what their event experience is going to be like, as it should," he says. "You have to make them feel extra special."
6. Facilitate networking.
"Another way to integrate sponsors into events is by making intros between like-minded people or companies at the event," Short says. "There could be some great synergy between companies or people that are doing really innovative, fun things. Be that hostess with the mostess and get sponsors to ingrate with other people by saying, 'Hey, you guys should talk to each other,' or, 'Have you ever thought about collaborating? Could we take this [sponsorship] to the next level next year, and make this a three-way thing that really speaks to you?' It's a missed opportunity if people are sitting in a corner drinking champagne and not thinking about the next step."
"A lot of people forget something really simple: a name tag," Thompson says. "That name tag can facilitate a lot of conversations. We'll say something like, put one little factoid about yourself, whether it's where to you went to school or your favorite food, on your name tag. When you're in an [event] environment, you also want to promote discussion, relationship building, and networking, and when you put a bunch of sponsors in a room, you want to create common ground as much as you can."
7. Manage expectations.
Aim for "no surprises, and manage expectations throughout the event development," Menzes says. "Provide timelines, approval processes, provide a walk-through of the venue so they feel familiar and comfortable and in control. This will allow sponsors to have a feeling of ownership and confidence to host, as if they were in their own home."
Still, some surprises at an event can be unavoidable, and in that case it's important to communicate. Instead of brushing changes under the rug, "Tell the client immediately, 'That didn't work, but we did this instead, does that work?'" Short says.
8. Provide post-event materials quickly.
"Timing is probably the most crucial thing in post-event thanks," Menzes says. "Within 48 hours after an event, we provide our partners with an event day snapshot. This one-pager includes the event success points such as number of attendees, dollars raised, results or success points specific to the sponsor, and the inclusion of a few photos unique to that sponsor."
Short's team has created clearly labeled Dropbox folders or photo books for event sponsors. "It saves clients the work, and then they can get photos out quickly on social media," she says.
9. Customize a thank-you note or gift.
"The simplest form [of thanking a sponsor after an event] is traditional personal outreach—a call, an email, or handwritten note that is delivered within one week, max," Gordon says. "My personal favorite idea, if budget allows, is a custom-edited video thank-you message from my team to theirs, highlighting their activation and experiences from the event. The more tailored and personal you can make the message, the more likely it is to accomplish its goal."
"I spend a lot of money on incredible business cards and paper cards," Short says. "I just know how beautiful it is to get something like that in the mail, and nobody does that anymore."
Featured Venues/Suppliers: