See a Photo Booth Triggered by Smiles
Find out how Air Miles is using the booth to reward its members around Canada.
October 1, 2015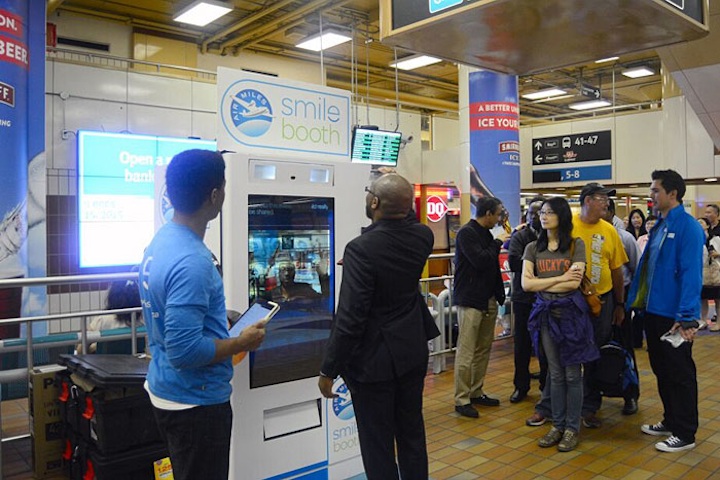 Photos: Courtesy TrojanOne
When Air Miles, a Canadian loyalty card program, launched its Smile Booths in May, the intent was to use them for one month at retail partners around the country. But the program has proved so popular that the company made the machines a standard component of its activations at music festivals, sporting events, and other marketing opportunities. Created by Wondermakr in partnership with experiential agency TrojanOne, the booth is a new twist on a photo booth and a vending machine: It only takes a photo when the person in front of it is both smiling and holding up an Air Miles card. After taking the photo, the machine dispenses a gift, such as headphones, concert tickets, bonus miles, or certificates for larger items such as a vacuum or a grill.
"We wanted something where we could meet with consumers one-to-one to increase engagement and build an emotional bond with them," said Anna Medeiros, brand manager for the Air Miles reward program. "It's quick, no more than two minutes for activation end-to-end, and it happens right before your eyes by just doing something like smiling, which is obviously a joyous act. And everybody walks away with something."
In addition to a prize, cardholders—also known as collectors—instantly receive a copy of their photos via email. During the initial promotion in May, Air Miles also displayed the photos on four large digital billboards around Canada.
"Air Miles said they wanted to do something that rewards collectors in an unexpected way. So this is not only using the relationship a collector has with his card to trigger the whole experience, but then it's rewarding them instantly to even further that great relationship," said Graham Lee, chief creative officer for TrojanOne.
Since the booths debuted in May, Medeiros said there have been 15,000 interactions with them. The company hopes to reach more than 20,000 cardholders by the end of the year and continue using the booths in 2016.
Featured Venues/Suppliers: