Who's Speaking at BizBash Live: New York
The lineup of speakers includes event designers, brand marketing experts, wedding planners, and more.
October 10, 2017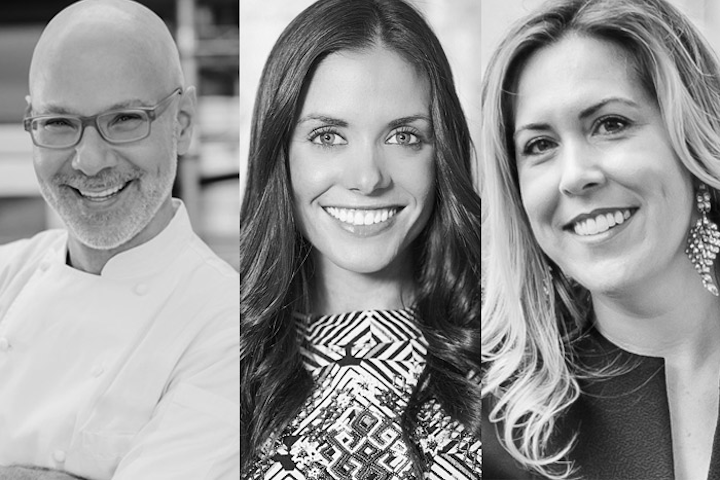 Photos: Dewan Demmer (Patricia Padilla), Courtesy of Speakers (All Others)
From the story behind an event that racked up one billion Instagram impressions to important strategies for event security, sessions at BizBash Live: New York will cover a variety of hot topics relevant to today's meeting and event planners. The event is set to take place October 25 at the Jacob K. Javits Convention Center.
In a first for the show, BizBash is launching a new component dedicated to weddings. There will be a dedicated education forum as well as a Wedding Pavilion showcasing a curated vendor group, entertainment, and tastings.
The Event Innovation Forum, a single-track education conference, and the Workshop Series, a collection of hour-long seminars, will include a variety of sessions from the marketing minds at leading brands such as American Express, Goop, and Refinery 29, as well as top event designers, social media strategists, and more.
Registration for the Event Innovation Forum and the Workshop Series includes admission to the exhibit hall.
EVENT INNOVATION FORUM
The Power of a Message: How Nonprofits Can Motivate, Activate, and Inspire
Patricia Padilla, founder, 196 Strategies
At a time when more brands and nonprofits are taking stands on social issues, even having them built into their missions, how can they use events to raise money, issue a call to action, build their network of supporters—or all three? Patricia Padilla, former executive director of the United Nations Foundation, founded 196 Strategies to help execute social-impact events for both corporations and nonprofits. She will share her strategies, and struggles, uncovering new ways for nonprofits to effectively communicate their message and motivate their supporters to take action.
The Art, Science, and Magic of Experiential Storytelling
Christian Lachel, executive creative director, BRC Imagination Arts
A recent study revealed that more than 59 percent of chief marketing officers recognize branded experiences as pivotal to creating ongoing relationships with key audiences, a move that reinforces the value and power of in-person events. It's a trend that reflects the growing consumer desire for real experiences and two-way conversations that connect with them in a deeply personal way. Whether you are a meeting planner, event specialist, or brand marketer, this session will explore the "seven secrets" to creating emotionally engaging experiences. Drawing on examples of work with companies such as Jameson, Guinness, Ford, the Rock & Roll Hall of Fame, and other high-profile brands, Christian Lachel, executive creative director and vice president of BRC Imagination Arts, will share how to create meaningful experiences that inspire and transform guests, drive business results, and leave a lasting impression.
How American Express Creates Partnerships That Enhance the Fan Journey
Deborah Curtis, vice president, global experiential marketing and partnerships, American Express
The event landscape has evolved. Sponsors no longer want to be considered "sponsors"—they're looking for lasting partnerships. They have elevated the game, expecting more than just a logo on event swag or a shout-out on the website—it's about creating an experience for their brand. In this session, Deborah Curtis, vice president, global experiential marketing and partnerships at American Express, will draw on Amex's 24-year partnership with U.S. Open Tennis, and reveal how to keep things fresh while creating an experience that enhances not only the sponsorship but also the fan journey. Curtis will uncover the importance of your brand mission, the changing role of influencers, engaging attendees in a 3-D way, and why it's crucial to drive partnership innovation regardless of the length of time.
Create Your Brand Moment: How to Win in the Experience Economy
Albie Hueston, creative director for experiential, Refinery29
Kelly Markus, vice president for experiential, Refinery29
While brands have traditionally been content creators through their ads, today they also need to be cultural curators to help fuel conversations around their brand, product, or service. With recent data revealing that 78 percent of millennials would rather spend money on experiences over products, brands are increasingly looking for ways to create narrative-driven, experiential moments that positively impact their customers' lives and build more meaningful and emotional connections. Refinery29 has perfected the design, but also the business side, of experiential. Drawing on its work building the company's wildly popular 29Rooms experience during Fashion Week, Albie Hueston, creative director for experiential, and Kelly Markus, vice president for experiential, will share some of Refinery29's secret sauce on how building event programs that tell engaging stories and create lasting impressions can catapult growth and opportunity for those with the courage to embrace the expanding experience economy. They will discuss how experiential delivers returns for its brand partners that help them meet key business objectives—a win for everyone.
5 Things You Need to Know About Event Security and Emergency Preparedness
Sam Sherman, vice president of planning and production, First
From the moment you wake up to the moment you fall asleep, everyone faces uncertain circumstances at home, at work, and in everyday life. But when your job is organizing live experiences for tens, hundreds, even thousands of people, how do you plan for those unforeseen circumstances? Listen as Sam Sherman, vice president of planning and production at First, shares five things you need to know about event security and emergency preparedness. Sherman will address topics such as natural disasters and weather conditions, crowd control, outdoor programs, and high-profile guests and speakers, covering safety and security for events large and small.
Events as Brand-Builders: The Goop Perspective
Colleen Kennedy Cohen, director of events, Goop
Founder Gwyneth Paltrow's lifestyle brand Goop began as an online newsletter but has truly come to life through a number of events and brand partnerships, from a dinner series with Cadillac to children's parties to promote the film Despicable Me 3 to its own debut conference, In Goop Health. Colleen Kennedy Cohen, Goop's director of events, will talk about how Goop has used events to build its brand and reach new audiences—and what they've learned along the way.
WORKSHOP SERIES
Crushing Corporate: Building Your Personal and Professional Brand
Yoli Chisholm, founder and C.M.O., STEAMRole.com
Half of small businesses, and 90 percent of tech startups, fail to see five years. So how do you apply your passion, and modify your thinking, to ensure success? Whether you're looking to start your own business, or in search of new ways to grow in an already-established company, the key to success is pursuing your entrepreneurship through intrapreneurship. Listen as Yoli Chisholm, founder and C.M.O. of STEAMRole.com and author of Crushing Corporate, reveals strategies for building your brand. Chisholm will draw on her experience working with enterprise companies such as eBay and Microsoft and startups like Point.com as she discusses the importance of authenticity in the workplace, what really makes people achieve greatness, and how to win in business.
Beyond Hashtags: What You Need to Know About Social Media
Alex Plaxen, president and founder, Little Bird Told Media
As social media platforms evolve on a daily basis, it's nearly impossible to decipher which trends are just a flash in the pan and which have staying power. Whether you're looking to implement new platforms for your business or create a buzz around your events, it's essential to have a social strategy. But where do you begin? During this session, Alex Plaxen, president and founder of Little Bird Told Media, will explore what's hot, what's not, and what social media trends you need to know for your events. Plaxen will analyze new ways to virtually engage your attendees, best practices to implement immediately, current trends to demonstrate for your stakeholders and decision-makers, and much more.
Daring Design: Creative Brainstorming to Craft Memorable Experiences
Liz Castelli, chief operating officer, Tinsel Experiential Design
Adette Contreras, chief creative officer, Tinsel Experiential Design
Erica Taylor, chief marketing officer, Tinsel Experiential Design
Imitation may be the sincerest form of flattery, but in the event industry, creativity is the key to success. Whether it's reinventing the same theme year after year or crafting original concepts to wow your guests, it's crucial to stay innovative and set yourself, and your experiences, apart from the competition. In this session, Liz Castelli, Adette Contreras, and Erica Taylor Haskins of Tinsel Experiential Design will share new strategies to get your creative juices flowing. Drawing on their experience designing events for Anheuser Busch, Spotify, and Samsung, these innovators will give you a fresh take on brainstorming, from improv activities to collaboration conclaves, that will force you to think outside the box about your events.
From the Ground Up: Evolving Your Event Skill Set
Josh Wood, C.E.O. and Founder, Josh Wood Productions
A comprehensive knowledge of event fundamentals has the power to make or break an experience, and it is essential to have an arsenal full of industry tools and resources. Listen as Josh Wood, C.E.O. and founder of Josh Wood Productions, divulges the recipe for a solid event foundation, including floor plan design, contracts, food and beverage orders, negotiations, and budgeting. Wood will draw on his experience creating global events for clients such as the Amfar, Madonna and Raising Malawi, the United Nations, and Arianna Huffington's Thrive Inc., to uncover the necessary assets to stay relevant, keep things fresh, and thrive in this ever-evolving industry.
WEDDING FORUM
Secrets From the Source: Preston Bailey on Successful Experiences
Preston Bailey, Preston Bailey Designs
As a globally renowned wedding and event designer, best-selling author, and seasoned industry speaker, Preston Bailey has done it all. With more than 37 years of experience, he has created lush, theatrical environments for celebrities, royal families, C.E.O.s, and athletes. Now he's ready to share his secrets. Listen as he divulges on topics that include where he finds inspiration for weddings and events, facing challenges in business, dealing with brides versus corporate clients, and the impact of mentorship.
Weddings x Events: What's Hot and What's Not for 2018
Lauren Kay, deputy editor, The Knot
Ron Ben-Israel, chef and owner, Ron Ben-Israel Cakes
Kevin Denton, corporate mixologist, Pernod Ricard
Lush, lavish decor versus minimalist designs. Signature drinks versus do-it-yourself bar stations. Jewel tones and grey fondant versus traditional white cake finishes. How do you sift through the countless options each season to separate the event-worthy ideas from the fleeting fads? Listen as Ron Ben-Israel, a renowned cake designer; Lauren Kay, wedding maven and deputy editor of The Knot; and Kevin Denton, corporate mixologist for Pernod Ricard, sit down with Beth Kormanik, editor in chief of BizBash, to discuss what's hot and what's not for weddings and events in 2018. This expert panel will share fresh ideas on everything, including catering and design, in addition to new ways to implement these trends, keeping clients happy, and more.
Featured Venues/Suppliers: