6 Tips From Event Pros for Making Memorable Live Experiences
Speakers at BizBash Live: New York shared insights on making better events, from building a visual brand strategy to creating emotional journeys.
October 30, 2017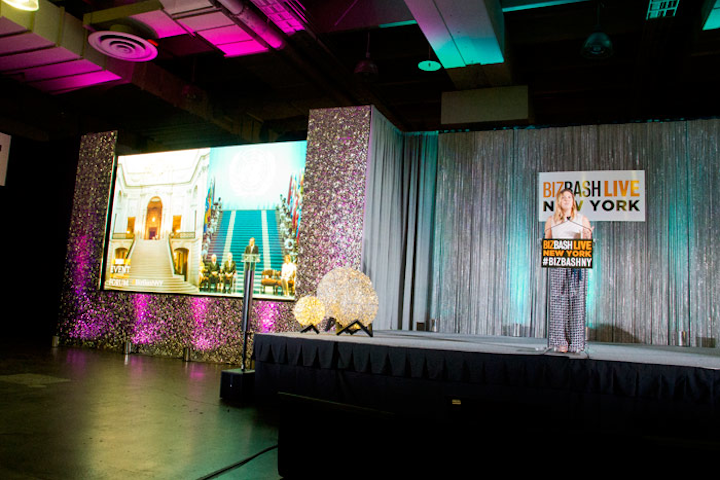 Photo: Taylor McIntyre/BizBash
Event professionals from American Express, Refinery29, 196, Goop, First, and BRC Imagination Arts shared tips on a variety of industry topics at the Event Innovation Forum at BizBash Live: New York, which took place October 25 at the Jacob K. Javits Convention Center. Here are their tips on industry topics such as experiential storytelling, event security, nonprofit messages, and more.
1. Events are all about the optics.
It's incumbent upon event planners to think about events from "every camera angle"—literally and figuratively, said Patricia Padilla, founder of 196 and former executive director of the United Nations Foundation. She advised the audience to "build a visual brand strategy and create images that amplify the message." Padilla did that at a 70th birthday celebration for the United Nations, which included a 20- by 30-foot flag she had made for the occasion.
It's also important to take advantage of the venue's selling points to make the event special, she said. "Highlight your location; ask yourself how to get creative."
But sometimes creating the event includes forethought on how the overall experience will be for guests, Padilla explained. "In 2008 in London, we brought girls from different socioeconomic backgrounds in to meet former First Lady Michelle Obama. I thought, 'How can we make this intimate for the girls when there are 70 cameras here?' We looked at every camera angle, created a low podium, reoriented the chairs, and more. You have to put it all together to make a powerful moment."
2. A moment can transform an experience.
Of course, creating those moments is the holy grail of event planning. So where does an industry professional begin? Christian Lachel, executive creative director of BRC Imagination Arts, advised guests to "start with the heart of the audience." Tugging at heartstrings is vital to "creating experiences that matter and creating emotional engagement."
Next, he tasked planners with the not-small step of transforming their constituents. "If you're not trying to create change, don't create an event." Lachel said this effort is helped by having a "strong, unifying theme."
Also part of the heart-focused strategy is the creation of "an emotional journey," said Lachel. "Experiences shouldn't have one level, they have ups and downs, and different levels. Engage all of the senses." He also stated that experiences need a "sense of vitality," and that technology should be used "in service of your story, not the other way around. We need to leave people with a sense of awe."
3. Service is the name of the game.
It's more than a coincidence that American Express is known for providing its cardholders with great customer service while the company's events team is a top innovator; it topped BizBash's annual Top 10 Innovative Brands list earlier this year.
The idea of delivering top-notch service is valued throughout the company, explained Deborah Curtis, vice president of global experiential marketing and partnerships at American Express. 
"American Express was the first company to give customers early on-sale tickets," she stated. "Why? Because we listened. For nearly 30 years, we've had an unrelenting focus on service and what customers yearn for, using our credit card as a gateway. We put service in the palm of customers' hands." 
That mindset carried over, said Curtis. At this year's U.S. Open, with which AMEX has been a partner for 24 years, "We wanted every fan to experience the event at every level. We created an 'Air Open' experience to have fans be immersed in it and have fun along the way, feeling the game like never before." 
What's most important for planners, she explained, is to embrace their role. "We get to see the response to what we do on customers' faces. Realize that you are in the happiness business."
4. For experiential marketing, be authentic, create memories, and put audiences first.
Refinery29 has put itself on the map as an innovative brand leader when it comes to live experiences—specifically its Instragrammable 29Rooms experience. Albie Hueston, creative director for experiential, and Kelly Markus, vice president for experiential at Refinery 29, discussed the ingredients for what they call their "secret sauce" for creating meaningful live events—keeping events true and authentic, making them memorable and engaging, creating a canvas for conversation, and putting the audience first.
"Telling the truth is vital. Knowing your brand and what you stand for is the first step," said Hueston. "Then knowing your audience and what makes them tick is the next step. The relationship must be a two-way dialogue. The beauty of experiential is being able to talk directly to the consumer and understand what's important to them."
When it comes to creating memories, Markus added that sometimes the absence of technology can lead to a more engaging experience. "In this high-tech digital world, it's a breath of fresh air to step away and get into the simplicity of life," said Markus. "While it's great that there's virtual reality and augmented reality, it's always great to go back and say, 'Remember how great it was to watch the original Willy Wonka & the Chocolate Factory?'" 
[PULLQUOTE]
5. For event security, start early and talk often, know your audience and speakers, and have a chain of command.
Sam Sherman, vice president of planning and production for First—a global event management agency with clients including LG, Oath, and Kofax—offered a variety of event security tips and how to stay prepared, in the wake of event tragedies including the mass shooting at the Route 91 Harvest festival in Las Vegas and the Manchester Arena bombing at an Ariana Grande concert in England. 
"Start early and talk often," said Sherman. "The moment you're conceiving an event is the time to talk about what might happen at that event. Safety and security needs will differ if you're inside four walls as opposed to being outside."
Another piece of advice Sherman offered was getting to know the audience and speakers at any given event. She stressed the importance of having a conversation to understand a speaker's security requirements. One example she gave is that celebrities often post about events where they're speaking on their social media accounts, and that it's beneficial for organizers to talk to them about their social media rules if they don't want crowds showing up at a closed event.
Sherman also explained that it's critical for organizers to have a chain of command and communicate the plan in case of an emergency. "Your chain of command could be multiple lines. Tell everyone who's involved with the program, " said Sherman. "And be prepared and be flexible. Trust that when someone asks for a change, it's for a great reason."
6. Create a 360-degree experience for consumers by bringing online content to life—and vice versa.
Goop, the lifestyle website and newsletter launched by Gwyneth Paltrow in 2008, has grown its brand through live events. In 2017, the company hosted its inaugural In Goop Health conference in Los Angeles, and also hosted a variety of events in the Hamptons, where its summertime events included a pop-up shop and a kid-friendly party in conjunction with the movie Despicable Me 3. The next In Goop Health event will take place in New York in January.
Colleen Kennedy Cohen, Goop's director of events, discussed the brand's recent foray into the event world and how its editorial content translates to its live events, in conversation with BizBash editor in chief Beth Kormanik.
"We have this amazing online presence and we use events to bring them offline for consumers," said Cohen. "All of our events look, feel, taste, and smell like Goop. It starts the moment attendees enter to the moment they leave. We try to pay attention to those details."
Cohen, whose event team consists of three full-time employees and two freelancers, explained that the brand's goal is to offer a 360-degree experience for consumers by bringing the content to life, and then by delivering that content back to its audience. Her team makes specific choices about decor an activities—some that may surprise eventgoers.
"I'm not a big believer in photo booths. Organically, people will create these moments," said Cohen, specifically noting the Instagram-friendly Despicable Me 3 event.
The team then closes the loop by featuring events in Goop's editorial. "The content is our bread and butter. We definitely try to capture content at every event we do," she said. "We try to always bring that back to our readers."
Featured Venues/Suppliers: