How Sponsors and Designers Teamed Up for New York Fashion Week
With in-person activations nixed, brands like Visa and Lowe's needed to flex their creative muscle for this season's NYFW: The Shows.
September 16, 2020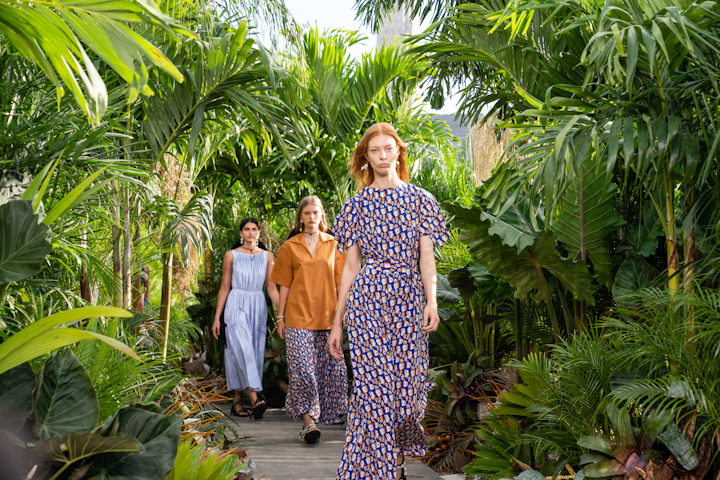 Photo: Courtesy of IMG
NEW YORK—On Sunday night, New York Fashion Week kicked off with Jason Wu's Spring 2021 show taking place atop the Spring Studios terrace.
But due to COVID-19 restrictions, the in-person runway show featured more palm trees than attendees. About 40 strategically spaced-out guests, each wearing a mask, sat along the boardwalk-style catwalk, which was lined with lush tropical foliage.
Produced by IMG, this unprecedented season of NYFW: The Shows, which will continue through Sept. 17, has kept its central hub at Spring Studios—but, as expected, is incorporating plenty of virtual events as well.
The amped-up digital hub, NYFW.com, is featuring livestreamed shows, designer content, cultural programming, and fashion archives. The ongoing NYFW: BTS series includes chats with industry pros and designers such as Proenza Schouler's Jack McCollough and Lazaro Hernandez; a performance from musician and IMG model Karen Elson; and a screening of the documentary on legendary fashion designer Pierre Cardin.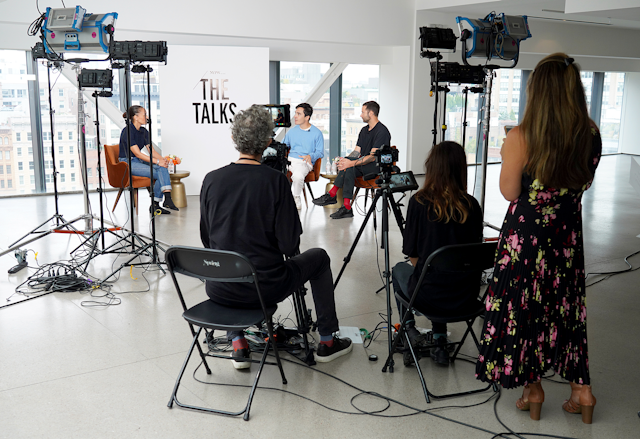 Samira Nasr speaks with Lazaro Hernandez and Jack McCollough of Proenza Schouler at Spring Studios.Photo: Cindy Ord/Getty Images for NYFW: The Shows"We've been advising our designer clients over the past few months to work out collaboratively with them which format works best for their business. For some, content production and distribution to their consumer audience is key. For others, intimate in-person presentations are the right tool to engage with the press," explained Dominic Kaffka, VP and managing director of IMG Focus, about organizing this season's schedule. "Working with designers has never been so creative before as development of new presentation formats is so important to create differentiation."
NYFW producers were forced to pare down the usual robust schedule that typically includes 150-plus in-person shows and presentations to a handful of live events. For the on-site events at Spring Studios, Kaffka said that staff and crew are required to provide a negative COVID test and that each guest receives a temperature check and completes a health questionnaire upon arrival.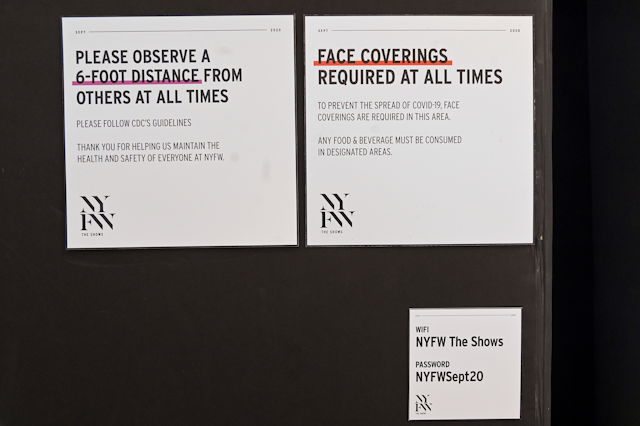 For on-site events at Spring Studios, staff and crew need to provide a negative COVID test and each guest receives a temperature check and completes a health questionnaire.Photo: Jamie McCarthy/Getty ImagesNYFW: The Shows is presented by sponsors such as BMW, Visa, TRESemmé, and Perrier, but gone are the in-person activations such as the TRESemmé pop-up salon or a fleet of BMWs offering rides to shows.
Instead, this season, the event's sponsors and IMG had to think outside the box. For example, first-time partner Lowe's collaborated with designers Jason Wu, Christian Siriano, and Rebecca Minkoff to help them build their sets including Wu's tropical oasis. In return, the designers curated their favorite Lowe's decor products inspired by their collections, which are featured on Lowes.com. (Wu chose items with natural textures and a beachy vibe, while Siriano picked modern, sleek pieces.) In addition to NYFW.com, these shows will also be available to watch on the Lowe's Twitter account.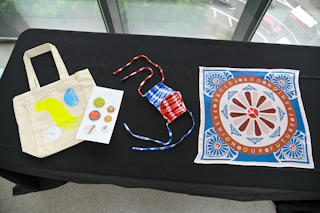 Items from the Visa-sponsored Fashion Our Future 2020 collaboration include tie-dyed masks, bandanas, and a tote.Photo: Jamie McCarthy/Getty ImagesVisa teamed up with Fashion Our Future 2020 to collaborate with three female-led fashion labels—Studio 189, Tanya Taylor, and Fe Noel—to create a limited-edition capsule collection of accessories including tie-dyed masks, bandanas, and a tote. It launched on The RealReal (and is currently sold out). Plus, as part of the NYFW: BTS series, on Monday Visa presented the virtual panel conversation, "Fashion's Power to Create Change," with Studio 189 co-founders Abrima Erwiah and Rosario Dawson, designer Tanya Taylor, and Visa's Mary Ann Reilly.
"The opportunity to champion women and spotlight independent, female designers continues to be a priority for Visa, as we focus on small-business owners and female entrepreneurs in so many different ways around the world amidst a lot of uncertainty they are being confronted with," said Reilly, senior vice president and head of North America marketing for Visa.
"Fashion is key to self-expression and inspiring change, whether that is shown on a tote, on your mask, or on a T-shirt. Our hope is that these items [in the accessories collection] and the discussion during the panel can engage the fashion community to raise a voice this fall and help shape a future of equality and inclusivity," she added.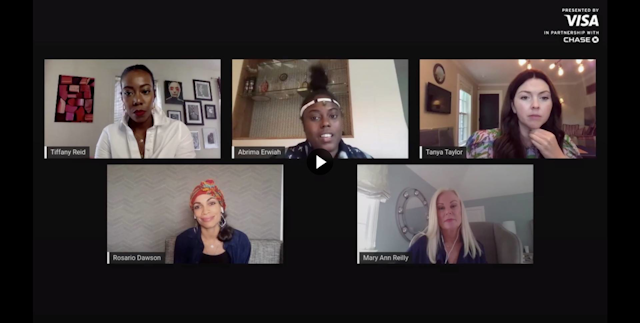 Fashion Our Future 2020 leaders and Studio 189 co-founders Abrima Erwiah and Rosario Dawson, designer Tanya Taylor, and Visa's Mary Ann Reilly discuss the impact of small businesses during the Fashion's Power to Create Change, presented by Visa, panel.Photo: Courtesy of NYFW.comThis need for inclusion seems to be an overarching theme echoed throughout this season's NYFW, especially with the expansion of digital offerings. "Going virtual equalizes access in so many ways, making so much of NYFW accessible to even more fashion enthusiasts, aspiring designers, and fashion-oriented female-owned small businesses," Reilly said. "Small steps like [virtual panels and e-commerce elements] open up this once exclusive event to an audience without limits, creating a broader community and sense of connection during a time we've never felt more distant."
April Guidone, senior vice president of global brand and business development at IMG, agrees, adding that the changes will carry over into future fashion weeks. "By providing virtual solutions for the industry, as a necessity this season, it also opened up an opportunity for consumers to participate and virtually attend the event like never before. That audience is increasingly important for the designers to connect to directly, while also engaging editors and retailers. These solutions may have been created to solve a problem due to COVID-19, but they are ultimately good for the industry and we see them as lasting changes that will eventually enhance the overall event experience, once we are able to get back to normal, safely."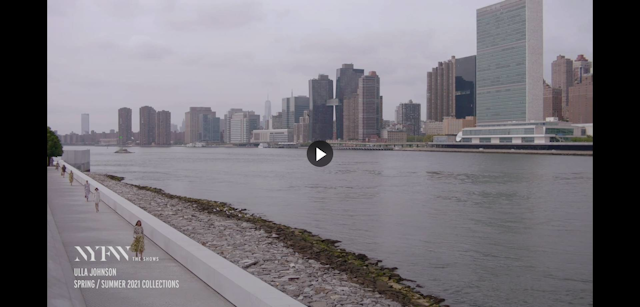 Livestreamed shows produced by IMG feature cinematic-style camera angles instead of just the traditional view straight down the runway.Photo: Courtesy of NYFW.com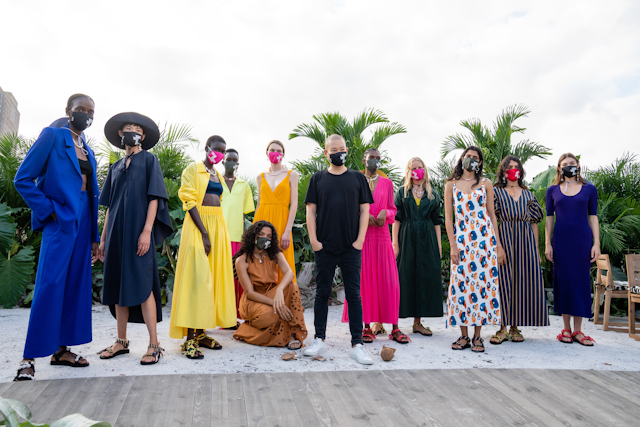 Jason Wu poses with models wearing masks after his show on Sept. 13.Photo: Courtesy of IMG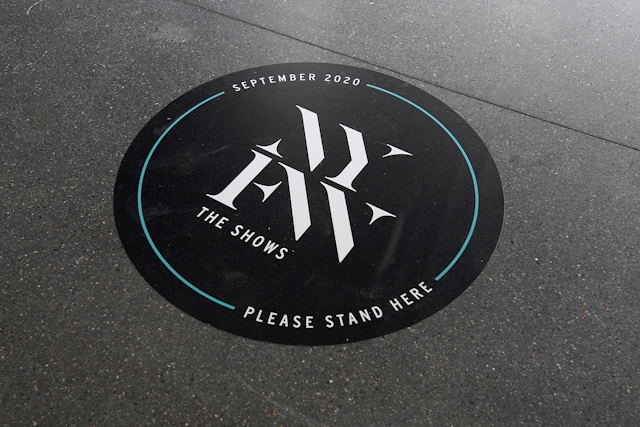 Branded safety signage indicates where guests are supposed to stand.Photo: Cindy Ord/Getty Images for NYFW: The Shows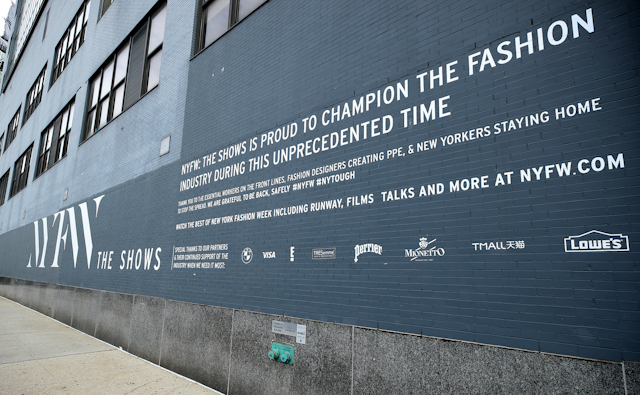 The central hub of NYFW: The Shows continues to be Spring Studios.Photo: Arturo Holmes/Getty Images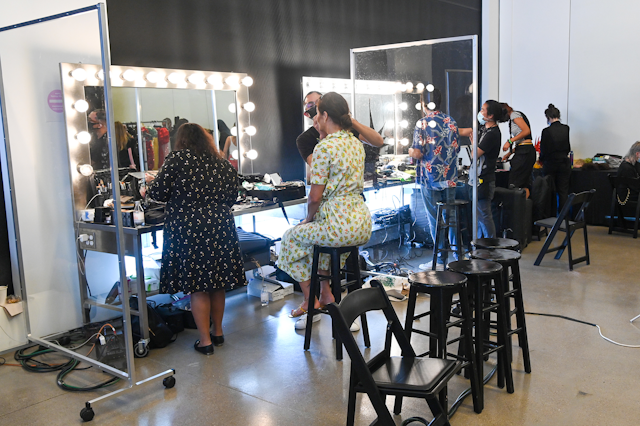 The backstage hair and makeup stations are separated by Plexiglass dividers.Photo: Jamie McCarthy/Getty Images