For Shark Week, These Species Were Made Entirely From Upcycled Materials
To promote the 30th anniversary of Shark Week and to promote ocean conservation, Discovery created art installations from everyday materials that pollute the ocean.
August 6, 2018
Visitors to the Santa Monica Pier July 21 and 22 were treated to a sustainable surprise: four Instagram-friendly art installations of sharks made from upcycled and recyclable materials often found washed ashore on beaches.
The activation was designed to promote the 30th anniversary of Discovery's popular Shark Week programming, which kicked off July 22, and also to educate consumers on the importance of ocean conservation. The sharks were constructed from plastic bottles, driftwood, aluminum cans, and cardboard—everyday items that pollute the ocean. Discovery worked with BCXP, the experiential arm of New York-based advertising agency Berlin Cameron, on the event.
"Our goal was to create a memorable activation that invited attendees to engage with our installations and encourage social sharing to create buzz and awareness for the 30th anniversary," explained Robin Potash, managing director of BCXP. "We used reclaimed pallet materials from lumber yards, aluminum cans from recycling centers, and cardboard from supermarkets."
The team enlisted Nest Environments to create the structures, which will eventually be displayed in Discovery's offices in New York and Los Angeles.
Other than social shares, having an educational component was also important to Discovery. Representatives from 5Gyres, a local nonprofit focused on preventing plastic pollution, were on site. "5Gyres had jars filled with polluted water and other visuals to show the difference between regular and polluted water," Potash said.
Discovery also hosted a beach clean-up that Saturday with nonprofit environmental advocacy group Ocean Conservatory and 5Gyres, and on-site signage encouraged the public to join in.
In addition to Santa Monica, beach cleanups took place at Rockaway Beach in New York, Osterman Beach in Chicago, South Point Pier Park in Miami, and Beverly Triton Beach in Annapolis, Maryland. In Santa Monica, the first 100 people to sign up for beach cleanup received a free ride on the pier's iconic Pacific Wheel.
That same weekend, the Ferris wheel was illuminated with 174,000 LED lights that formed the shape of swimming sharks. Watch a video of the nightly light show below, then click through the slide show to see the activation's upcycled art installations.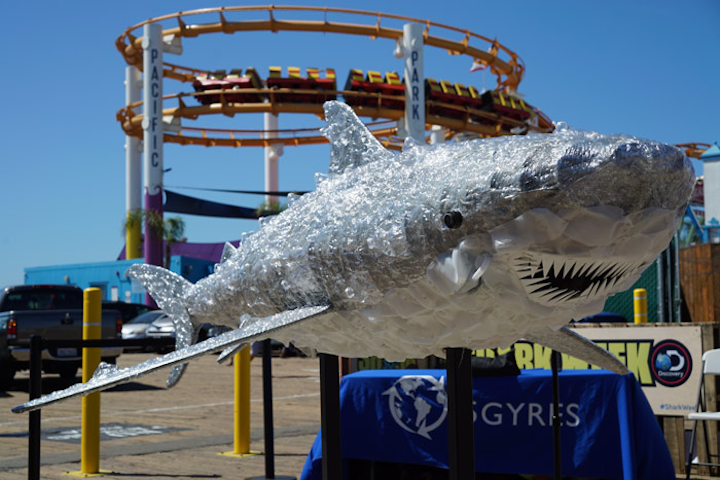 Photo: Courtesy of Discovery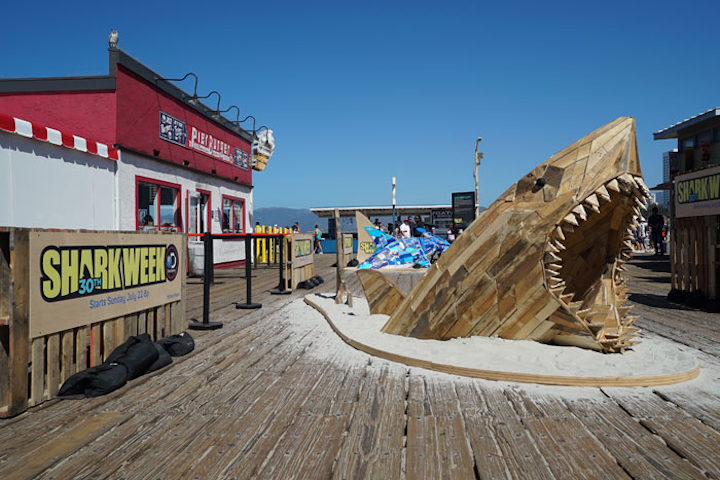 Photo: Courtesy of Discovery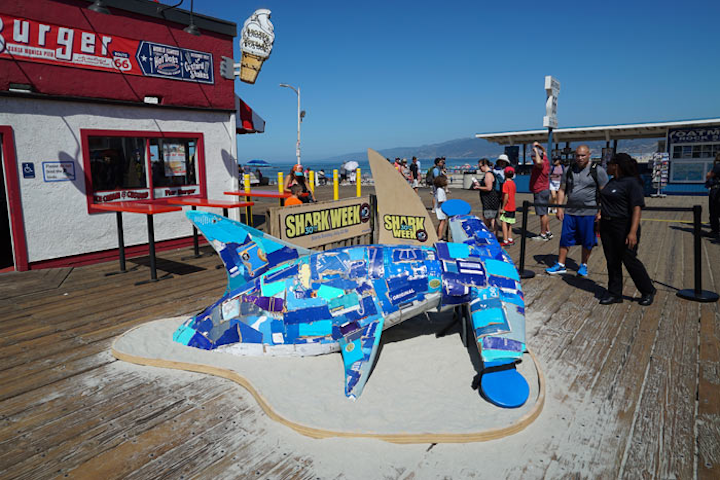 Photo: Courtesy of Discovery
Photo: Courtesy of Discovery
Featured Venues/Suppliers: