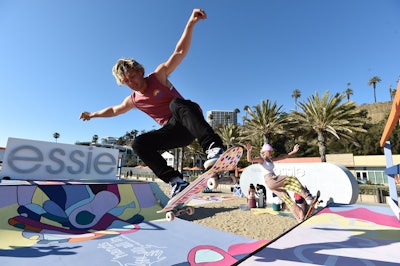 Photo: Courtesy of essie
Want more content like this sent directly to your inbox? Then sign up for our brand-new BizBash Experiential monthly newsletter to stay in the know on the coolest, most creative ideas for engaging consumers and attendees!
SANTA MONICA, CALIF.—All hands were on deck March 23-24 for essie's "Sk8 With Destiny" skatepark, a custom-built course at the Annenberg Community Beach House in Santa Monica. The two-day event saw a total of 150 attendees, including Outer Banks star Madison Bailey on day one's invite-only, VIP iteration, plus professional skaters Karly Moreno and TomTom and female-founded skate organization GRLSWIRL on day two, which was open to the public.
"We wanted to create an environment for people to connect to each other through color," Belle Carramaschi, vice president at essie, told BizBash, noting that while the "Sk8 With Destiny" event paralleled the launch of essie's new line of the same name, it was also designed to celebrate the brand's larger "Hands All In" philanthropic initiative in partnership with The Foundation For Art & Healing's (FAH) Project UnLonely. "By creating a skatepark, we introduced guests to Project UnLonely's 'Colors & Connections' curriculum via skate mentorship and art-based activities," Carramaschi said.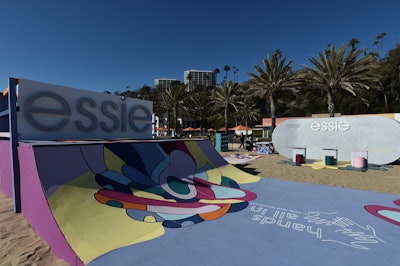 To combat feelings of isolation—in tandem with Project UnLonely's initiative to broaden public awareness on the negative physical and mental health consequences of loneliness, an understated epidemic by which FHA reported 61% of Gen Z are affected—essie welcomed guests to the skatepark with a "vibe check," asking them to self-reflect on their mood, feelings and emotions. "Connection was encouraged within the skatepark, with a colorful, custom skate ramp, essie-branded skateboards and helmets," Carramaschi said.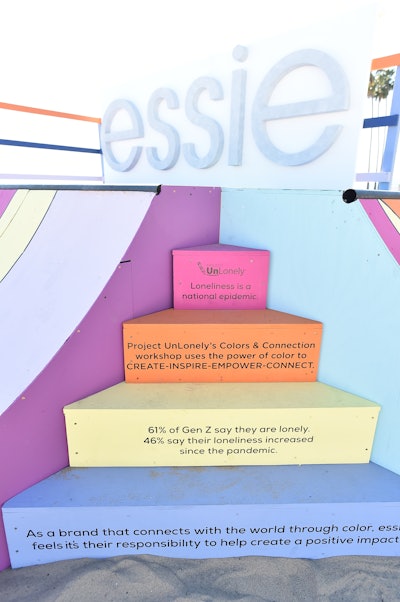 Attendees were awe-inspired by Moreno and TomTom's stunts on the halfpipe before getting the chance to learn to skate themselves with the help of GRLSWIRL's Skate Mentorship Program volunteers. Skating not your thing? An on-site mural invited guests to express themselves through color, which Carramaschi said, "helped to further foster a sense of community and togetherness." Inspired by Project UnLonely's "Colors & Connections" workshop, which uses the power of art-making to bring people together, "colorful paint markers were available for guests to decorate the mural however they liked."
Celebrity manicurists Steph Stone, Meagan Knight and Marisa Carmichael were also in attendance to give out manicures using essie's new "Sk8 With Destiny" products, which launched late last year and feature playfully named colors including Curbside Pick-Me-Up, Just for Kicks and Left on Shred, to name a few.
It didn't stop there. Sliders, ice cream sandwiches from CoolHaus and CBD-infused Recess drinks made for sweet and savory surfside treats that played into the skatepark theme and beach-side location. The brand also tapped London-based full-service event agency Another A Story for event design and execution, which took about six months from the skatepark's ideation beginning in the fall of 2021 to installation, which kicked off the day before the event date.
Before leaving the event, guests were asked to give a final "vibe check" in hopes that a day filled with peer-to-peer connections, manicures and skating shifted moods, feelings and emotions in a positive way. When asked why the collaboration between essie and the FAH made sense, Carramaschi said: "As a color-driven brand deeply rooted in celebrating creativity and fostering happiness, essie is dedicated to helping its community develop meaningful connections through color. essie aims to identify impactful methods to help diminish the effects of loneliness on the Gen Z community, and the partnership with the FAH promoted creative expression as an innovative approach to alleviate loneliness."
Keep scrolling for a closer look at the "Sk8 With Destiny" skatepark.