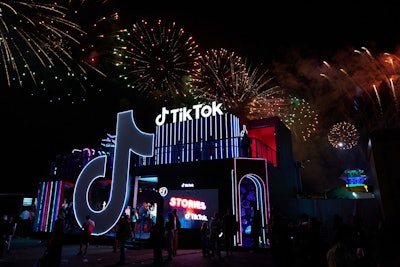 Photo: Patrick Villela, Drive Films
Want more content like this sent directly to your inbox? Then sign up for our brand-new BizBash Experiential monthly newsletter to stay in the know on the coolest, most creative ideas for engaging consumers and attendees!
RIO DE JANEIRO, BRAZIL—For seven days, rock music fans could jam out to the genre in Rio de Janeiro, Brazil, at the fittingly named music festival Rock in Rio. From Sept. 2-4 and 8-11, Olympic Park was transformed into an arena fit for rockstars, with multiple concert stages that boasted more than 250 shows, 500 hours of entertainment, and 670 artists (hello, Guns N' Roses, Post Malone, and Coldplay!).
This year marked the festival's ninth return to Brazil since the inaugural Rock in Rio in 1985. In those 37 years, there have also been nine iterations in Lisbon, Portugal, three in Madrid, Spain, and one in Las Vegas,. Following a two-year hiatus of Rock in Rio, the fest returned to its beloved founding location—with TikTok as the official content sponsor.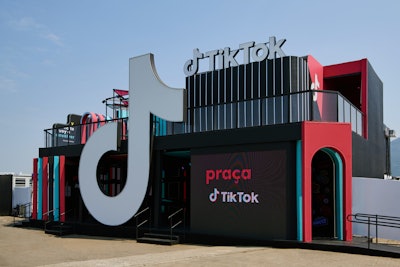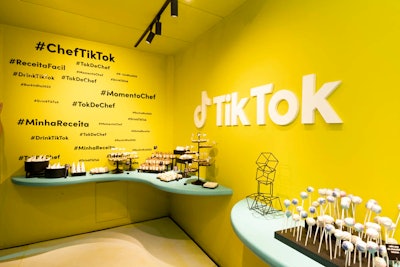 The partnership between the music festival and the video-sharing platform was a natural one. "TikTok breathes new life into catalog tracks and is also an innovative way for musicians—both emerging and established—to reach new fans," said Kim Farrell, TikTok's regional head of marketing and operations for Latin America.
As with Rock in Rio, "music is inherently a part of TikTok's DNA," Farrell said, which was omnipresent in the five on-site, "immersive experiences [created with production agency Musicalize] that brought all the creativity and entertainment from the platform to Rock in Rio."
The "Praça TikTok" (TikTok Square) was one of those main areas, which welcomed more than 200,000 festivalgoers over the course of the seven-day event. The two-story square was open to all festival attendees and designed as a place to "rest and recharge," Farrell explained. It boasted a meet-and-greet area for fans to get to know their favorite creators, plus hear live sets from famed TikTok musicians, explore the TikTok Swag Room, and discover Rock in Rio-inspired effects to use on TikTok Stories, which Farrell noted was curated "to showcase popular TikTok products like Effect House (an AR tool with augmented effects for users to create videos with on the platform)."
The slate of immersive effects that nodded to the Latin music festival "inspired content creation," which Farrell explained was the purpose of TikTok's partnership with Rock in Rio. She added of the collaboration: "It was an opportunity for us to connect with our community in a meaningful way [and to] celebrate the diversity of and creativity of creators and artists on the platform."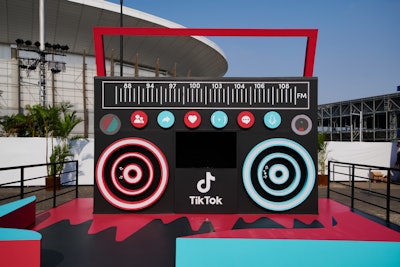 "Like the content on TikTok, at Rock in Rio there's something for everyone," Farrell said. Cue the Route85 Nostalgic Boombox activation for attendees who were rock history buffs. "This area of the festival showcased how music has changed from 1985—the first year of Rock in Rio—to 2022," she added. "The TikTok Boombox highlighted how music and how we listen to music has evolved from cassette tapes to music on the platform in 2022."
But it wasn't just a standalone, branded boombox in TikTok's iconic black, red, and turquoise colors. Attendees could actually venture inside and, as Farrell put it, "'DJ' to create content." All the while, throwback music that's going viral on TikTok was being played—including Kate Bush's "Running Up That Hill," which was originally released in August 1985, used in the recent Stranger Things season, and catapulted back into the limelight on TikTok (more than 2.8 million videos have been made with the song). Farrell said the musical touch gave the activation "a nostalgic vibe."
Also on-site? The three-story "Lounge dos TikTokers" (TikTokers' Lounge) with rooftop views of the festival's main stage, the Mundo Stage. Here, invited TikTok creators and brand partners were welcomed into a space noteworthy for its teddy bear-themed swimming pool, TikTok-inspired food and beverage, as well as an installation of the app's music note logo. And, "to help make the lounge space feel like a 'For You' feed brought to life, the decor was inspired by local Brazilian TikTok trends," Farrell noted, including one dubbed "receba" that rose to fame thanks to a video of a soccer player going viral.
TikTok-touted backstage areas were also curated, "where artists could make TikToks in the exciting moments before and after performances, or to show what backstage is like," Farrell said. In these spaces, the platform—which boasts more than 1 billion active monthly users—hosted its own interviews with 30-plus international and local artists, including Jason Derulo, Gilberto Gil, Måneskin, and Luísa Sonza to be posted on @tiktokbrasil and @musicanotiktok.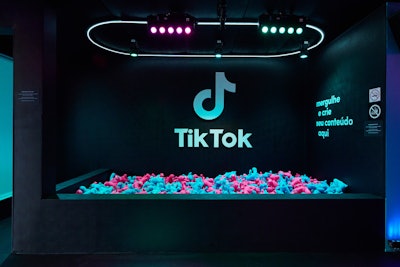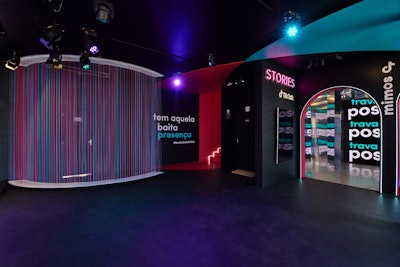 Although TikTok's branded lounges, over-the-top activations, and curated content creation areas were nothing short of wow-worthy, Farrell noted that being part of an event like Rock in Rio is also about bringing the brand's values to life.
"How can you bring the experience of an immersive digital entertainment platform to life?" she said she asked herself through the planning process for Rock in Rio, which was TikTok's first-ever public event in Brazil. "TikTok is a place where music fans listen, discover, engage, and share [and] doing this at a regular event is a challenge, but doing it at one of the biggest music festivals in the world is a monumental yet exciting challenge."
Yet despite being digital, Farrell emphasized that "TikTok is a place where everyone belongs, and it's a top priority to ensure our community feels safe and welcome—both on the app and at any event we host."
To personify the priority, she added that "it was important to have gender-neutral bathrooms on-site, [plus] elevators for accessibility at all our activations so no member of our community was put in an uncomfortable situation."
And—as the official content sponsor of Rock in Rio—it was only fitting that TikTok capture the energy of Rock in Rio in its own content. Thus, "those not able to attend in person could watch an exclusive-to-TikTok livestream of every show performed on the Itaú Arena stage via the @Itau handle on TikTok," Farrell explained.
Programming on the Itaú stage—which is the namesake of the fest's title sponsor and a prominent Brazilian bank—was planned in partnership with TikTok, and featured emerging talent that was either discovered or very popular on the platform. On the lineup: Pedro Sampaio, João Gomes, and Ananda.
Farrell described how all the fruits of TikTok's labor paid off. Aside from anecdotes about "how we show up for our community," she noted just how "gratifying" it was to see the response on the platform itself. "Festival hashtags were incredibly popular globally," she said, adding that #FestivalnoTikTok, #OPalcoETodoSeu, and #RockinRio garnered 2.5 billion, 3.5 billion, and more than 913 million views, respectively.