From a marketing standpoint, Mercedes-Benz doesn't scream flower crowns and porta potties. Which might be why, until recently, the luxury car brand had shied away from sponsoring major music festivals like Coachella and Bonnaroo. But when Rock in Rio decided to bring its international festival to the United States, Mercedes-Benz jumped on the bandwagon.
"Rock in Rio is a different music festival, and when it came to the U.S. we knew it was a great fit to enhance the Mercedes-Benz music platform. It is the largest music festival in the world and has a 30-year track record of producing an unparalleled consumer experience," says Stephanie Zimmer, head of brand experience marketing at Mercedes-Benz USA, about the reasoning behind the partnership.
Rafael Lazarini, senior vice president of global business development for the festival, explains that Mercedes's values and its "Best or Nothing" slogan lined up perfectly with Rock in Rio's core beliefs. "The fact that [the Mercedes marketing team] were out there looking at other music festivals for the past three or four years and decided to wait for the right one to come to market shows their vision and understanding of what Rock in Rio is about. This is definitely a great fit, and we are honored to have partnered with them."
The festival made its American debut in Las Vegas on May 15 and 16 with two weekends' worth of music, including a pop lineup with musicians Taylor Swift and Bruno Mars and rock headliners No Doubt, Metallica, and Linkin Park.
"Rock in Rio is not genre specific. It isn't a heavy metal project, but it includes heavy metal; it isn't a pop music project, but it includes pop music. ... Rock in Rio celebrates diversity and gathers different people in the same place, which attracts a more multifaceted and multigenerational crowd. Something, once again, that is very positive for our sponsors," ­Lazarini says.
Built on the former grounds of Circus Circus across from the SLS Las Vegas, the "City of Rock" boasted permanent electrical, water, and sewage infrastructure, along with a Ferris wheel and six stages. Now called MGM Festival Grounds, the open-air venue is seen as a commitment to future festivals, as well as to other events in the city. "The huge investment and long-term approach by Rock in Rio, MGM, SFX, and Yucaipa gave Mercedes-Benz confidence that this festival was going to be special, and we wanted to be in on the ground floor," Zimmer says.
Since its conception in 1985 by entrepreneur Roberto Medina, Rock in Rio has sold seven million tickets and has franchises in Brazil, Portugal, and Spain. The Las Vegas debut drew 82,000 attendees.
"Unlike most U.S. festivals, Rock in Rio is a truly national and international platform with ticket sales coming from 47 states and 20 countries. The festival demographics are also more diverse and span multiple generations, which is hard to find," Zimmer says.
"Additionally, Rock in Rio guests expect an elevated and more refined music festival experience," she adds. Think more glitz, less girt—no porta potties, food tents, or camping, thanks to the abundance of Vegas hotels nearby. Plus, V.I.P. passes included access to a cushy air-conditioned building with a catered buffet and open bar.
As part of its partnership, Mercedes sponsored the Evolution Stage; it was only the second time in the festival's history that a brand had naming rights of a stage, Zimmer says. The 137-foot-high performance structure featured a stylized cave-like shell, which mimicked the other design elements of the festival. "We worked closely with the Rock in Rio team to assure the Mercedes-Benz presence was impactful and aligned with our brand's aesthetic, while still speaking to the festival audience," she says.
Fittingly, just as Rock in Rio was hitting U.S. soil, so was Mercedes's impressive auto activation. For the first time in America, Mercedes debuted the Iron Schöckl—a steel structure built to resemble the mountain in Graz, Austria, that the car company uses for strenuous off-road tests. Guests were able to ride in the brand's G550 SUV to the highest point of the metal crag, approximately 26 feet in the air, for a roller-coaster-like joyride. Additionally, Mercedes-Benz had a brand center on site with immersive experiences including photo activations, as well as four vehicle displays positioned throughout the grounds.
"We were very pleased with the success of this inaugural event. Response to our on-site activation was overwhelming," Zimmer says. "In learning more about the festival, we knew Rock in Rio was about creating the type of special, once-in-a-lifetime memories that people will carry with them for the rest of their lives. This emotional connection with consumers is what inspires Mercedes-Benz. It is what we do as a marketing team at Mercedes-Benz and are looking to do with this music platform."
In addition to Rock in Rio, the brand plans to turn up the volume when it comes to leveraging music-related events, including its own Evolution Tour. This year's tour kicked off in New York on June 23 with performances by Bastille and Passion Pit and includes additional stops in Chicago, Los Angeles, Atlanta, and Austin, Texas. Concertgoers can snag goodies at a T-shirt-printing station with designs by artists Gregory Siff and Zio Ziegler, as well as at varying activations at each stop including flash tattoos, a selfie station, and a braid bar. "Music is becoming one of the most important customer intersects and one that the brand is using to expose younger consumers to Mercedes-Benz through unique brand experiences," Zimmer says.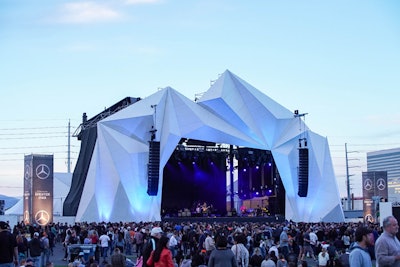 Photo: Courtesy of Rock in Rio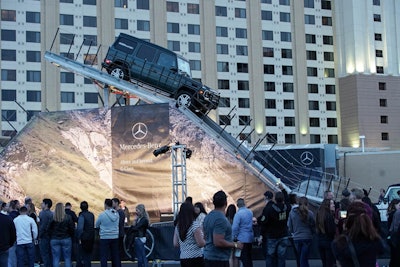 Photo: Courtesy of Rock in Rio