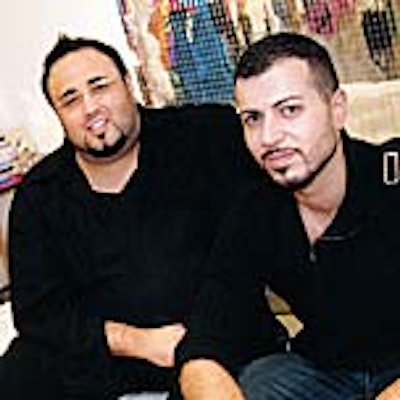 Title
: Mauricio (left): CEO, Roger: Creative Director
What they plan
: The brothers produce about 30 events a year for designers such as Liz Collins, Heatherette and Ya-Ya. This year they debuted MAO Space, a venue that gave young designers a less expensive alternative to showing in the tents in Bryant Park during Fashion Week.
Staff
: Four
Budget
: $20,000 to $250,000 per show
Career Path
: Both studied fashion design at Parsons School of Design. Next Mauricio did stints at Isaac Mizrahi and at Perry Ellis with Marc Jacobs, and then moved into fashion PR jobs. When Roger launched his own clothing line, Mauricio did press and production, and they created MAO Public Relations in January 1998.
Age
: Mauricio: 34, Roger: 31
Where they grew up
: Long Island
Where they live
: In Union Square, in the same building, ten floors apart. In 2003, the Padilha brothers put together MAO Space, an alternative venue for young designers' fashion shows (including Michael and Hushi, pictured) during Fashion Week.
How has the economy affected your events this year?
Roger: Young designers have been hit hard. Because they have less money, we have less of a budget. I think what used to be a cheap price three or four years ago is now the highest price we could ask for. Our rates have come down almost 50 percent.
How do you make an event effective when budgets are going down?
Mauricio: We pull every connection that we have—every friend, everyone who owes us a favor. If we know a celebrity, we call them up and make them come—anything that is going to make that event more successful.
Roger: We rely heavily on the fun factor. It's quite easy to do a theme related event on a smaller budget than to have champagne and a fancy chef. People are never going to walk away from our parties saying, "That's the best food I ever ate, but rather, they'll say, "That was the first time I ever saw midgets serving things."
Where do you find new vendors?
Roger: We have a very eclectic group of friends, as do our designers, so we can find someone that can decoupage a runway in two hours.
Mauricio: Our staging people used to work at 7th on Sixth. They believe in our cause, and have been able to give us the same quality at a better price.
How do you keep yourself engaged in your work?
Roger: It comes back to our client base. We can?t rep someone we don?t believe in. Unfortunately, money-wise, we are attracted to avant-garde designers that don?t necessarily have the big bucks yet.
Mauricio: Part of what attracts us is the challenge to see how far we can take them. A big example is Heatherette. We?ve worked with them for three years now, and now they?re in every major fashion magazine.
What do today's guests expect at an event?
Roger: The one thing that I think is unfortunate is that everyone expects a celebrity. The press really wants celebrities; they don?t think an event is viable if there are not celebrities present.
What trends are you seeing in event style?
Roger: I think events are smaller now. They?re more specialized. People would rather have an after-work event for 200 people between 6 and 9 PM than a blowout event from 11 PM to 4 AM that they invite the industry and 2,000 filler people to. I think people have realized that money is well spent on more individual attention.
What's your biggest challenge right now?
Roger: Our biggest challenge right now is coming up with sponsorships. Because these budgets are so small, we are now doing events that are sponsored. So many people are hitting sponsors for money, that even getting liquor sponsorships has become a bit of a trial.
How has technology affected the way you plan events?
Mauricio: What?s changed so much is how quickly you can access coverage. I?ve been to parties where I get home and my friends have already seen pictures of me at these events. When we first started our Web site, we would never have used it for RSVPs. We started last season, and we got quite a few. This season, we
got more than 2,000 people to RSVP online.
Roger: What?s also great is that when you RSVP online, it?s much more efficient. You get the correct spelling, their email addresses, you get much more contact information.
Why did you feel that there was a need to create another venue for designers to show in?
Roger: Once IMG got involved with 7th on Sixth, their prices increased a lot. A lot of our designers used to do tent shows, but all of a sudden they couldn?t afford it. Also, we were doing shows all over town, and people would call and say they wanted to come to our shows, but they couldn?t go downtown when they had to attend an advertiser?s show at the tents. We needed to make it easier for the audience.
How do you compete for attention with the more established shows and designers such as 7th on Sixth shows?
Roger: Our tactics include very creative invitations. Michael Kors can do a chic little white piece of paper that says ?Michael Kors.? Our designers might need some neon colors and foldout posters and glitter in their invitations just to get that initial attention.
—
Jim Shi
Posted 02.11.04
This Q&A originally appeared in our newspaper, the BiZBash Event Style Reporter
.