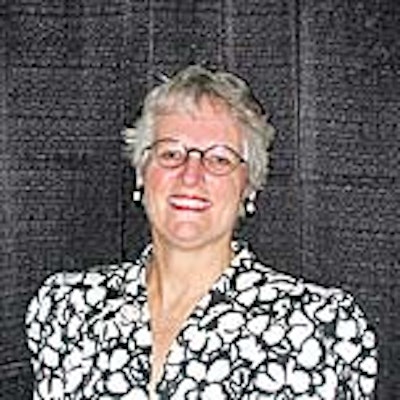 Title: Global Events Manager
What she plans: A mix of 120 events around the world, including events exclusively for JPMorgan clients and industry events such as trade shows and conferences. And in a time when many companies are pulling back, Moore has more to do—her division is doing more this year than last. One highlight: a client event that showcased the Chinese, Indian, Malay and Peranakan cultures of Singapore during the annual Sibos conference for international bankers held there this year.
Annual budget: $1.2 million, plus travel and lodging
Staff: Just an assistant
How she's been at JPMorgan: 12 years
Career path: "I started as a secretary out of college. Through a series of jobs I ended up at Citibank doing marketing communications. I eventually came to JP Morgan Chase to do the same thing. Then I was asked to coordinate our presence at a Berlin trade show. It was my first event."
Age: 58
Favorite venue: "My favorite New York venue—at least this year—is the Institute for Culinary Education, where all skepticism on the part of clients and JPMorgan people about cooking classes has been completely overcome."
Where she goes for ideas and inspiration: "I like to use the location itself. What's interesting about the space or destination? Also, professional seminars offer ideas. I once took a seminar on interactive keynote presentations with Tom McDonald, where he talked about making meetings, presentations more engaging."
Where she lives: Washington Heights
Where she grew up: Iowa and Illinois

How has the economy affected your events this year?

We just keep having across-the-board cuts. People have to do more with less. I am still expected to produce or exceed the same level with fewer resources and we are doing more events.

How do you make an event effective when budgets are going down?

By trying to think carefully about what objectives need to be accomplished. It is important to make sure you are not doing things just for the sake of doing things. You can still be creative. But it is important to really understand event objectives and do things that accomplish a business purpose. For example, if there are two or three events affecting the same group of people, make it one event and cover more territory.

Where do you find new vendors?

Through recommendations and word of mouth. But there are a lot of people I have worked with for many years.

How do you keep yourself engaged in your work?

First of all I like the people I work with and it's a stimulating business. I'm a classic extrovert, who gets energy from other people, so I like being involved with clients. Also, I like the theatrical.phpects of productions. When the curtain opens and you see the audience there, that is energizing.

How do you convince other people that events are still important?

That's not a problem here. It's the biggest part of the marketing budget. People know events are important.

What do today's guests expect at an event? How are those expectations changing?

They expect their time to be well-spent. People are not looking for boondoggles or excuses to be out of the office. They want something that will give them more value than if they just stayed at their desks. Guests want events to be well-executed. They get impatient when things are sloppy. In the past people were happy that you gave them a couple of days off and they could play golf. But this is not true anymore. Also, we all have access to information. So you want be sure attendees of a meeting or conference will get information that they can't somewhere else.

How has your job changed this year?

There is less help and more stuff to do. And I also sense that there is a generally high level of stress in the world due to the combination of the economy, and the unsettled war stuff; people are working and they are flat-out exhausted. It's not just me, it's everybody. Something has got to give.

What trends are you seeing in event style?

It's hard to say, since I don't really do splashy style kinds of things. I do things for local conferences, like dinners. The trend, at least for our business, is that evening functions are more interactive, instead of a dinner and a speaker. People just want to be engaged. I hate sit-down dinners. Do something. Take clients to a cooking class, bowling, even to a cocktail party with more food stations. Don't just have people come in, eat and talk to the same four people. If the objective of these events is to thank people for business, allow them to spend social and fun time with each other. Sometimes at these conferences this is the only time they can see their peers. They want to relax and be comfortable.

What's your biggest challenge right now?

Trying to take care of the details with so little support. As everyone knows who does this job, there is a huge number of little details that leave no chance to think of the big picture. The biggest challenge is having time and the organization to manage all these details and to feel like you have five minutes to think.

Is the definition of a successful event changing?

It used to be if the food was good and the decorations didn't fall down, then everything was fine. Now it's about business results. Were our objectives met? If you want to have a party, have a party. But if you are spending the firm's money to entertain clients, you need to get the bang for the buck in the end. At a conference, seminar or educational event you have to make sure the message got delivered and people understand the action they are supposed to take as a result.

Has technology affected the way you plan events?

Enormously. We send e-invitations exclusively, and sometimes combine that with a fax. Email is a blessing and a curse. You can communicate anything. Now with international BlackBerries, you can never escape. It's also a good thing because you can do things on a real-time basis, like make a decision or stay in touch.

Have you encountered an event emergency this year? How did you save the day?

At an event in Geneva, we had 250 more people show up than we expected. I began to notice buffet tables that weren't being refreshed. Just as I was heading for the kitchen, catering came to me to say they were out of everything. Amazingly they created more paella in 15 minutes, and most people didn't realize anything was wrong.

Posted 12.17.03

This Q&A originally appeared in our newspaper, the BiZBash Event Style Reporter.