Most Innovative Meetings 2012: #15 Bloomberg Sovereign Debt Conference
The media and finance giant imported its distinct corporate culture, encouraging networking, smart technology use, and a commitment to sustainability.
July 19, 2012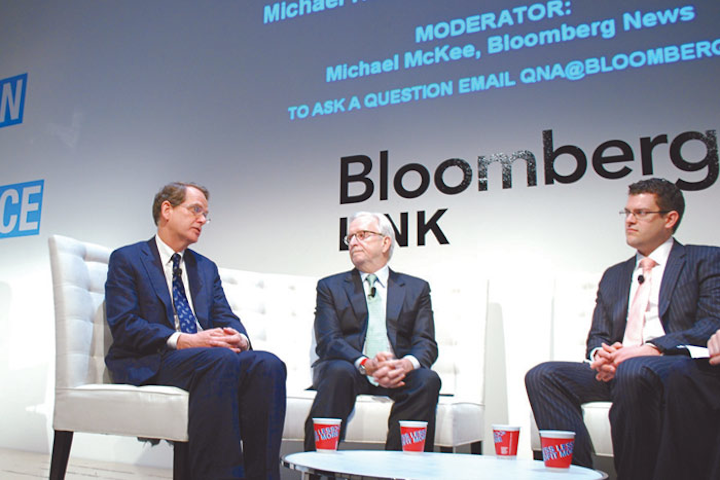 Photo: Courtesy of Bloomberg
Finance conferences can be stuffy—unless you're Bloomberg. The company's events manage to translate its core values of transparency, technology integration, sustainability, and philanthropy into events such as the Bloomberg Sovereign Debt Conference January 24 at the New Museum in New York.
Hosting events that reflect its culture helps reinforce the Bloomberg brand, said Holly Doran, head of event operations for Bloomberg Link, the company's executive conference division. One example is transparency, which visitors to any Bloomberg office will notice. Conference rooms have glass walls, and there are no private offices. At the conference, Doran banned the exclusive green room for speakers in favor of an open lounge in the middle of a break area. The move provided accessibility, allowing the 212 attendees and 27 reporters to interact with speakers. The break area itself was another aspect directly carried over from the host's offices. The "Bloomberg kitchen" allowed guests to help themselves to locally sourced, organic snacks as well as international treats that make guests from abroad feel at home.
During the 30-minute panels, guests submitted questions directly to the stage via their smartphones. The event was also a webcast on Bloomberg terminals worldwide, and viewers could send in queries. Nearly two dozen questions came in from users this way, and there were no passed mics, trimming staffing and audiovisual costs and streamlining the communications flow. Three guests used the question system to communicate general concerns such as room temperature and a kosher meal request. The moderator forwarded these to Doran to resolve in real time.
The staging, decor, and signage followed Bloomberg's sustainability goals. Doran had access to essential items from Bloomberg's inventory such as a badge machine, stage furniture, stage carpet, literature racks, a self-serve latte/cappuccino machine, and drink dispensers. And instead of floral centerpieces, Doran placed live fish in bowls, which guests could take home.
Instead of building a set, Doran designed a backdrop using vinyls, and she placed decals on concrete floors as directional signage. Vinyls also came into play at a post-event cocktail reception in the Sky Room. She created a calendar listing upcoming events that adhered to the windows. The display also launched the company's 2012 conference season and invited potential sponsors to preview the event.
Previous: #14 South by Southwest Interactive
Back to The 15 Most Innovative Meetings 2012