5 Trends Shaping Company Holiday Parties in 2012
November 26, 2012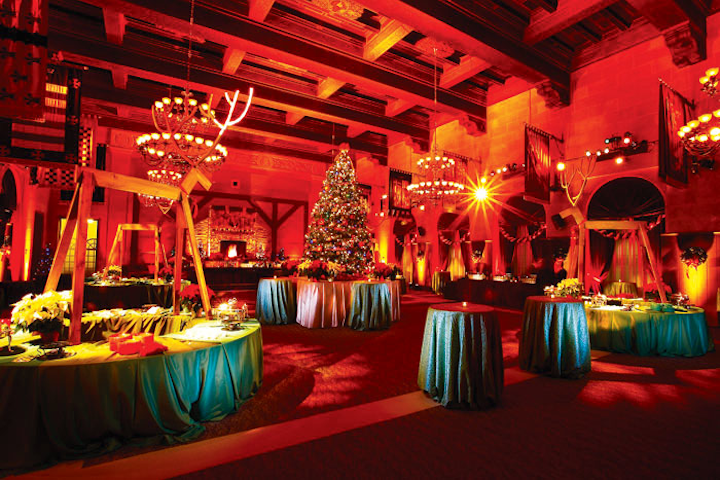 Photo: Juan Carlos Briceno/FotoBriceno
Just a few years ago the giant corporate holiday party was as solid a fixture on the year-end calendar as tree lightings and the New Year's countdown. Then came the recession, when almost all companies scaled back and many cancelled their holiday events altogether. Now, with the economy seeming less shaky—"fiscal cliff" aside—and end-of-year festivities no longer gauche, where does the tradition stand?
The good news: Vendors report that bookings are on the rise. "Things are definitely looking up in terms of corporate events," says Frank Clemente, executive producer and owner of Tampa Bay, Florida-based ConceptBait Global Events & Floral Design Group—a sentiment echoed by industry pros across the country. Still, while most companies are once again hosting holiday get-togethers of some variety, the recession has changed the size and scope of these events—most likely for good. Here's a look at the trends currently shaping holiday parties:
1. The over-the-top holiday party is gone.
People waiting for the return of the pre-2008 party shouldn't hold their breath. "I think the recession reshaped people's ideas of what they wanted to spend money on and what was important to them," says Lee Calihan, director of sales and marketing at Calihan Catering in Chicago. "The holiday party will stay around because it's important to have that sense of community. But I don't think we'll ever go back to over-the-top events."
In fact, incorporating a charitable element or hosting a volunteer drive as part of a corporate responsibility program is still popular. And in New York, where so many gatherings are focused on relief efforts for the victims of Hurricane Sandy, lavish affairs just don't feel appropriate—at least not this year.
"Hurricane Sandy is unwilling to go unnoticed and is putting her mark on corporate holiday entertaining as well," says Matthew David Hopkins, creative director of 360 Design Events in New York. With some businesses affected by the storm—and other office buildings in the city still closed—Hopkins predicts many companies will add additional philanthropic components to this year's holiday functions.
Beyond the super storm's impact on the industry, holiday parties have also become less about flaunting success to competitors. "There's a new sense of responsibility now," says Devin Robnick, director of sales at Chicago event management firm Revel Global Events, "and an understanding that it really is an employee appreciation event more than anything else."
Even companies that are doing well financially are looking at the events as a way to acknowledge staffers, rather than impress their peers, as may have been the case in the past. But the change in perspective isn't just about budgets.
"I really think the giant holiday party went out of fashion even before the crash a bit," says Linda Abbey, vice president and director of sales at Great Performances, a New York-based catering and venue management company. "There's so much anonymity when you're talking hundreds or thousands of people, and you're just one employee in a vast sea. The meaning of the event has become more important—companies are really focused on the fact that it's about creating an esprit de corps and getting know the people you work with."
2. Receptions are more flexible than seated affairs.
With that in mind, "people prefer parties where they can come and go as they please, rather than just sitting at a table and being sentenced to a three-course meal with the same 10 people," Abbey says. "The tendency is to a more fluid event that allows for networking and socializing as you wish."
That also means parties are now more likely to include lots of smaller activities—photo booths, arts-and-craft areas, interactive food stations, karaoke rooms—as opposed to one splashy focal element. "Entertainment is not as central," Clemente says. "It's less about big production numbers that stop the event, more about smaller activities and socializing. If you walk into one of our rooms, you're going to see layers of texture, layers of seating—lounges, cocktail areas—as opposed to one big table straight across.
Design-wise, budgets have started to include room for lighting and draping once again, but furnishings and floral design remain minimal—in style and price point—which works with the current popular aesthetic of sleek, simple, and contemporary over anything too showy.
"It used to be that everyone wanted all-white. 'I want to look like the Delano,' they'd say," says Greg Zalkin, the Miami-based director of special events at AFR Event Furnishings. "Now there are lots of earth tones, burlaps, and brown leathers. It's all about textures and natural woods."
3. The focus is on what's served and how.
Big-name entertainers and high-end furniture may no longer be essentials, but the one thing everyone agrees on is that food—while maybe not as opulent and splashy as it was at parties in the past—had better be good.
"Everybody today is an expert," says Abbey. "There's such an interest in food, and the visual aspect has become very important. One beautiful little thing handed to you on a plate—a seared sea scallop with cauliflower puree and olive oil dust—is better than a huge buffet with lots of leftover food."
What you won't see: caviar, sushi bars, carving stations, big buffets. What you will see: make-your-own dessert stations, mini mac 'n' cheese bites, chili bars, whoopee pies.
In terms of drinks, parties are likely to feature a few craft cocktails specially created for the occasion, rather than a full bar. "The money is spent on the ingredients instead of the garnish," Calihan says. "You won't see a lot of fruit on the side or floaty stuff. The focus is all on making a good drink."
4. Raw venues are out; ready-to-go spots are in.
With most budgets still tight, "clients are really willing to think outside the box in terms of what a holiday party is," Calihan says. "They're much more willing to go to a venue that may already be decorated and themed."
Brad Setting, director of national media events at DirectTV, agrees. "Rental budgets really determine what location you pick today, much more so than six years ago," he says. "The very first thing that we look for is that the space is halfway done—has the walls, has the kitchen, has everything ready to go."
In the past, DirectTV, which is headquartered in El Segundo, California, has held events in warehouses and other raw spaces, but "the location we picked this year has china, glassware, chairs, linens, restroom, parking, etc.," Setting says. "It's a unique space with a special feel but ready to go."
5. Hosts are rethinking party size and timing.
Planners add that other methods of saving money—buses instead of valets, DJs instead of bands—that popped up during the recession are also likely to stick around, as is the move to smaller events.
"Many are now hosting parties by department instead of for the entire organization," Hopkins says. "The parties are more intimate and the decor is already included."
Some companies are staying with this method not just to save money, but often because employees like the smaller events better. "A lot of our clients are doing team dinners as opposed to the big 500-person party," says Michelle Pokowicz, managing director of New York's Mary Giuliani Catering. "A private dinner at a restaurant with their team not only saves money, but can also feel more personal and special."
Another recession-era trend that may stick is the uptick in post-season parties. "There is so much demand for time from friends and family during the holiday season that there's good incentive to hold events after the holiday," Robnick says. "A good amount of companies are taking advantage of that."
Whether budgets are big or small, the overall theme is still frugality over free-spending, as well as quality over quantity and employee appreciation rather than showing off. The continued goal for planners is to make sure that every dollar in the budget is well spent, and that the company holiday party is unique and special rather than big and boisterous. Most planners agree this is not only a challenge, but also a worthy one. As Robnick puts it, "It requires all of us to become better professionals."
Featured Venues/Suppliers: