17 Ways to Use Google Glass at Events
Event professionals currently testing Google's wearable device suggest ways to incorporate it into events and meetings.
March 6, 2014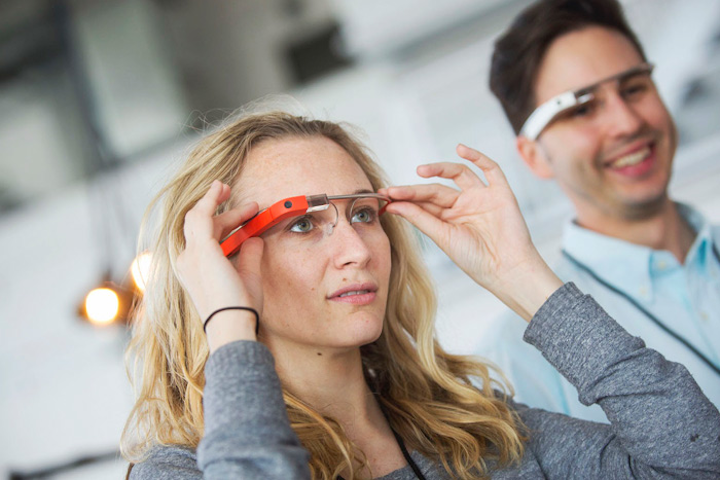 Photo: Richard Patterson for Glass
Google Glass is Google's entry into the wearable technology market. Unveiled at its Google I/O developers conference in 2012, the headset puts a virtual high-resolution display over the wearer's right eye, which according to Google looks like a 25-inch screen seen from eight feet away. The hands-free system is integrated with other Google products like Gmail, Calendar, Plus, and Hangouts, and it can be used for search, navigation, phone calls, voice text, photo and video recording, video conferencing, and more. There are also apps, known as Glassware, such as Evernote, Twitter, and Facebook, with dozens more in development.
We spoke with four event professionals who are testing Google Glass as part of its beta program known as Glass Explorers. While all four stated the product still needs improvements in areas such as battery life, speed, and sound quality, they also voiced agreement that Google Glass—and other wearable products in development—will have definite application for meetings and events. Here are some of their ideas, many available through Google Glass's existing capabilities, as well as their predictions for the future.
David Haas is director of digital solutions for Freeman XP, the experience marketing division of Freeman. He's been using Google Glass for about a month.
1. I try to have all of my internal meetings in a Google Hangout, and more of my clients are getting active with it, too. Wearing Google Glass, it becomes as simple as saying, "OK, Glass, set up a Hangout." And then naming the people to join that. Once I've done that, if I'm on the show floor, or if I'm in a session on site, all of sudden my entire team that's in the Hangout is there too.
2. If I'm on the show floor and I see something that's really cool, I can take a picture and send it to my Google Plus work circle instantly and all those folks can see it.
3. Most events do a good job of posting pictures and comments from an event on Twitter and Facebook, but they don't do much around Google Plus. That's going to have to change because it's just so simple for folks that are wearing Google Glass to share on Google Plus.
4. It'll be a dream come true for an organizer when you have thousands of people walking around with these things, and they're taking photos and 10-second video clips and posting and engaging around the hashtag for the event.  
5. I think we'll see people using Glass along with Bluetooth low-energy devices, which have the ability to pinpoint within about 10 feet from where you are. So at a trade show, wouldn't it be cool if the organizer had the ability to allow an app on your Glass to display bits of information about what you are walking near? Maybe you've told the application you are interested in 3-D modeling, for example, and as you walk through it starts to pull up information and say, "Hey, you're next to booth 2012 and they have brand-new 3-D modeling applications." The opportunity for exhibitors is huge, and for organizers too because they can get advertising and sponsorship on it.
Hugh Lee is president and co-founder of Fusion Productions, a New York-based meeting, learning, and technology company that produces events including the annual Digital Now conference for association executives. Lee has been using Google Glass for about four months.
6. The easiest application you can use it for today is hands-free slide-show control. As a keynote speaker, instead of having to look back at the screen or at a monitor or teleprompter, I can have my notes and slides on my Google Glass as I'm talking. As a presenter, that's great stuff. And it will save on audiovisual because I won't need the confidence monitor and backups.
7. If you have international attendees, you can do hands-free translation of your signage and directions and poster presentations. The reality is that it's not quite quick enough yet. It may take 10 seconds to do the translations, which doesn't sound like a lot but it is a lot when you are standing there.
8. In the future, I think we will start to see lots of cool stuff. Let's say your event has 10 workshops, and I can't attend one but I want to get the tips they are handing out. Through Google Glass and geofencing I could see a brief description as I walk by the room, and I could receive the tips and slides even though I'm not going in.
9. Let's take audience participation: In the future, it will probably use augmented reality with Google Glass, where you not only see the question people are asking, but, using G.P.S. and geofencing, you'll be able to see who in the audience is asking. As you are looking out in the audience, a cloud will pop up over the person asking a question.
Jessica Levin is president of Seven Degrees Communications, a company that provides consulting, education, and engagement strategies for corporations, associations, and planners, with a focus on social media and technology integration. She's been using Google Glass since July.
10. Whether it's Google Glass or some future version of it, really it's this hands-free world we are looking to, where we are using technology so seamlessly that we are not even thinking about it. We are so used to being able to capture information and do things on our smartphones. This is just the next version where we're getting our hands back to do other things like shaking hands and not walking awkwardly and running into people.
11. We will no longer need to have big screens in general sessions. We'll be able to have these personalized experiences. Right now we can do some of that because so many people have tablets. Well being able to wear something like Google Glass where everyone can see a presentation is pretty significant.
12. It could be used for site visits, where you want to see a certain room set and you can put on Google Glass and see what the room looks like set in however way you imagined it.
Dan Parks is president and creative director of Corporate Planners Unlimited, a California-based meeting planning, incentives, and destination services company. Parks has been using Google Glass for about six months.
13. The thing I use it for the most is taking notes. I tap it and say, "Take a note," and then a microphone shows up and it will accurately dictate everything I say for about 30 seconds. And then when I stop talking it sends it to Evernote. At the same time, if someone else is using Evernote, they can send the note to me and it will appear in my screen.
14. It creates all these great first-hand abilities. Site inspections in particular. Being able to walk up and look right at the fabric—within an inch of it—to see the actual color. Or hear how the echo sounds in the room. You can do things on a level that you could never do before, or you could do but at a great expense.
15. I can very easily see a team of planners coming in for a preconference meeting and everyone starts recording. It's going to change a lot of things related to he said/she said scenarios.
16. We planners see more than most people see behind the scenes. I'm going to be fascinated to see some of the post-conference meetings that happen. It will be a video presentation showing, for example, "This is your employee Bobby taking care of two of my customers. He did an outstanding job." Or, "Here's our room and how it looked 10 minutes before it was supposed to be set and ready." It will change so many things from that regard. Not just Google Glass, but all the wearables that will come out. It's going to be hard to go anywhere, do anything, be around anyone without getting recorded.
17. I'm excited about being able to get all of these unique feeds. If you have three people wearing these at the event, you can shoot things from different angles and edit it and put out an incredible production.
Featured Venues/Suppliers: