Was My Event App Worth It?
Check out these tips from planners and providers on how to evaluate the effectiveness of an event app.
May 13, 2014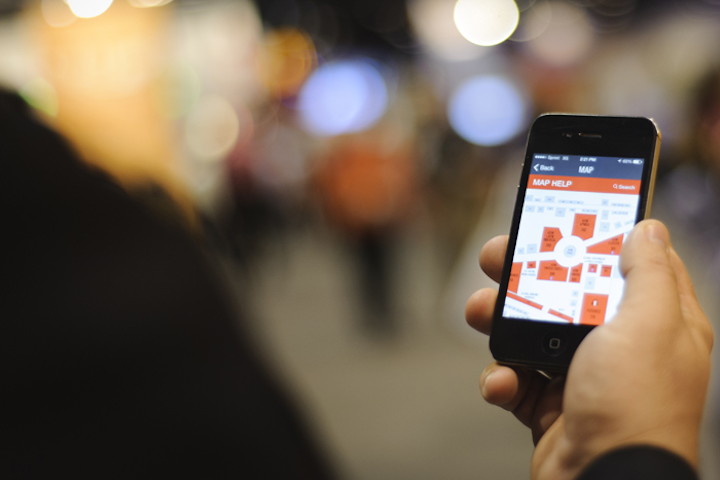 Photo: Courtesy of McDonald's
You think you need a mobile app for your conference or trade show, but how do you decide whether it's worth the investment of time and money? We gathered input from planners who have been using apps for several years, as well as from some app developers. The consensus: Establish clear, measurable goals for your mobile strategy before the event begins. Here are some of the criteria they use to assess the value of an app.
"The amount of attendees and exhibitors downloading the app in advance of the show and whether or not you saw engagement through crowdsourcing or gaming are just a few of the factors that can determine the R.O.I. of your mobile app. It's beneficial to do a year-by-year comparison not only to see the click-through rates, but also to do an evaluation on push messages and whether or not they drive more traffic to the event or an exhibitor's booth. All in all, if you find that your attendees are engaging in the app, they're more likely to have a memorable and positive experience at your show."
—Jaime Rosov, marketing director, Americas Incentive, Business Travel & Meetings Exhibition (AIBTM)
"If you care about long-term engagement, are people still using it a week after the event is over? A month? A year? Or did the engagement just end when the event ended? What percentage of your audience built a personal agenda in advance or synced the calendar with their Outlook or real calendar? How many private messages were sent? How many people used the private messaging feature at least once? How many private meetings were scheduled? How many people scheduled at least one private meeting with the app? Also, while it's a bit counterintuitive, I believe that if you look around your event, and everybody has their phones out looking at your app, you're doing it wrong. A well-designed app helps them figure out how and when to get where they need to be. It helps them find and meet valuable connections, and it helps them build relationships, but it does so quickly and unobtrusively. It should present the right information at the right time, and then get out of the way. If people are checking in and paging through status updates, they're not talking to each other, and they're not learning."
—Jordan Schwartz, C.E.O., Pathable
"McDonald's engagement strategies are driven by overall meeting objectives and tell an R.O.O. [return on objectives] story. Mobile platforms are developed to deliver on objectives with analytics to measure the outcome and support the technology investment. Using the recent Worldwide Convention as an example, our engagement strategy was to help our attendees understand how our customers' behaviors are changing as a result of technology and social media. We developed a social-focused responsive website and app to engage attendees pre-, during, and post-convention. The technology helped demonstrate how our customers are experiencing the brand every day through social media and mobile technology. These analytics support the success of our objectives: more than 35,000 unique visits to the website, nearly 11,000 unique users of our mobile app, and more than 3,000 posts in our WWChat private social network."
—Lisa Fingerhut, engagement project manager, McDonald's
"P.C.M.A. gets R.O.I. from using a mobile app in a number of ways including increased sustainability with reduced paper usage; instant updates via push notifications vs. costly text message options; increased session evaluation response, with the evaluations integrated into the session listing; and increased attendee engagement. Our app [for Convening Leaders] had over 4,000 downloads and generated over two million page impressions."
—Daniel Metz, manager of digital marketing and communications, the Professional Convention Management Association
"Make sure the app provider can provide analytics that can be attached to your goals. For example, if one of your event app goals is to increase networking and interaction between attendees, you should have access to metrics that can demonstrate 'networking success.' While quantitative feedback with analytics is very helpful, you can get great insights by asking your attendees for some qualitative feedback about their experience with your event app." 
—Alon Alroy, co-founder, Bizzabo
"We use Insight Analytics, similar to Google Analytics, to determine the use of our mobile app at our face-to-face events. Features like user activity, device usage, and menu clicks show us what's most actively used by our attendees."
—Dawn Ruhala, manager of strategic systems, Educause
"To me the R.O.I. is in how many attendees used the app to help with their show experience, whether finding an exhibitor or booth on the show floor to finding the right room and time for a session they wish to attend. The more attendees that use the app, the better. Saving attendees' time, increasing convenience, reducing quantities of printed materials, and aiding exhibitors in connecting with attendees are all valuable benefits of deploying a mobile app. An investment well worth it, in my opinion."
—Jason McGraw, senior vice president of expositions, InfoComm International
"P.M.M.I. has deployed apps for Pack Expo International and Pack Expo Las Vegas, and we've begun to use them for our member meetings as well. It's totally worth the time, effort, and expense for the trade shows: You have to have a host of ways for attendees to navigate a one million-square-foot show, and an app is an important part of the effort. You must also have relevant information in a user-friendly, convenient, practical format—the app does that, too. And, by using leading technology at the trade show, you convey the 'not your father's trade show' message. For our P.M.M.I. member meetings, the apps are nice to have but not essential. Our member meetings are not that big, they are highly customized, and the personal touch is very important. That said, today's executive expects an app to be available for events. The attendees may or may not use it, but they expect one to be available."
—Katie Bergmann, vice president for administration, P.M.M.I., the Association for Packaging and Processing Technology
Featured Venues/Suppliers: