The Evolution of Event Technology: Making Social Connections
Facebook, Twitter, Instagram, and other social media channels have allowed events to reach a bigger audience than ever before.
April 6, 2015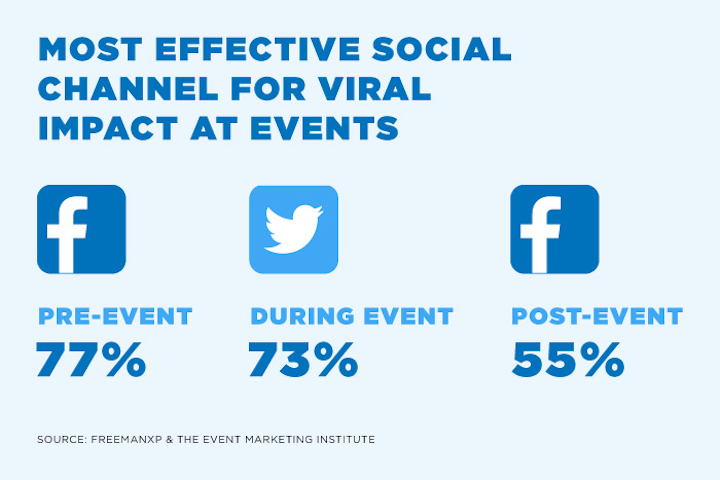 Illustration: Joey Bouchard & Cornelia Stiles/BizBash
This story is part of a five-part series on how technology has changed the event industry. See the introduction to the package here.
LinkedIn. Facebook. Twitter. These are words that didn't exist in 2000. LinkedIn arrived first, in 2003, followed by Facebook in 2004 and Twitter in 2006. Today, these and other social networks are fundamental in professional and personal lives. The usage statistics speak for themselves: 347 million registered members on LinkedIn; 500 million Tweets sent every day; and 1.39 billion monthly active users on Facebook. The widespread adoption of these systems has established an expectation that the Internet is for two-way conversation.
But the concept of open communication with customers and constituents—online, for the whole world to see—was difficult for some brands and companies to embrace, driven by fear of losing control of the message. "People and companies with a customer service focus were the early winners in social media. Now that … marketing departments control a brand's presence on social, the returns are often not as great for companies who fail to use it as a two-way communication channel," says Elizabeth Glau, attendee experience manager for the International Society for Technology in Education.
[PULLQUOTE]
Over the years, brands and planners have come to embrace social media as a way to gather input that can be used to create events tailored to their audiences' needs, and attendees have come to expect that customization. "With social tools and social media, meetings are being driven more by the comments and feedback on social sites," says meetings technology consultant Corbin Ball. "Instead of attendee, they are becoming participants. Instead of top down, it's bottom up."
The most profound impact of social media may be in the way it has allowed an event to be experienced beyond the walls of its physical location, as people share comments, content, and photos in real time with others around the world. "We are enhancing our brand every time people continue to spread our message out there," says Lee Kite, the American Cancer Society's director of major market galas.
Sakchin Bessette, co-founder and creative director of new media and entertainment studio Moment Factory, agrees. "It has changed the way people expect to be interacting with an event or a show. The way they record it, the way they remember it, the way they share it. The capacity to connect with a brand or for the brand to connect with an audience is completely different," he says.
Social sharing has also fueled the concept of FOMO, or "fear of missing out." Savvy planners have figured out how to capitalize on this fear to build attendance at future events by providing photo booths and creating contests tied to posts on Twitter, Instagram, Facebook, and other platforms. "When the event starts to live outside the physical space, when we can see what's going on as things are happening, we are able to increase the audience," says Winslow Porter, creative technologist for experiential agency MKG.
Next: Functioning in a Mobile Environment
Previous: What Has Changed Since 2000?
Featured Venues/Suppliers: