Why Facebook's Video Updates Matter for Event Pros
Facebook is making a big push into video streaming with significant updates to its Live service.
April 12, 2016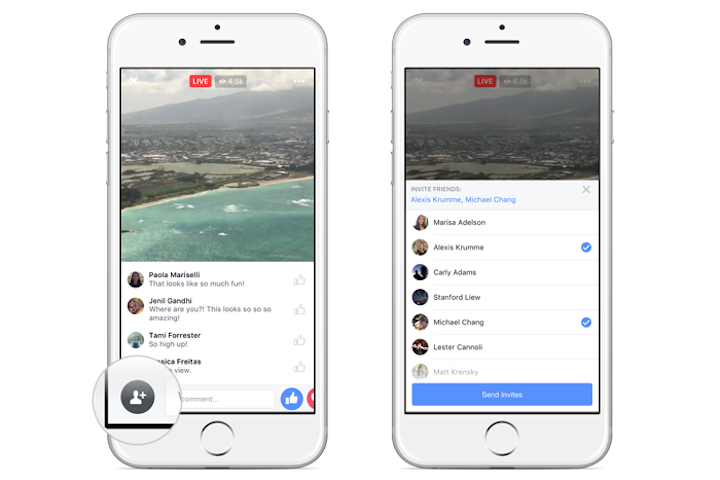 Photo: Courtesy of Facebook
Facebook grabbed headlines last week with several updates to its Facebook Live video broadcasting tool that are rolling out on iOS and Android over the next few weeks. The new features are intended to make it easier for users to create, discover, share, and interact with live video. One of the most notable updates is the ability to stream live video in a Facebook Event page, allowing hosts to broadcast live to a targeted audience before, during, and after an event. Other updates include a dedicated video tab in the mobile app to search for live and recorded videos and the ability for viewers to invite friends to join the audience. There are also new metrics so content creators can understand viewership. We spoke to three live-streaming experts to understand the impact of these updates and what may be coming in the future. Joel Comm is an author and digital marketing strategist; Brian Fanzo is co-founder of BackLamp, which builds digital strategies for brands to integrate live streaming; and Ryan Bell is also co-founder of Backlamp and creator of Summit.Live, an annual event for digital creators.
Facebook Live vs. Periscope
"I've been playing with all the various live video tools for some time. Periscope gets these drive-by viewers because they've got the discoverability aspect to it. But your numbers peak early and then they tend to fall off, whereas with Facebook Live I'm seeing my numbers consistently increase the longer I'm on. That's really powerful." —Joel Comm
"With Facebook live streaming you are streaming to people that already know, like, and trust you. They've either liked your page, they are following your personal account, or they're in a group or an event that you are hosting or a part of. So I think of it like an email newsletter. That's where you're nurturing your existing leads. Whereas Periscope allows you to leverage the fire hose and global ability that is Twitter. You don't have as much of a targeted audience, but you have the ability to reach people who don't know who you are or haven't discovered you before." —Brian Fanzo
"Periscope has an insulation problem in that you can't go live directly from Twitter. So if Facebook has 1.6 billion active users, then Facebook Live also has that. Twitter has 305 million users, but Periscope only has around 20 million. So there's that insulation that's kind of problematic for them. The monetization aspect of Facebook is wonderful for event planners because the algorithm is already there. They have the fire hose turned all the way up so it gets the most views. That's a better amplification than Periscope because it will show up in a feed and then it will be there statically and can be shared. With Periscope you can't reuse it, because the broadcast expires in 24 hours." —Ryan Bell
Value of targeted streaming
"It's a very important and strategic element for not only brand adoption, but for truly understanding what kind of content to create. You'll now be able to stream directly into a Facebook event or a Facebook private or public group. That allows brands, and really anyone, to not only really understand their target audience but to limit their audience. So if … people only get access to the event page after buying an event ticket, you can actually create content that is exclusive and is directly aimed at your audience. And if their notifications are on in that group or in that event, you are guaranteeing they are getting a notification about your live stream." —Fanzo
Using Facebook Live for event marketing
"If you are doing a conference with 500 people, you can amplify the event prior to it. And that's super important. What I'll be doing is stirring excitement [for Summit.Live]. For example when we land our location, I'll show that location live and say, 'This is where we're going to have the conference,' so people can picture themselves in it. And then talking about the event, interviewing people who will be there, giving speakers the opportunity to do a takeover of the page. I can promote the video to everybody that likes that page, and then I can promote it with money behind it as well through Facebook ads." —Bell   

"The quality of content is still limited from your phone. I don't think you'll lose people that say I'd rather consume through my phone rather than paying the money to go to a conference. What you have more of the ability to do is to educate people on how great the content is and drive them to a future event or capture their Twitter username so you can target them with paid social after the event, letting them know for example, 'I saw you watched this on our feed. I'm not sure if you know but we have all of our slides and all of our content on our site for $99.' It has to be an integrated plan on how the live streaming can be integrated into the upsell of events." —Fanzo
What's next
"I think Facebook Live is interesting, but what we really have to look at is the big picture. When Mark [Zuckerberg] threw $2 billion at Oculus Rift … this is setting the stage for virtual attendance at events. You'll be able to put your headset on and experience the live streaming as though you are there. There will be a camera in the room that's a full 360 [degrees], and you'll be able put your glasses on and be smack dab in the middle of the action, whether it's a concert, a sporting event, a meetup, a conference, whatever. Virtual reality will bring people there. What we are seeing is just the rudimentary, even primitive, stages of where Zuckerberg and the Facebook team sees this going. We also know now that YouTube is working on their own live video application, YouTube Connect. You can do YouTube live now, but not through an easy-to-use app like Periscope or Facebook Live. I think they're going to shake things up as well. They have a huge installed user base and a lot of people creating content there so they can certainly provide a challenge to what Facebook is doing." —Comm