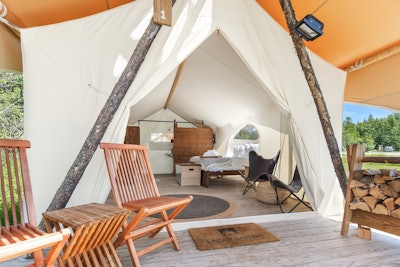 Photo: Bailey Made
There's no denying the beauty of the great outdoors, but Mother Nature isn't always a reliable event host. From daunting weather to bug bites, outdoor events present a unique set of challenges. To help hospitality profs overcome those challenges, and to elevate any alfresco event, we took some notes from an ultra luxe glamping site in Maine.
Located near Acadia National Park, Under Canvas Acadia puts a glamorous spin on traditional camping. From tents with towel service to upscale seasonal fare, the glamping site is a study in outdoor hospitality with a white-glove touch. So we studied it—via a site visit and an interview with the venue's director of group sales. Below, find six widely applicable hospitality tips gleaned from the world of glamping.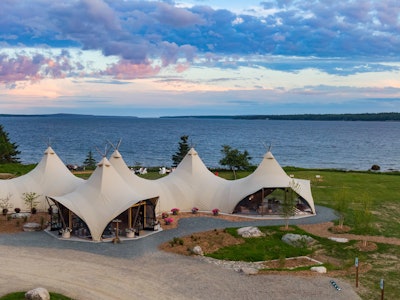 1. Communication is key.
Shannon Chapman, Under Canvas' director of group sales, emphasizes the importance of managing guests' expectations before they attend an outdoor event.
"When booking unique venues like ours, it's important to ensure that guests know what to expect during their stay," she says. "[This will] incite excitement and set expectations in advance."
Communication can take any form, depending on the formality of the event. For a multiday meeting or a corporate retreat, consider a custom website containing all pertinent event info. For smaller or less formal events, informative emails dispatched before the event can also teach guests what to expect.
The check-in experience should also be optimized to equip guests with useful info. After checking in to Under Canvas Acadia, guests can opt to watch a demonstration of how to work the wood-burning stoves that are found in each tent. Staffers also provide detailed instructions on using the USB ports in each tent.
2. Set a dress code that emphasizes comfort.
One of the best ways to prepare guests for an outdoor climate? Give them some wardrobe guidance. Outdoor events are subject to varying weather conditions, and the right attire can prevent guests from feeling too chilly, overly warm, or downright awkward.
At Under Canvas, "We encourage everyone to pack layers, as temperatures can vary widely throughout the day across all seasons," Chapman points out. "For outdoor events, consider footwear that is comfortable to walk on uneven terrain." But when comfortable shoes won't hack it, the property offers golf carts to whisk guests from one point of the property to the other.
3. Light it up—sustainably.
Not all lighting is created equal, especially for alfresco functions. For outdoor events, lighting that is sustainable and safe takes precedence. Chapman has tips for both.
"Our properties offer a variety of both battery-powered and solar lights as part of our energy conservation efforts," she says. "There are some wonderful string lighting options available that are solar-powered. LED candles are another amazing alternative to open flames [and set] a very inviting ambiance."
In addition to sustainable lighting, consider minimal and eco-friendly decor. For events with a striking natural view, "The outdoor setting provides a natural backdrop. Let the simplicity and beauty of your surroundings take center stage in your decor," Chapman says.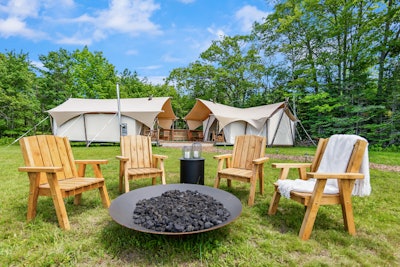 4. Stoke nostalgia (and bonfires) with upscale camping fare.
There are several ways to infuse campground flavor into an upscale event menu. Hosts may opt to serve welcome drinks starring a locally sourced ingredient—think blueberry mojitos in Maine, for example.
At Under Canvas Acadia, locally sourced meals such as grass-fed steak burgers with beer-braised onions and pulledpork tacos are served on tin plates reminiscent of traditional campsite feasts. Guests can also grab skewers and complimentary bags filled with graham crackers, chocolate, and marshmallows, and then roast s'mores at on-site fire pits.
"Fire pits in the evening are a must, along with s'mores as a dessert option," Chapman says. "Setting up a gourmet s'mores bar with elevated chocolate and unique fixings makes for a fun touch." For example, creative toppings might include candied bacon, roasted berries, gourmet peanut butter, or banana slices.
Efforts at sustainability can also spill over into beverage service. At Under Canvas Acadia, guests are given reusable water bottles at check-in and can refill them at a centrally located water station. At similar venues, corporate planners might opt to dole out branded bottles or canteens as a keepsake.
5. Stay active.
There are plenty of ways to stay active and entertained in an outdoor setting. At Under Canvas, "We highly encourage filling in any free time with optional programming for your guests," Chapman says. "Choices range from nature walks to live acoustic music, wellness classes, or even painting the beautiful landscapes that we're surrounded by."
The property also offers stargazing sessions—which can include lessons and rented telescopes from local astronomy guides—and family activities that could double as team-building events. For example, spirited rounds of bingo take place in the main tent, which is filled with comfortable lounge furniture and classic board games. The glamping site also has a guitar that all guests can pick up and strum at will.
6. Give gifts for the great outdoors.
Even after all event details have been communicated with guests, hosts can use thoughtful gifts to help them feel more prepared for their time in the great outdoors. Chapman says that bug spray, sunscreen, hiking packs, and even wool socks can be part of care packages to help glamping guests feel more comfortable.