How Upfront Week Changed This Year
Amid the marathon of presentations and parties, several television networks pushed for more seamless integration of brands, digital media, and fans.
June 2, 2014
As digital companies continue to tout the reach of their online properties, television networks are compelled to demonstrate how their shows influence consumers on multiple media platforms. This is certainly evident during Upfront Week, the four days in mid-May when the big broadcast TV networks—as well as some of the more popular cable channels—pitch new programming schedules to advertising executives and media buyers. This year the marathon of presentations and parties that hit New York May 12 to 15 were filled with talk of transmedia initiatives, Web series, social-media sharing, and second screen apps. (Conversely, there was also plenty of chatter about television as a live event, with references to the FIFA World Cup taking place this summer and the live productions of musicals from NBC and Fox.)
So, it came as no surprise the many of the brands participating in Upfront Week promoted their efforts with dedicated hashtags and activities that encouraged attendees to share. Fox brought back its Fanfront, an experience that let consumers meet the TV network's stars, see performances and sneak peeks, and submit questions via Twitter and Facebook. The Twitter Mirror, a tablet the enables people to pose and send out selfies, made appearances at several events, while the stars of the CW shows Supernatural and The Vampire Diaries even mimicked the infamous Oscar selfie by gathering for a group selfie on stage. Univision promoted the effectiveness of its audience on social by touting the concept of "return on influence" and using the hastag #ReturnonInfluence, while Discovery U.S. Hispanic brought in the event team from Discovery Communications to help craft a more immersive concept to match the tagline—and hashtag—of "feel closer."
The biggest change, however, was for NBCUniversal. Under the umbrella of "All Together. Different," the media company brought its portfolio of entertainment networks to Upfront Week, starting at the beginning of the week with the broadcast property NBC Entertainment and ending with the first ever upfront for NBCUniversal's cable entertainment entities—including USA Network, Bravo, Syfy, E!, and Oxygen. With the exception of the events for Telemundo and Mun2, which took place at Jazz at Lincoln Center's Frederick P. Rose Hall, the presentations were held in the Jacob. K. Javits Convention Center's north pavilion. There was a dedicated Twitter account, @TogetherNBU, tweeting updates from all three and E! provided a live stream of the cable entertainment upfront on its website. "Showcasing our entire portfolio to our advertising partners all at once is in response to marketplace demand and a natural next step in the evolution of the NBCUniversal portfolio coming together as one. In a world of fragmentation, aggregation and scale means everything for our clients," said Linda Yaccarino, president of advertising sales for NBCUniversal in a press release.
Even with so much focus on the power of digital, the Upfront Week presentations remained very much live experiences, and many brands continued the tradition of bringing network brass and talent to the stage. NBC had jokes from Seth Meyers and Jimmy Fallon, Fox opened with Ryan Seacrest and rapper Pitbull, and Outkast made a splash at Adult Swim's late-night outing. Univision's executive vice president for advertising sales, Steve Mandala, entertained with a parody of the song "Talk Dirty to Me" that was dubbed "Talk Spanish to Me" and Alan Cumming spoofed Cabaret for CBS, stripping to reveal the network's eye logo on his rear. ABC closed its affair with Modern Family stars Jesse Tyler Ferguson and Eric Stonestreet emerging from a cake, while NBCUniversal's Cable Entertainment upfront capped the week with an after-party that featured a performance by English singer-songwriter Jessie J.
Telemundo Upfront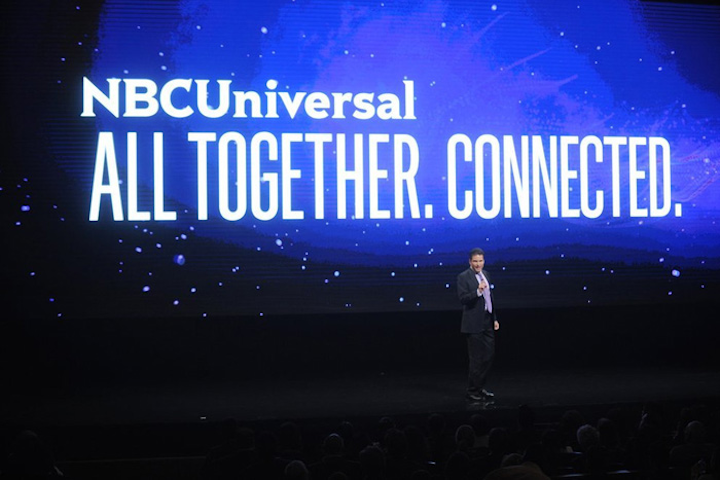 Photo: Brad Barket/Telemundo
NBC Upfront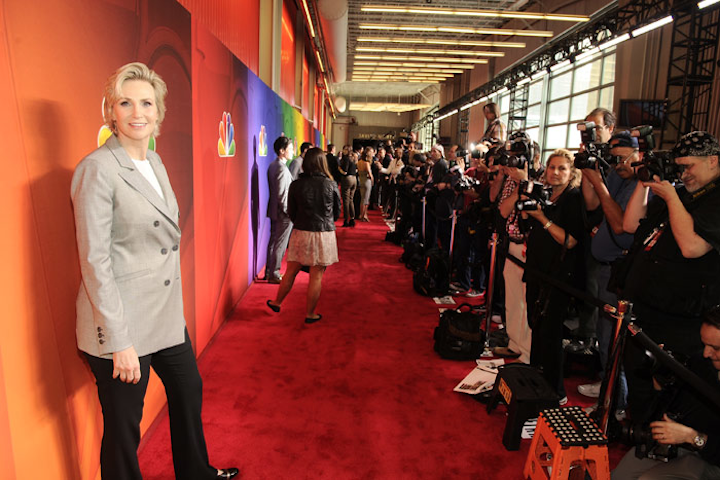 Photo: Charles Sykes/NBC
NBC Upfront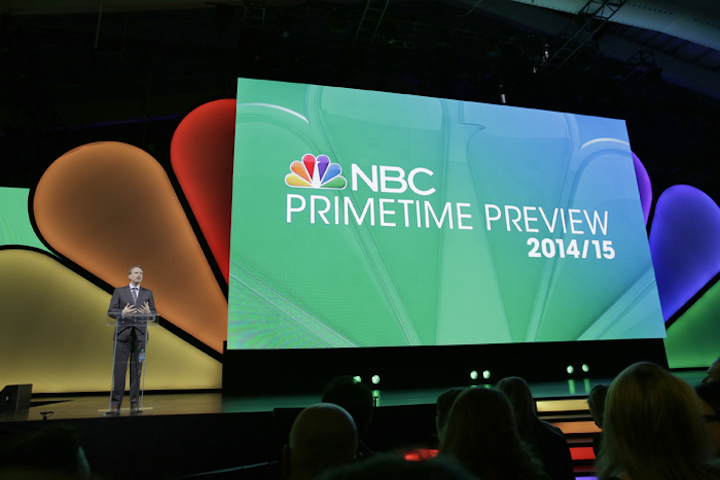 Photo: Paul Drinkwater/NBC
Fox Upfront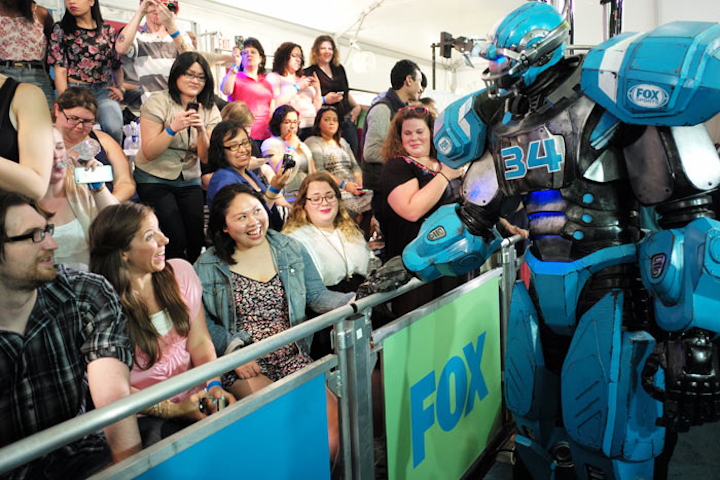 Photo: Ben Hider/Fox
Fox Upfront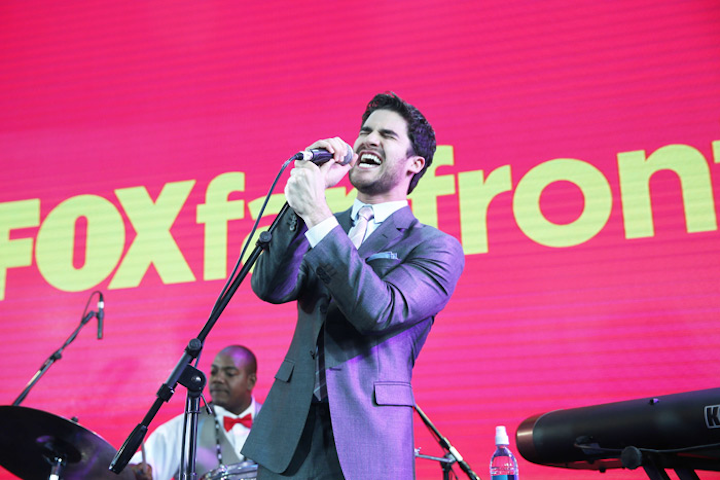 Photo: Ben Hider/Fox
Discovery U.S. Hispanic Upfront
Telemundo Upfront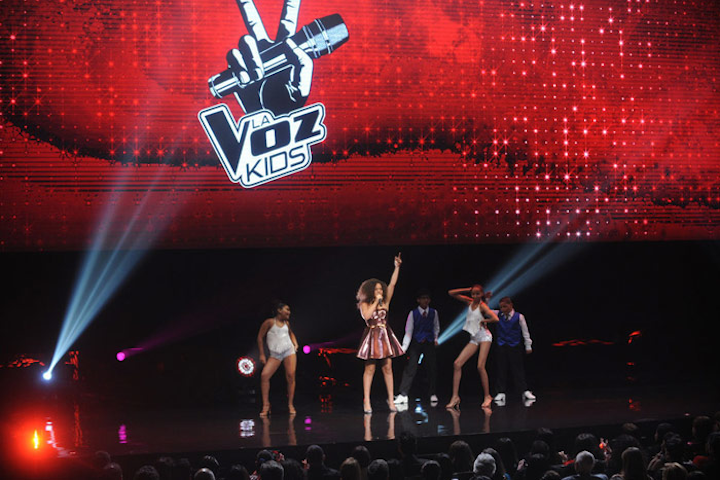 Photo: Brad Barket/Telemundo
Adult Swim Upfront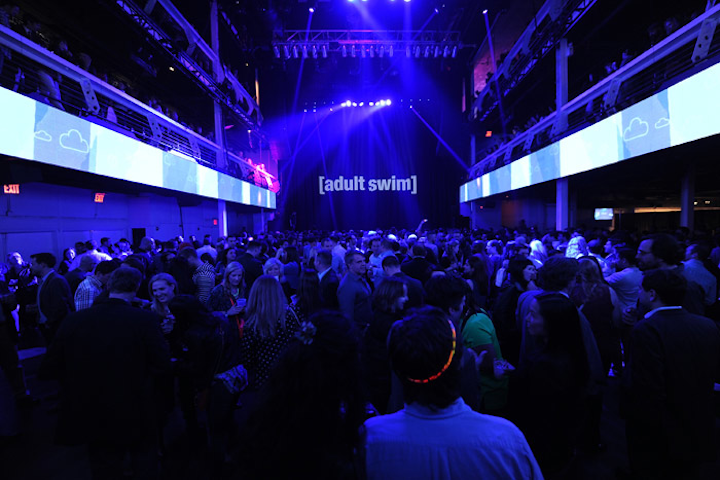 Photo: Dimitrios Kambouris/Getty Images
Adult Swim Upfront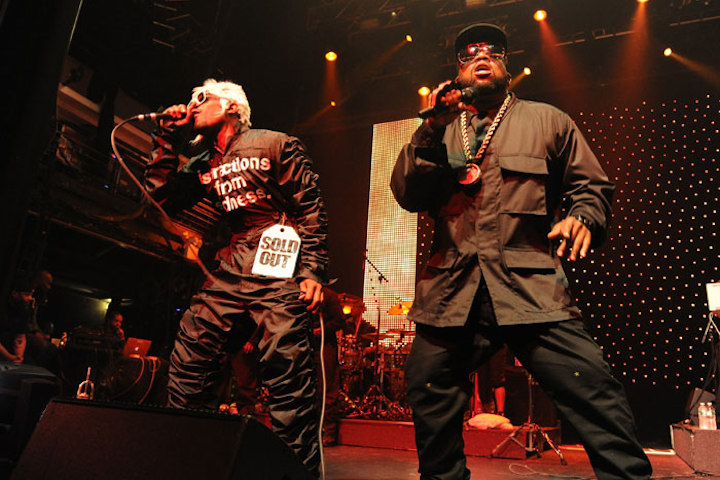 Photo: Kevin Mazur
Adult Swim Upfront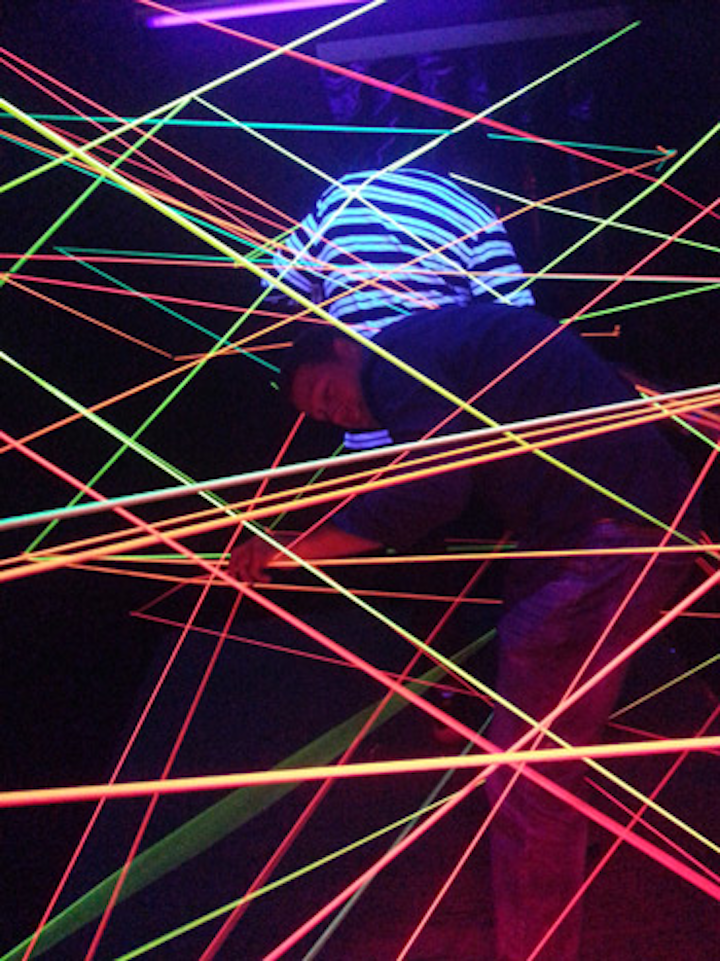 Photo: Anna Sekula/BizBash
Adult Swim Upfront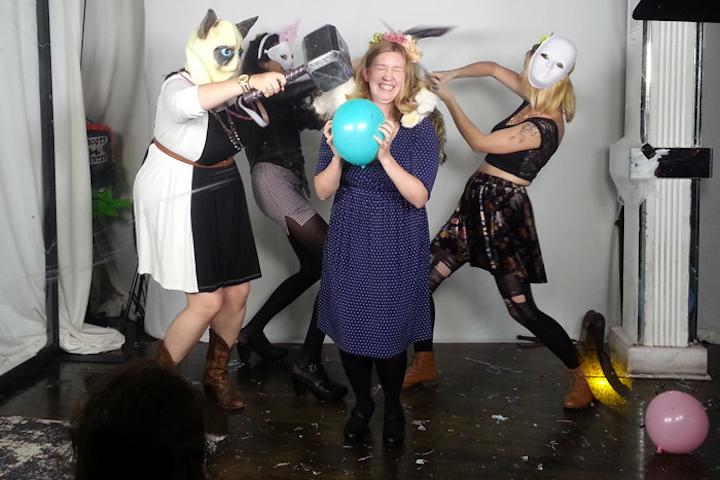 Photo: Anna Sekula/BizBash
NBCUniversal Cable Entertainment Upfront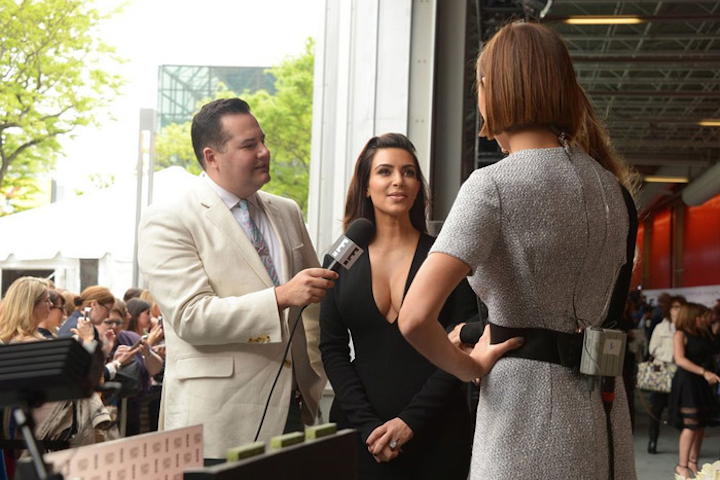 Photo: Michael Loccisano/NBCUniversal Cable Entertainment
NBCUniversal Cable Entertainment Upfront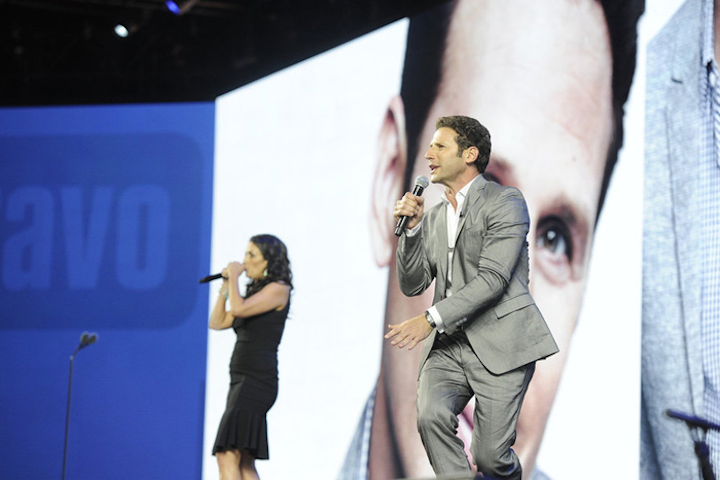 Photo: Charles Sykes/NBCUniversal Cable Entertainment
NBCUniversal Cable Entertainment Upfront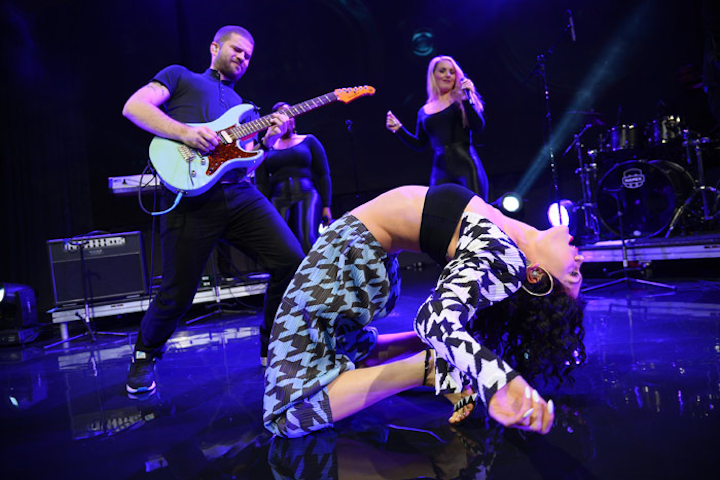 Photo: Michael Loccisano/NBCUniversal Cable Entertainment
Featured Venues/Suppliers: