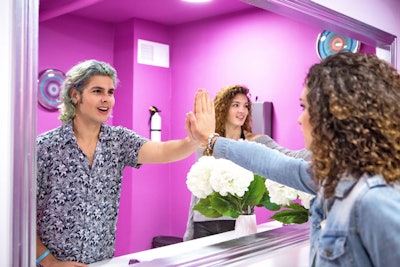 It's no secret that creating a highly shareable photo op at an event is an easy way for brands to extend their reach beyond the parameters of a venue and into the social circles of hundreds of guests. It's also no secret that attendees are fans of these ops, often adopting a snap, post, and go approach to party-hopping in search of the next Instagrammable moment.
This appetite for social media-worthy content has not been lost on the purveyors of the string of colorful pop-ups that have surfaced over the past year—the Museum of Ice Cream, Happy Place, and the Color Factory to name a few—which offer set-like backdrops seemingly created for the sole purpose of occupying social-media streams.
The latest such pop-up, the Museum of Selfies, opened in Glendale on April 1 for a two-month run and provides patrons with a series of interactive installations catering to selfie-snapping. Since museum attendees pay for the opportunity to strike a pose within the pop-up, event planners might learn a thing or two from the museum about creating environments that guests genuinely want to capture and share.
Here, we take a look the Museum of Selfies' most valuable takeaways when it comes to creating highly shareable photo ops.
Go With the Flow
Photo booths can attract long lines at events, which can lead to lost social-media shares if guests lose patience. Take a cue from the Museum of Selfies and create multiple photo ops throughout your event space, perhaps in the form of set-like vignettes. Vignettes rather than booths allow more than one guest to snap a shot at once, thereby eliminating the often time-consuming one-by-one pacing of a booth.
And since guests act as the photographers, they're more likely to continue taking pics until they get a shot they actually like—and are eagerly willing to post.
Bump Up the Booth
If you do opt for a traditional photo booth, try to increase the pic's appeal to both eventgoers and social-media scrollers with an unexpected twist. The Museum of Selfies partnered with experiential technology company Eventstag to create an onsite 3-D booth with split-depth GIF technology, which created the illusion that subjects were popping out of an Instagram post. Explore the museum's hashtag and you'll see that attendees' posts from the booth had multiple followers asking "How did you do that?" These curious comments translate into the much-coveted social-media engagement that brands love.
More Isn't Necessarily More
The museum's vignettes included a physical recreation of Vincent Van Gogh's bedroom, as well as Los Angeles' tallest building, but elaborate build-outs aren't necessary to entice guests to snap pics.
Case in point, the Darel Carey exhibit consisted of a graphic black-and-white, floor-to-ceiling electrical tape installation that attracted many guests with its striking simplicity. One need only look to the popularity of Paul Smith's pink wall in Los Angeles to see that a minimalist backdrop holds the power to mesmerize social-media devotees. A discreetly or artistically placed logo on such a background could easily nod at a brand while still satisfying a guest's desire for a standout setting.
Creativity Is King
If you do decide to build a set-like vignette, you could opt to recreate a popular setting—but such an endeavor might go beyond your budget or time constraints. Inventive alternatives like the museum's Bathroom Selfie installation are just as powerful and tempting to snap-happy social-media users. Featuring two bathrooms that are mirror images of one another with a void where the mirror should have been, the bathroom installation gave patrons an opportunity to create a head-turning optical illusion with friends. Trompe l'oeil effects, experimentation with scale, or other visually mind-bending tricks could achieve the same effect.
It's Lit
If it's not well-lit, guests won't be able to capture it. Many large-scale events feature gorgeous decor or impressive performances under mood-creating lighting that is often too dim to allow guests to snap a postable shot. Just as the museum highlighted each vignette with selfie-friendly lighting, make sure your installations are lit in such a way that any guest with a smartphone can snap-and-share its beauty.
Mad Props
In a nod to the food shots that often saturate social-media feeds, the museum had oversize food props—a burger, sushi, and broccoli—at the ready for guests to grab for humorous photo ops. Props such as these, which nod at your messages, don't have to be confined to photo booths. Strew them about the venue, where guests can easily pick them up and snap away.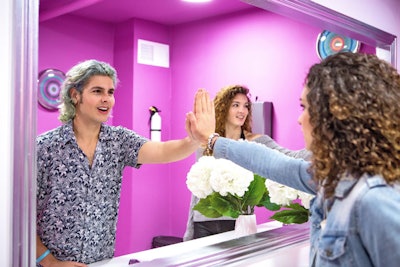 Photo: Elkhan Pitman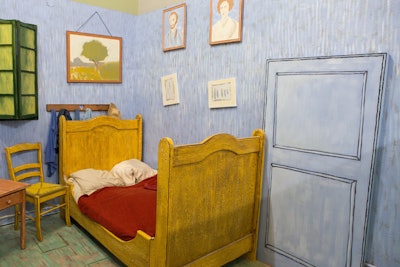 Photo: Tiffany Rose Photography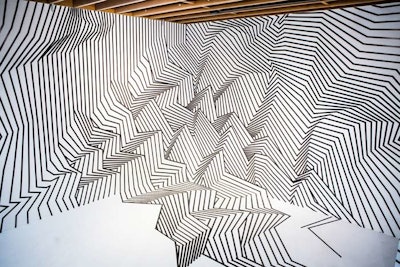 Photo: Tiffany Rose Photography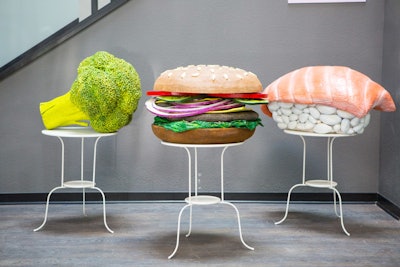 Photo: Tiffany Rose Photography
Photo: Tiffany Rose Photography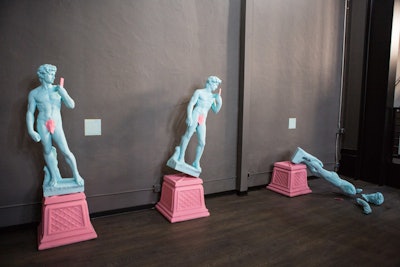 Photo: Tiffany Rose Photography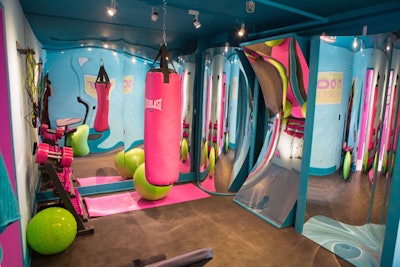 Photo: Tiffany Rose Photography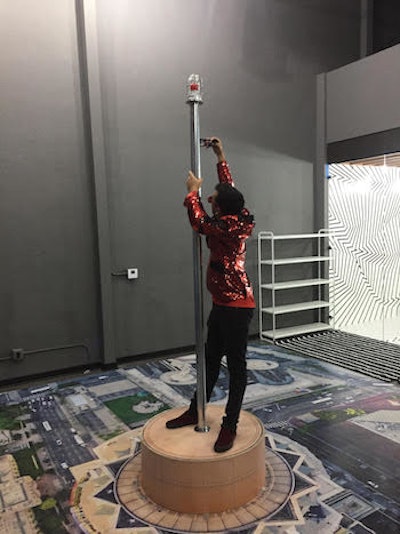 Photo: Rose Curiel