See a Lighting Installation That Paid Tribute to Gun Control Activists
The "Freedom From Fear" installation was a collaboration between Prabal Gurung, Skylight Studios, and lighting designer Bentley Meeker.
March 29, 2018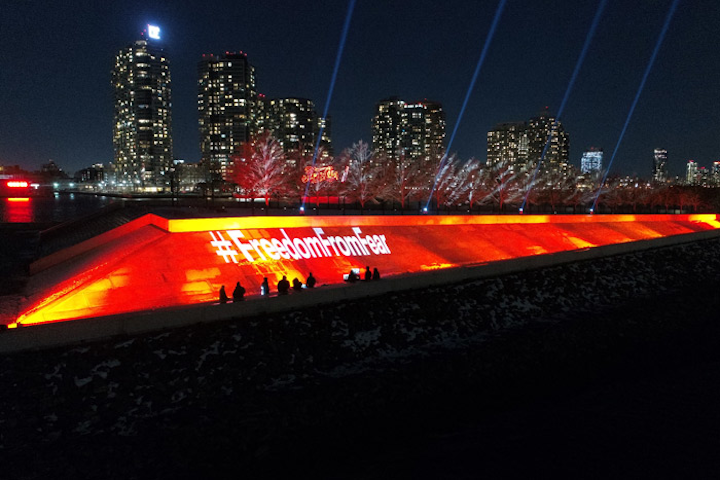 Photo: Glenn Harris/Courtesy of Skylight
An undulating bright glow visible on Roosevelt Island from all of New York's boroughs this weekend was the result of a light installation for the gun control demonstration March for our Lives.
Entitled "Freedom From Fear," the installation was presented by the event venue firm Skylight Studios in partnership with fashion designer Prabal Gurung, and installed by lighting designer Bentley Meeker. The evening light show on March 24 and 25 spread across the 4.5-acre FDR Four Freedoms Park, which Skylight manages.


"Through our work, Skylight focuses on the alignment of socially responsible missions around the world," said Skylight C.E.O. Stephanie Blake. "I'm honored to have a platform for such a project, and to stand with the incredible youth leading this movement."


The grassroots call to action project also received support from Rolling Stone magazine, which art directed the content showcased on the monument, having designed the #FreedomFromFear message projected throughout the installation.

"The inspiration, for me, was the ability to support the power of the movement is nationally and what it represents in society," said Meeker. "There is a lot of senseless death and having lived in New York since I was a kid and having been in Harlem for most of it, I have seen my fair share."
The installation itself featured four pillars of light, to symbolize the Four Freedoms, Franklin D. Roosevelt's list of basic human rights from his 1941 State of the Union Address: freedom of speech, freedom of worship, freedom from want, and freedom from fear. Gurung was the brainchild behind the installation's bold color palette, which is also reflective in his runway designs.

The chosen colors in the installation included azalea, azure, guava, raspberry, grape, and scarlet. They interacted with the #FreedomFromFear message, changing and blending from one hue to the next along the length of the monument.
 Meeker and his team installed a total of 22 large format lights with six large format projectors. Total light output was 1.282MM lumens, provided by Aggreko twin pack generators, and it was lit from 6 to 11 p.m. both evenings. The projection surface was 400 feet long and 23 feet high at its tallest point.
"When Stephanie from Skylight brought this opportunity to me, as an artist I felt there was a real chance to make a difference through my work and to create awarenesses that may, in time, become change," added Meeker. "Plus who would turn down a chance to work with Prabal?"
Featured Venues/Suppliers: