Niche Media Picks Carving Ice and DJ Pesce
March 1, 2008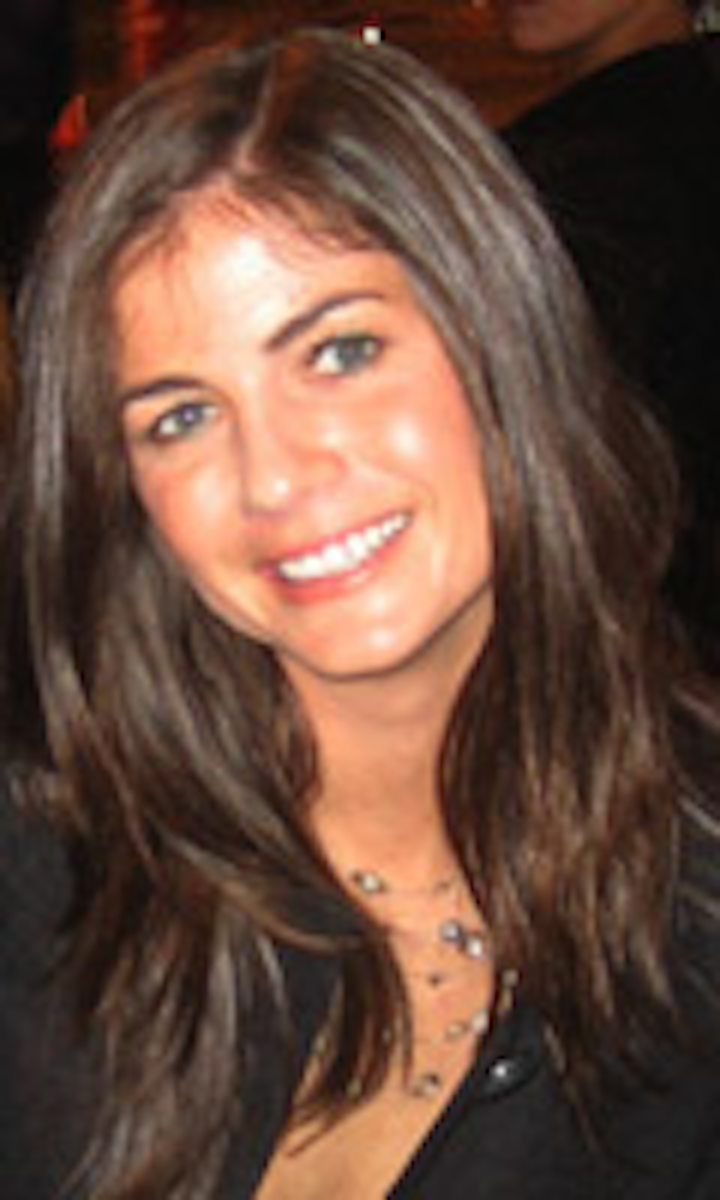 Photo: Courtesy of Lauren Belda
Lauren DeWind is the West Coast events manager for Niche Media, producing all events and handling marketing initiatives for
Los Angeles Confidential
magazine. DeWind has recently spearheaded cover parties, a pre-Emmy celebration, and an Oscar party.
Lighting, Rentals, and Production:
"Carter Reese and Josh Mele from
Vox Entertainment
have the dedication, professionalism, originality, and vision to take any event to a whole new level. They always come to the table with innovative and creative ideas to add a lasting impression for attendees."
Ice Sculpture:
"Dan and Dave at
Carving Ice
are always thinking out of the box when it comes to creating ice sculptures. They are enthusiastic, passionate, and eager when it comes to their work. I am eager to try their 'Aqua Sermo' [a display of cascading illuminated droplets that form a message or logo] at one of our upcoming events. From what I hear, it is an amazing branding mechanism."
Florists:
"My favorite florists in Los Angeles are
Empty Vase
,
House of Petals
, and
Eric Buterbaugh
. Each has a unique artistic direction. Working with them is so easy—I just pick up the phone and call Robin at Eric Buterbaugh or Yvonne at Empty Vase and give them one word that I am trying to capture. From that, they run wild and create arrangements that always exceed my expectations."
DJs:
"I know any time I hire
DJ Mi$ter Best
that he will surprise me. He is an example of homegrown talent who always has the most cutting-edge tracks and mixes. He keeps guests wondering what he will play next. He impressed guests at our pre-Emmy celebration and Casey Affleck cover party. And
Michelle Pesce
is by far one of the coolest girls in L.A. She mixes the flavor of hip-hop with rock, funk and '80s pop. At our 2007 Oscar party at the
Mondrian
, she was at the turntable while Fonzworth Bentley became the surprise M.C. of the night.
Johnny Knight
can play the right music for any crowd or scene. Whether playing at our Malibu beach house party at the French Connection house or our 2007 pre-Golden Globes party hosted by Penelope Cruz, Johnny can set the perfect tone for any soiree."
Staffing:
"For all staffing needs, Elizabeth Anne Frank and her team at
Eye5 Marketing
provide upscale, qualified staffing. I am always impressed by the diversity, positive attitude, and charisma of who I hire."
Transportation:
"Bruce Cardenas with
CLS
is easy to work with, reliable, and top-of-the-line."
Printing:
"
Design Printing
is always dependable and reliable."
Featured Venues/Suppliers: