7 Tips for Mastering Digital Invitation Etiquette
Experts emphasize the importance of striking the right tone, leveraging the digital format, and recognizing when a paper invitation is an absolute must.
July 22, 2014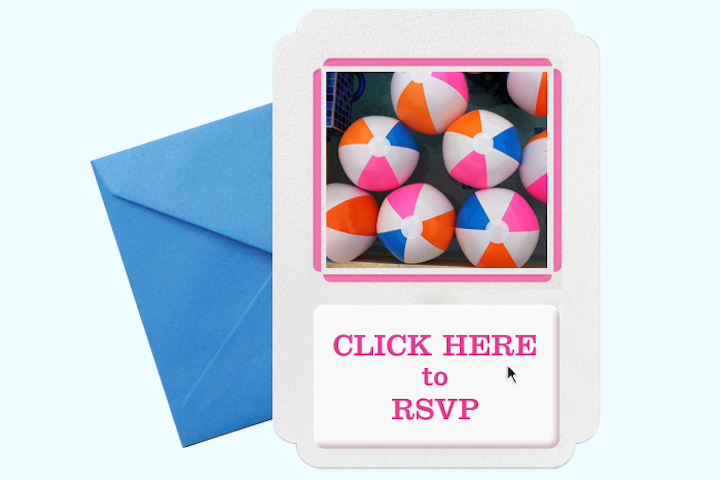 Illustration: Cornelia Stiles/BizBash
An event—no matter how well produced—is nothing without guests. With event planners turning to the digital invitation as a quick, easy, and cost efficient means lure said guests, we tapped three experts for their dos and don'ts when it comes to getting attendees to R.S.V.P. over email. Here's what they had to say:
1. Know when a digital invitation is appropriate—and when it's not
While digital invitations are certainly convenient, high-profile events often demand a little more formality than an email.
"Based on the type of event you're creating, there's the right modality to communicate based on your audience—and their expectations," says Couture Communications' Marc Friedland, who counts designing the envelopes and winners cards at the Oscars among his professional achievements. "Formal weddings and thousand dollar-a-plate dinners require materials that promise an evening of substantial significance, while a digital invitation might be perfect for a birthday party or cocktail reception."
R. Couri Hay whose eponymous public relations firm has handled such diverse clients as Prada and the School of American Ballet, offers similar advice: "Each occasion merits an individual choice, but I think to keep it simple, if its more than 30 days ahead or if it's a benefit where the tickets are about $1,000 and up, send paper. If it's a cocktail party announcing the save the date for that gala, or a kick-off party, a paperless invitation is fine. Do send paperless when you want to be eco-friendly or when you want to be fast and cost-effective."
2. Don't adopt an overly casual tone
"Unless you're E.E. Cummings or a seriously modern mannerist, use sentence case when writing your invitations," says Friedland. "Avoid the impromptu, informal, unconsidered style and spelling of text messages."
At the same time, Hay suggests steering clear of overly formal text. "When you opt for a paperless invitation, it's definitely more casual and therefore your language can be more casual. You can go with 'your presence is requested' to add a little formality if you want, or you can tone it down a notch with 'so-and-so and so-and-so invite you.' But you don't need a lot of flowery language in digital. The flowery, formal language is a throwback to past."
3. Include information that will make guests' overall experience easier
With a digital invitation, planners can start to address attendees' concerns before they have even R.S.V.P.'d.
"You've got to put yourself in the guest's shoes: If I'm R.S.V.P.ing, what do I immediately want to know?" says Ryan Costello, C.E.O. of Event Farm, which offers branded invitation and guest registration experiences among other services. "Map links is a great, obvious one. A calendar icon they can immediately click on so they save it to their calendar, and it gets it to their phone automatically. Public transportation is an interesting concept that people often forget to include."
But the opportunity to leverage the digital format continues once guests have R.S.V.P.'d. "With a confirmation email, we can tell them, 'Here's how you should dress, here's what you should expect to see.' Is there going to be a red carpet? Great, let's show that picture. Don't just say red carpet. Let's start painting the picture of what they should expect, so they can better prepare themselves, so they fit in, they feel ready, they feel excited and they feel prepared to be able to attend the event."
4. Use contact lists wisely and thoughtfully
Given the fact that most paperless invitations are free, some planners might be tempted to expand their guest lists in an effort to ensure a high turnout. But the pros advise adopting a more strategic approach.
"You can get less of a return on a digital invitation unless [the guest list] is highly curated and personalized," says Hay. "With digital especially, I curate each list. Depending on the occasion, I may also add a note: 'Dear so-and-so, please join me, this will be fun,' because people can always tell when you're just a number on someone's contact list. Even with an email invitation, add a note—anything to personalize it makes people notice it."
Friedland adds: "Proof your address list printouts carefully and make sure you have a good way of organizing your various social groups. If you invite someone unintentionally, we generally suggest doing your best to accommodate them. If the mistaken invitee simply won't mix with the intended guests, then you'll need to combine candor and diplomacy in just the right measure. Is there another occasion when the two of you might connect?"
5. Follow up
While the ultimate goal is to secure attendees through digital invitations, inundating potential guests' inbox with irksome emails to R.S.V.P. will most likely hurt rather than help that cause. So, how does one tactfully provide a helpful reminder without aggravating potential guests? In some instances, it may actually pay to pick up the phone.
"One of the problems with digital is that there's a lot of it; we are inundated with hundreds of emails," says Hay. "If it's important to really get people to respond, a follow-up call is sometimes important. If you're making the call yourself, it's more than proper etiquette—it's actually the polite way to ensure people that you're thinking of them."
For those who would rather stick to email, Costello cautions against messaging someone too frequently. "[At Event Farm] we have a button that resends all unconfirmed guests an invitation. You can hit a button that says, 'resend all invitations.' That button will automatically not send someone an invitation who has already received an invitation within last 48 hours. Obviously that changes as you get closer to the event but in general, we think that 48-hour rule is a good starting point—and obviously, we do not recommend that every 48 hours for four weeks, you hit that button."
6. It's OK to have more than one type of invitation
"Every invitation should be completely thought about and designed for who it's going to," Costello says. "The ultra V.I.P.s are people who have, in general, less attention to details and time. For those people, we like invitations that are really straight to the point: 'We want you here.' Something like that. You don't need to go into, 'We're going to have jean bars and specialty cocktails.' Know who you're talking to: The person who you're selling the Maserati to is a different client than the person buying the Ford."
In other instances, as Hay explains, V.I.P.s might get a paper invitation along with a keepsake that ties into the event, while rest of the guests only receive a digital invitation. "There are definitely levels of invitations and this is OK. You can send your V.I.P.s something special."
7. Go the extra mile
Embossed invitations printed on thick card stock aren't the only way to impress guests.
"I do think that just because it's digital doesn't mean you shouldn't be putting time, attention, thought and energy into it," Hay says. "I think it's very important that if you're going be doing a digital invitation, you spend some time designing it. Either design it yourself with all the tools that are available on the Internet, or have a designer do it. For $100, I can hire a designer and I get something that looks well-designed."
But just because you've sent the invitation out doesn't mean your work is necessarily done "With digital, you can change, you can evolve, you can adapt," Costello says. "You can send out invitations, see the response rate, maybe it's not great—you can tweak it, you can change it, you can have different invitations for different people by ticket type."
Featured Venues/Suppliers: