M.L.K. Memorial Dedication Preview: 10 Official Events, Dozens of Vendors, 30,000 Chairs
August 23, 2011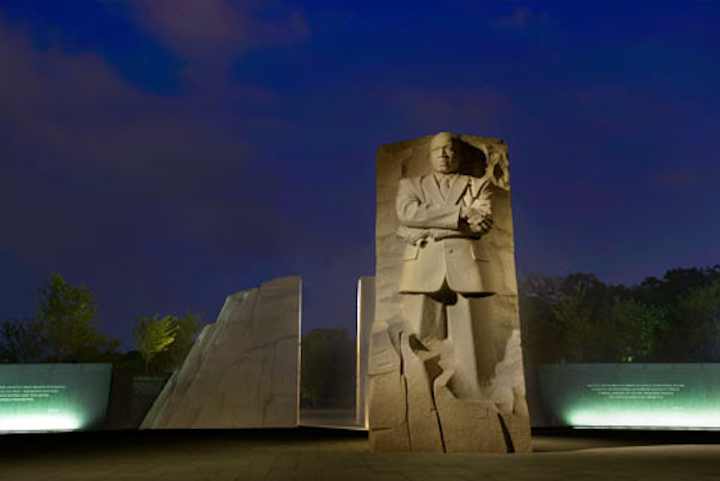 Photo: Johnny Bivera/Courtesy of the Washington, DC Martin Luther King, Jr. National Memorial Project Foundation, Inc.
The Martin Luther King Jr. Memorial opened to the public Monday, and vendors all across Washington are gearing up for Wednesday night's celebratory kickoff, with the Honoring Global Leaders for Peace gala at the National Building Museum. Hosted by the Martin Luther King Jr. National Memorial Project Foundation, the weeklong dedication comprises 10 sanctioned events, including two galas, a public expo at the Walter E. Washington Convention Center, a prayer service, a youth symposium, and the dedication ceremony itself, which is taking place on the National Mall on Sunday, the 48th anniversary of the March on Washington and King's historic "I Have a Dream" speech. The event is expected to garner anywhere from 150,000 to 400,000 spectators.
To oversee all the moving parts, the foundation tapped GEP Destination Management and Susan Davis International to jointly manage the official events. "To some extent, we both went with what our strengths are, and ours is the event management and logistics side," said GEP president Marty MacKay, who added that the company has 28 staffers working on the dedication. "That was how we naturally divided the different tasks. However, there wasn't any area in which either of us was able to operate in a vacuum—everything was touching everything; it all needed to be done together."
The foundation awarded the contracts late last year, leaving roughly eight months to prepare for the dedication—a process that usually takes several years. Also setting the M.L.K. memorial unveiling apart from others that have occurred in recent years is the number of official events the foundation wanted to host in the days leading up to the dedication. "Each event is designed to tell a story about the role Dr. King played in this country," said Susan Davis executive vice president Judy Whittlesey. "Our role has been to create these programs. The first gala (Honoring Global Leaders for Peace), for example, was designed to have international speakers and entertainment, illustrating that Dr. King's message had international values. The prayer service underscores his concerns about people of all faiths and cultures. The Women Who Dare to Dream luncheon on Friday spotlights women from the civil rights movement whose stories weren't always told."
Per the foundation's requirement, GEP and Susan Davis bid out all of the vendor contracts in a three-bid process for the larger ticketed items (decor, transportation, production, lighting, etc.), allowing vendors to bid out portions of the event roster, or the entire 10-event project. Among the many vendors tapped to work on official events are Hargrove, IEP a PRG Company, André Wells, Showcall, Perfect Settings, DC Rental, CES Security, and Amaryllis.
"This dedication is certainly right up there in terms of the most historically significant events we've worked on," said Hargrove C.E.O. Tim McGill. "The anticipated attendance and number of total events do magnify the planning process. One of the many ways we address the planning is to break the overall project into components—so we have teams assigned to each of the 10 events. The largest event for us is Sunday's dedication which does present complexities in terms of sheer volume." For example, Hargrove spent three days this week setting up 30,000 chairs for Sunday's dedication. The company had 400 tractor trailer loads of equipment, including 400 restrooms, 130,000 square feet of flooring, and 10 linear miles of bike rack for crowd control.
The odd-shaped viewing space at the dedication, too, has provided challenges. "It's not a straight line down the Mall, so when it comes to audio and visual, we've had to pay more attention," said Mark D'Alessandro, director of business development at IEP. "We've installed 15 LED walls between West Potomac Park and the ball field and 24 separate hangs of audio."
"The dedication site is not very big, and everyone wants to be a part of the event—the interest is overwhelming," said Whittlesey, who added that Susan Davis's key role has been executing and carrying out the dedication. "Every possible bit of real estate is being put to use, so that as many people as possible can see and hear the dedication. We're also making accommodations for as many media as possible, so that live coverage will allow people around the world to be part of this."
Some 1,500 media outlets have applied for credentials, according to Whittlesey, and more than 80 ambassadors are attending the dedication, as well as civil rights leaders from around the world. Stevie Wonder, Aretha Franklin, George Lucas, and Jamie Foxx, among others, will serve as celebrity co-chairs for the memorial dedication, while Colin Powell, Tom Brokaw, Maya Angelou, and Tommy Hilfiger are among those participating. President Obama will deliver remarks during the ceremony. Sponsors include General Motors Foundation and Chevrolet, the Tommy Hilfiger Corporate Foundation, Aetna, Boeing, BP, Coca-Cola, Delta Air Lines, GE, McDonald's, Travelers, and Walmart Stores.
"It's a challenge to produce all these events, but it was irresistible to not tell all the parts of the story," Whittlesey said. "Each part is so purposeful, and so clearly a part of the celebration. Everyone is going to be really tired by Sunday night. But a happy tired."
Featured Venues/Suppliers: