Checklist: 8 Things to Ask Your Rental Vendor Before an Event
Avoid unexpected costs and ensure a seamless event setup by asking your rental supplier these key questions in advance.
April 7, 2014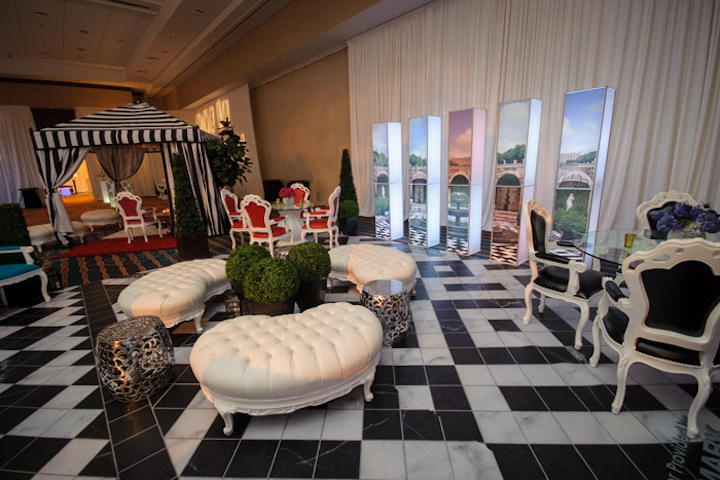 Photo: Richard Barnes Photography
Rental items are essential to almost every event or meeting, but aside from knowing which pieces your rental house is supplying, you'll want to discuss other issues that could impact your budget, planning, and setup.
1. What other fees can I expect?
You may know the stated cost of each item on your list, but don't drop that number into the budget until you know what it really includes—or excludes. "Some delivery companies have additional fees like card processing fees, transportation or facility-to-facility transfer fees, separate labor and delivery fees, and after-hours or weekend fees," says AFR Furniture Rental & Event Furnishings Southeast sales manager Lindsay Masterson. "When comparing prices, ensure you compare a whole quote to a whole quote."
2. What is your damage policy?
It's a simple question, but an important one—and could end up making a big difference to an event's bottom line. And make sure you know not only the damage policy, Masterson says, but specifically what constitutes damage for which the vendor will charge.
3. What design and planning assistance do you provide?
Cort Event Furnishings' director of marketing and product development
 Kevin Dana advises finding out how much design assistance your vendor provides, and who is responsible for the task of planning the layout ahead of the event. He suggests asking, "Does the rental company provide 2-D and 3-D models of all their products to create plans that assure everything fits into the event space?"
Masterson recommends organizers ask if the rental house can provide scale floor plans or design assistance, or offer CAD renderings of its furniture that can be used to get an accurate depiction of spacing. "Your rep likely has some great creative thoughts that you may not have considered," she says, so keep the vendor in mind as a resource if design consultation is an available service.
4. What can be customized?
Many hosts want every part of their event to match the message or overall theme, so knowing which items can be personalized for the occasion in advance can save time and money later. If pieces can be customized, be sure to ask whether or not a proof will be provided for review.
5. How much access will I have to trained rental staff—and when?
Aside from load in and out, you'll probably want access to your rental staff for any time-sensitive needs that may come up during the event. So find out whether—and when—your rental vendor will be available to meet on site with other relevant vendors, like the florist, lighting team, or caterer.
It's also worth asking who's providing the labor for your event—whether it's trained employees or outside temporary labor. "Experienced delivery staff should be able to work efficiently, fix a mishap that occurs in delivery like a broken leg, and can even help with preferred placement of the items," says Masterson.
Once you know, adds Choura Events C.E.O. Ryan Choura, "Make sure you double check your rental contract for any phone numbers you may need during your setup."
6. Do you have what I need nationwide?
If you're planning an event as part of a larger series across the country, check to make sure your rental house can supply the same or similar pieces for the entire series. "If doing multiple events nationwide, ask if the rental company can provide the same furniture in every major market in the U.S. for a consistent brand message," suggests Dana.
7. What's new in stock?
Fritz Williams, the owner of FormDecor, advises always asking what's new in the rental provider's inventory—even if it's not what you need for the event at hand, it may spark ideas for the next big project in the pipeline. "We welcome clients into our warehouse to view our collection," he says. "It can be beneficial to see the furniture in person for the current event you're planning, but it also gives you the opportunity to mentally catalog items for future events as well."
8. What's your style specialty?
If you're specifically looking for a certain aesthetic or niche design style, make sure you ask up front if your rental company has a solid inventory of the kind of pieces you'll need. Williams suggests, "Oftentimes boutique furniture rental organizations collect and curate around a certain aesthetic. If you're looking for mid-century or modern furniture, for instance, you'll want to check with specialty firms."
Featured Venues/Suppliers: