Bacardi Marks 150th Anniversary With Events for Execs, Employees
February 9, 2012
The Bacardi brand turned 150 on Saturday, but local celebrations started weeks earlier. To mark its anniversary, Bacardi engaged its internal team with multiple events to honor its milestone here in the U.S., beginning with a V.I.P. event held at the brand's headquarters in Miami. 

On January 28, the brand, along with Robert Furniss-Roe, regional president of Bacardi North America, and Facundo L. Bacardi, chairman of Bacardi Limited, hosted 150 Bacardi executives, retired employees, and celebrity guests including Emilio and Gloria Estefan, Alex Rodriguez, and Ryan Phillippe at the Bacardi Building.
Harrison & Shriftman created a 12-foot-high step-and-repeat constructed out of rum barrels brought in from Puerto Rico and lined with a red carpet to welcome guests. For a retrospective of the brand's eight different logos, a wall titled the "bat evolution wall" showcased illuminated Bacardi logos.

 
Various areas set up around the building allowed guests to network and explore Bacardi memorabilia. Guests took to a V.I.P. room during the event with furnishings like white sofas, gold-mirrored coffee tables, end tables, and a branded bar with the 150th anniversary of Bacardi logo. In the middle of the bar stood a three-tiered shelf with more than 90 bottles of liquor. To further use the barrels in the decor, Harrison & Shriftman enclosed them in Plexiglass so they appeared to be suspended mid-air.

Guests also perused framed original photographs and Bacardi artifacts in a V.I.P. tasting room, and later on sampled three varietals of rum. Le Basque Productions provided catering for the party, serving items like mini tenderloin of beef with onion compote and aioli over croustade and cornets of salmon tartar with sweet onion creme fraiche.

Prior to the V.I.P. event, the Founders Awards, held January 26, honored Bacardi's top distributors in the U.S. The five-hour, black-tie event, hosted at the Biltmore and produced by Triton Productions, began with a cocktail reception. Greeters, dressed as Cuban dancers known as "rumberas," led guests to the gold- and amber-lit terrace filled with white seating, branded Bacardi pillows, smoked gold mirrored tables, Cuban conga drummers, and a bar inspired by one found at New York's former Boom Boom Room.

Inside the ballroom, Javier Velarde of Triton transformed the space using the theme "Old Havana Cuba." The dinner and awards scene set for the 150 all-male guests took on the brand's colors with red rose arrangements, gold linens, black chair covers, archways lit in gold and amber, and Venetian drapery to cover existing finishes. "We wanted a venue that had an old vintage Cuban feel," Velarde said. As for the seating arrangements, he said, "Round tables are good for social events, but when you are doing an awards show, the new concept is to use long communal tables, because no one has their back to their stage, and people tend to be quiet."

Velarde also created custom palm trees to line the stage, a nod to when Bacardi had the trees at its factory in Cuba to symbolize the longevity of the rum.
Bacardi U.S.A.'s Founders Awards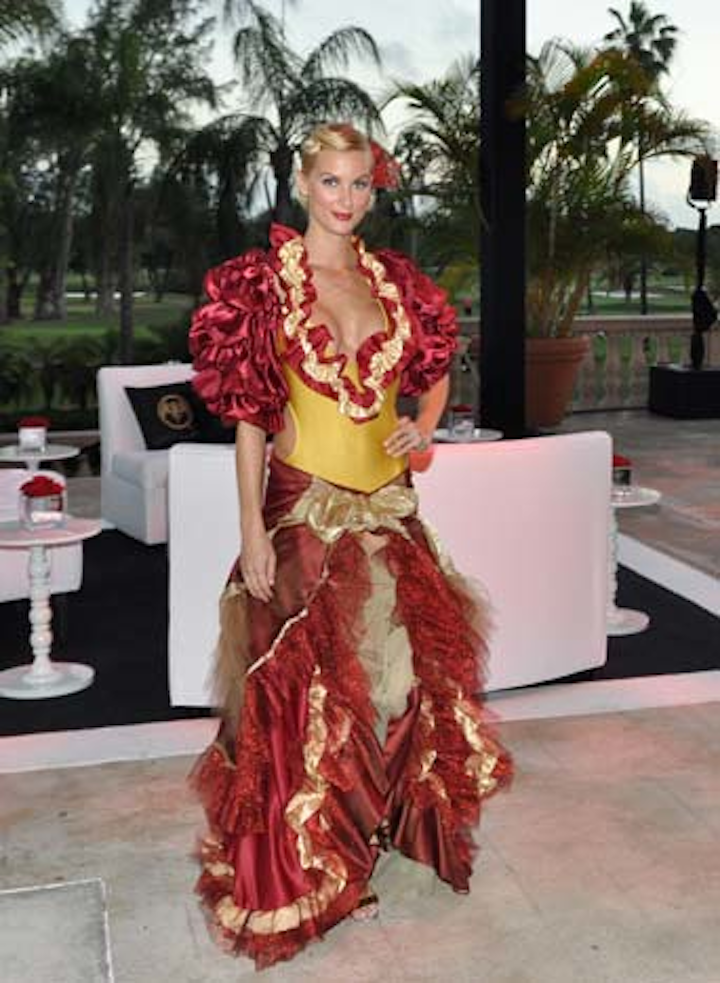 Photo: Manny Hernandez
Bacardi U.S.A.'s Founders Awards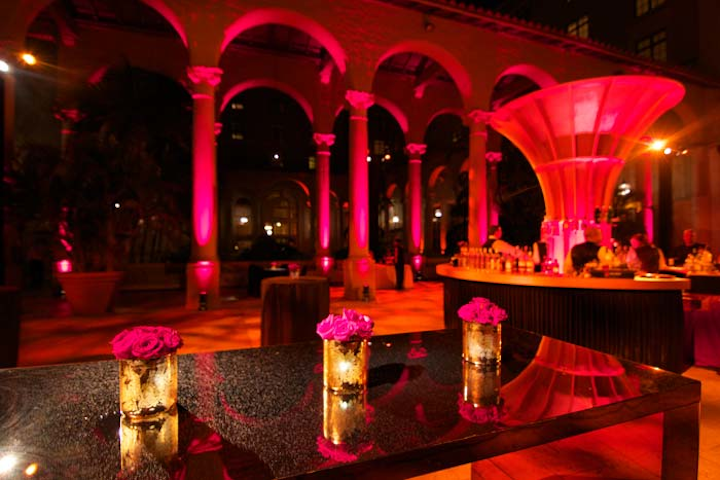 Photo: Manny Hernandez
Bacardi U.S.A.'s Founders Awards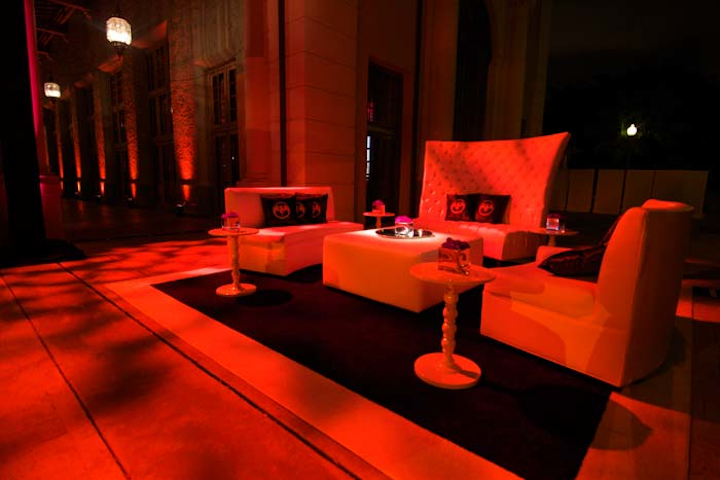 Photo: Manny Hernandez
Bacardi U.S.A.'s Founders Awards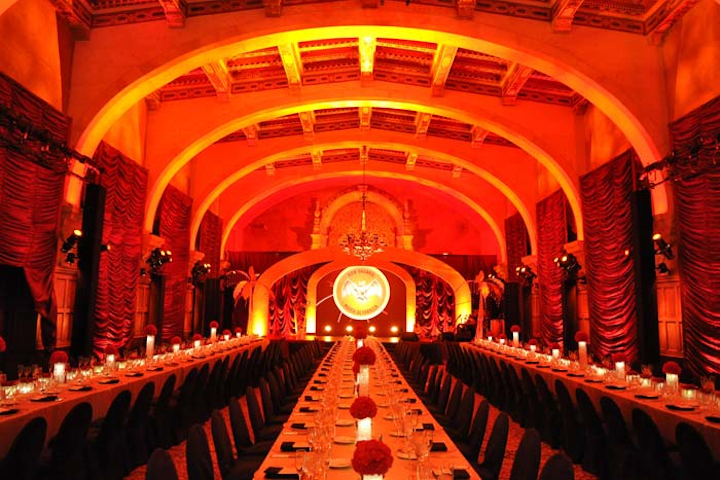 Photo: Manny Hernandez
Bacardi U.S.A.'s Founders Awards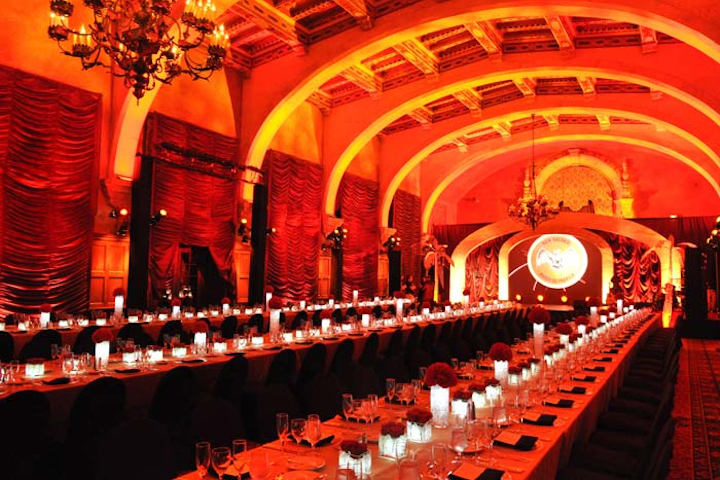 Photo: Manny Hernandez
Featured Venues/Suppliers: