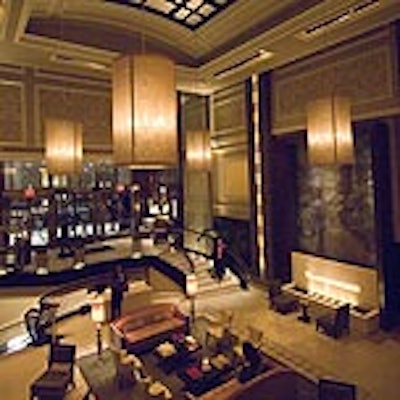 One of the best and most memorable experiences of living in New York is coming upon a location, a grand one, and thinking, "How could this have coexisted with me in Manhattan and not have shown itself?"
That is the sensation one gets upon entering the lobby of the recently refurbished
Carlton Hotel
on Madison Avenue and 28th Street. The feeling is only magnified when you take a stroll through the various bars, lounges, dining areas, private rooms, and more offered in the hotel's restaurant,
Country
, where my friends say it's already hard to get a reservation.
Lower Madison Avenue retains its historic quality as a stomping ground for the very rich. Think of the
Pierpont Morgan Library
as a private residence and you get my drift. And because these buildings were constructed in ostentatious Beaux-Arts splendor, they stand up to 21st-century vulgarity quite well, unlike, say, the West Village, which can seem like a theme park.
The scale and scope of offerings of the Carlton complex must be seen to be believed—there's something here for just about any kind of event, meeting, party, or what have you. Don't be shy—even if the restaurant seemed to be constantly full when I called, I meandered in four or five times without reservations and got all sorts of good seats and food.
Country is the new place by
Geoffrey Zakarian
; his other place is
Town
—get it? He explained to me that this place is more casual, less citified. I didn't buy into that at all, but who cares, the place is amazing. He is there all the time, not like some other TV-handsome chefs, and his young and beautiful wife,
Margaret
(who knows the business well), can also be spotted.
The restaurant and the hotel's new look were designed by architect (and
Tony
winner? Did
Hairspray
win? I can never remember
[He was nominated, but didn't win. —Ed.]
)
David Rockwell
, who I'm told is an investor.
The main lobby is like a movie set (the hotel has been contacted for big photo shoots, no surprise, and if the offer is right you can host a party in this setting as well). You enter onto a limestone balcony, then walk down a turn-of-the-century curved staircase into a white marble and black-walled giant jewel box. The oval staircase continues downward to the lower lobby where the meeting rooms and other hotel facilities are located, but they were unfinished as of this writing, so I can't tell you much. (The place had been open six weeks when I stayed there.)
If I was booking a group in Manhattan, I don't know why I'd put them anyplace else. The rooms are medium-sized, but graciously appointed. It feels luxe but interesting, too.
The hallways are a bit spooky at night—this place is big and has 316 rooms and suites, plus a bunch of fancy meeting rooms.
The Shining
comes to mind. There was a big rainstorm when I stayed, and it was just like being in
Wuthering Heights
(sans Heathcliff, sigh).
The restaurant is a city unto itself.
There is one bar on the hotel lobby side that seemed empty all the time, then one Sunday I walked in and the whole joint was packed.
Then there is a rectangular bar in the center of the downstairs "café" (which is a full-scale restaurant of its own) with a suspended glass cage in the center of an atrium that allows viewers to peer upstairs at the partyers in the champagne lounge.
There is lounge seating here and there, where you can have a terrine of foie gras and some Gruyère gougeres that are pan fried, skillet served, and better than
Glorious Food
's (everyone says their cheese puffs are the best, so I had to make the comparison). Why don't more places offer a variety of seating options like this, so you can rest and have a snack before going on to a big party, or relax with a friend and get the office gossip, without having to elbow up next to (potentially) nosy bar mates?
The champagne lounge has alcoves that overlook the lobby, or you can sit by the bar and overlook the café.
There are a bunch of private rooms; their names are the Seville, the Jazz Suite, the Tiffany Suite, Madison Avenue, and Murray Hill. Some are more done than others, and they are bright and modern looking—quite a contrast to the clubby downstairs.
The entire second floor is bright, and there's a giant Tiffany glass dome that was uncovered (supposedly as a surprise) during the renovations, where main dining takes place with a dressier staff and prix fixe. An alabaster bar sat waiting to serve as the fourth (by my count) drinking spot in the establishment, and yet I felt cheated by not being able to sit there.
This is the kind of place that you return to again and again so that you can sit in all the chairs.
My absolute favorite food was the lobster soup with poached lobster quenelles, but Geoffrey recommends spicy panzanella salad with pickled peppers and blue cheese vinaigrette, and the pressed organic chicken with pomme purée, haricots verts, and parsley-chicken jus. I trust him. Executive chef
Doug Psaltis
likes the pressed chicken, too.
If you stay in the hotel you can order eggs in a jar for breakfast, a true novelty that Geoffrey says is a classic French cooking technique. (It seems to have escaped this rube's attention—live and learn.)
I would write more, but then you'd be too lazy to show up yourself for a little site inspection—what a miss.
After I attend a few parties there, I intend to revisit this topic. May even throw one there myself to get the hang of it!
Posted 11.30.05
Columnist Ted Kruckel is an experienced and opinionated former event and PR pro who ran events for 20 years for high-profile clients like Vanity Fair, Elle Decor, Christian Dior, and Carolina Herrera. He shuttered his firm, Ted Inc., in 2003. You can email him at

[email protected]

.
Related Stories
A New York State of Hospitality
Where to Enjoy Fall's Final Warm Days