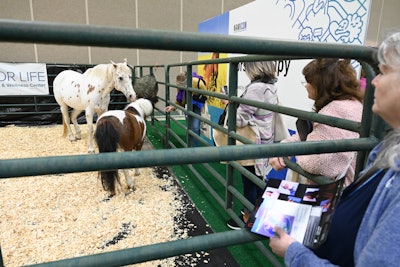 Photo: Scott Amundson Photography
BizBash's 10 Conferences That Captivate 2023 is sponsored by Pixis Drones.
The basics: The National Alliance on Mental Illness—the nation's largest grassroots mental health organization—hosted the 2023 edition of its annual convention, NAMICon, May 25-27 at the Minneapolis Convention Center. The event had a "Together for Mental Health" theme this year, hosting mental health advocates, people with mental health conditions, caregivers, researchers, clinicians, and more for a diverse lineup of programming.
"This event convenes people from across the country and with diverse backgrounds who share an interest in creating positive change by raising mental health awareness, advocating for policy issues, and educating anyone about mental health conditions and concerns," explained Wendy Porter, owner of the lead planning agency, Wendy Porter Events LLC (WPE).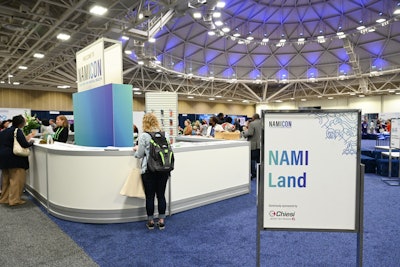 A revamped exhibit show floor: For the first year back post-COVID, NAMI wanted to elevate the experience—particularly the exhibit floor, which is known as the "Community Hub." The team—which included WPE, NAMI staffers, and Velvet Chainsaw Consulting—brainstormed ways to make the exhibit hall more experiential and engaging to drive traffic to over 50 exhibitors and sponsors on the floor. Then, WPE collaborated with local experiential agency Hana April Inc. and Viper Tradeshow Services to bring the ideas to life.
Highlights included an interactive coloring wall at the entrance; "NAMILand," where attendees could get questions answered by NAMI staff and purchase NAMI merch; and the NAMI "Expert Library," which offered one-on-one consultations with experts. There was also an immersive photo booth and a 360-degree branded video booth; therapy dogs from Secondhand Hounds and therapy horses from Acres for Life on the floor to show attendees how animals help with mental health; a wellness lounge offering massages, yoga, and meditation; and art projects, a puzzle corner, and virtual reality components.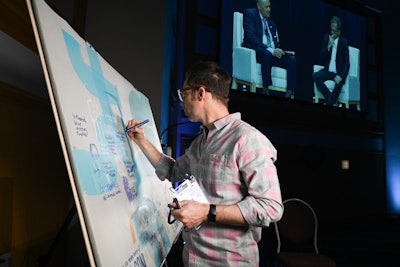 Thoughtful programming: In addition to the "Flash Stage" in the Community Hub, which showcased 30-minute sessions throughout the two days, the convention had 50 workshop "Impact Sessions" and several plenaries that were illustrated by a visual storytelling artist from More Belief and produced by NAMI's AV partner, Video West. During the opening session, fashion designer Kenneth Cole spoke about his founding of the Mental Health Coalition during the COVID pandemic—and later, advocates Carmella Wallace and rapper Master P joined for a moving plenary session about their children, who both died due to complications of mental illness.
And in a unique touch, Minnesota Lt. Gov. Peggy Flanagan, an Indigenous American, helped attendees honor the native lands that the conference took place on by introducing a traditional Native American drumming experience. "NAMI honors and celebrates people from all backgrounds, religions, cultures, and identities, and the NAMICon 2023 program sessions were intentionally planned to ensure as much inclusivity as possible," said Porter, noting that Minnesota was also home to George Floyd, who was honored during the event on May 25, the third anniversary of his death.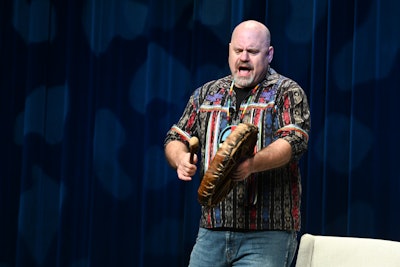 "In addition to the land acknowledgment and honoring of Mr. Floyd, NAMI hosted an LGBTQ reception during the event, a Youth and Young Adult Reception, as well as morning prayer gatherings for various faith-based groups and live ASL interpreters," added Porter.
A welcome evening event featured entertainment from Adagio DJ Entertainment—featuring DJ Anna, who also happens to be a licensed mental health therapist. On the second evening of the conference, NAMI hosted the Me2/Orchestra, which is made up of artists who have lived mental health experiences, and a candlelight vigil for lives that have been lost to mental illness and suicide. And to help with attendees' own mental well-being during a conference with such intense topics, morning NAMI Walks were hosted outside, and quiet rooms on site offered spots for people to get away if needed—with access to crisis counselors.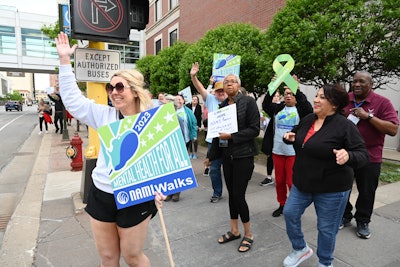 Lessons learned: "The important takeaways from this event include the value of the right partners, thoughtfulness on the programming to be relevant and inclusive to all audiences, and the importance of the investment into the event," said Porter. "Great events need an investment of both time and money—but if you do it right, the resulting impact is priceless, both to the individual participants and the organizations involved."
---
Learn more about our sponsor:
Pixis Drones is a market-leading drone light show company built with experiential agency DNA and a splash of Hollywood moxie. While the company is known for the drone light shows it did for Super Bowl LVI, the 2022 NBA Draft, and the 2023 NFL Draft, it has delivered shows for noteworthy B2B and B2C brands across various industries and markets.