Photo: Morgan Brown, Morgan Brown Photography
BizBash's 10 Conferences That Captivate 2023 is sponsored by Pixis Drones.
The basics: Medical education company IDEOlogy Health hosted its 2023 Texas Lung Cancer Conference March 30-31 at ACL Live at the Moody Theater in Austin, Texas.
"[Continuing medical education (CME) conferences] are necessary for these industry professionals to continue practicing medicine," explained Nikki Padovano, group account manager at Wilson Dow Group, which produced the event. "Our goal for the Texas Lung Cancer Conference was to inspire enthusiasm for learning, not just checking off a requirement."
She added, "The post-pandemic era presented an opportune moment to make this change. After a period of virtual events, we saw the craving for in-person interaction and a desire for memorable learning experiences. We believe that knowledge retention soars when the learning experience is engaging and unforgettable."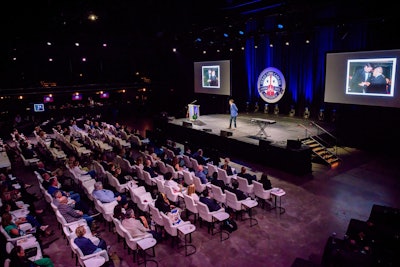 Beyond the ballroom: Knowing how easy it is for CME conferences to become boring and stale, the team decided that the Texas Lung Cancer Conference was a chance to shatter preconceived notions—starting with the sterile hotel ballroom format. The planning team found themselves inspired by Austin's music and culture—and when they found the Austin City Limits music venue, they knew they had the right fit.
"The connection between music and science inspired us, as both are universal languages," noted the Wilson Dow team. "In addition, ACL Live's global reputation made it a magnet for conferencegoers, adding intrigue and excitement to the event. In essence, ACL Live and being in Austin, the music capital of the world, embodied the blend of science, music, and global connection, creating an unforgettable backdrop for an inaugural event that wanted to revolutionize how people think about a CME."
All sessions were hosted on the main music venue stage, creating an environment where the attendees and speakers were treated like rock stars—allowing them to feel like VIPs, reconnect with their purpose, and inspire others. "Understanding the importance of our subject matter and the exciting atmosphere of our venue, our goal was to elevate our experts to the highest echelon," said Charlotte Schultz, account manager at Wilson Dow Group. "By transforming our speakers into star entertainers and showcasing them on ACL's iconic stage, we elevated the guest experience, placing our top academics and researchers in the spotlight. Every presenter was introduced like a headlining act, with music to enhance their grand entrance onto the stage."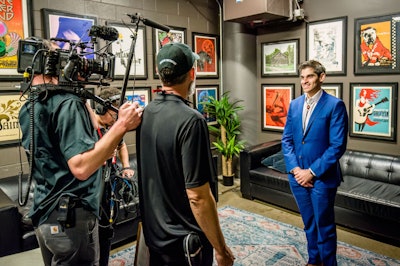 Meanwhile, the iconic ACL Live Music Porch became a vibrant Expo Hall that also hosted outdoor performances, and the venue's greenrooms, typically inhabited by some of music's biggest stars, were utilized for speakers. "For one of our speakers, this was a dream come true as he had the opportunity to fulfill his aspiration of 'performing' on the ACL Live stage, embodying the energy and significance of our event," remembered Schultz.
Interactive programming: For the programming itself, the team decided to take another cue from the energy and excitement of a concert: Panel discussions were amplified with live Twitter polling, allowing real-time audience interactivity.
Another fun and unexpected component? A boxing-style debate. "It all began when two key healthcare opinion leaders engaged in a spirited debate on a particular lung cancer topic during a separate conference," noted Katie Carmelich, senior executive producer at Wilson Dow Group. "Their discussion garnered the interest of fellow experts in the field. This inspired us to orchestrate a 'rematch' at the Texas Lung Conference, and to add an exciting twist, we decided to elevate the stakes. We introduced a boxing belt for the winner and enlisted the legendary boxing announcer Michael Buffer to make a special announcement and introduce the two physicians."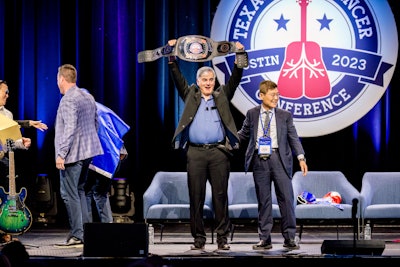 Lessons learned: "One major takeaway is the importance of creating memorable moments within content-rich programs," said Schultz. "These moments draw people in and enhance the overall experience. Also, consider the value of a compelling theme, such as the fusion of science and music, which can inject an unexpected element and reinforce learning."
And don't be afraid to push the boundaries—particularly for a first-time event, added Padovano. "Developing a flagship event involves risk; however, it's been a valuable learning experience. Based on the positive feedback from attendees, we're already considering ways to reinvent and enhance IDEOlogy's events for different diseases and focus areas."
---
Learn more about our sponsor:
Pixis Drones is a market-leading drone light show company built with experiential agency DNA and a splash of Hollywood moxie. While the company is known for the drone light shows it did for Super Bowl LVI, the 2022 NBA Draft, and the 2023 NFL Draft, it has delivered shows for noteworthy B2B and B2C brands across various industries and markets.