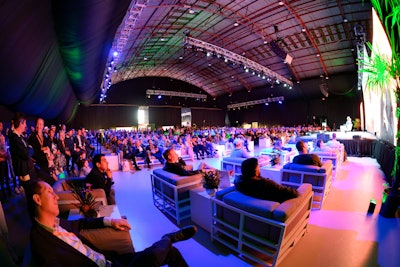 Photo: Jon Viscott
BizBash's 10 Conferences That Captivate 2023 is sponsored by Pixis Drones.
The basics: Bitcoin platform SWAN hosted the inaugural SWAN Pacific Bitcoin Conference Nov. 10-11, 2022, at Barker Hangar in Santa Monica, Calif. The ticketed event, produced by experiential agency JJLA, drew more than 1,200 cryptocurrency enthusiasts and experts, along with over 100 speakers.
Steal-worthy staging: The event had a dual-stage setup designed to cater to diverse audience preferences and learning styles. The Hard Money Stage, tailored for larger audiences, provided an immersive experience with VIP seating in close proximity to the stage.
"With two stages, two distinct environments were created for speakers to engage audiences," explained Jared Sampson, a senior producer at JJLA. "The larger main stage gave well-known personalities and speakers in the industry a platform to come together and the opportunity to talk through financial impacts and the future of bitcoin. A larger audience was accommodated in an auditorium setting, equipped with three LED screens for presentation and effect. It was also a great place to spotlight sponsor ads, bitcoin giveaway gamification, and a short film presentation."
The smaller Swan Dome and stage narrowed in on hard-hitting topics and the technical side of bitcoin, Sampson noted. "It also created fun moments for the attendees who were encouraged to take part in hosting a trivia game, singing shanties, participating in a round of speed dating, and even hosting a business pitch competition," he said.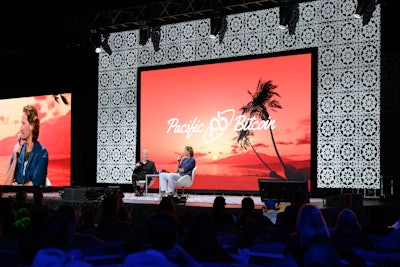 Interactive moments: A highlight of the conference was an outdoor basketball court, transformed with custom SWAN branding, that hosted a three-point shoot tournament to inject a dose of friendly competition into the experience. Other spaces included a VIP lounge equipped with a phone charging station, offering a premium space to view the main stage while seated on comfortable couches. There was also an arcade-style sponsor booth featuring iconic coin-operated games like Tekken and Crazy Taxi, which added a touch of nostalgia and interactivity to the event.
Beyond conventional networking, the conference embraced a festival-like ambiance, complete with an array of food trucks, refreshment stations, and dedicated zones for attendees to unwind and savor the Santa Monica weather. And, unsurprising for the conference's topic, bitcoin transactions were integrated throughout vendor spaces and sponsor booths, allowing guests to make on-site purchases using cryptocurrency.
"The client wanted the conference to be fun and engaging on all fronts, and tapped us for our expertise creating innovative experiences while meeting their diverse needs," explained Carissa Jackson, an associate producer at JJLA. "We collaborated on building a basketball court where we hosted a tournament over the two days, felt the arcade leaned into their love of everything '80s, and used food trucks and a picnic table instead of a traditional caterer to take guests on a festival journey."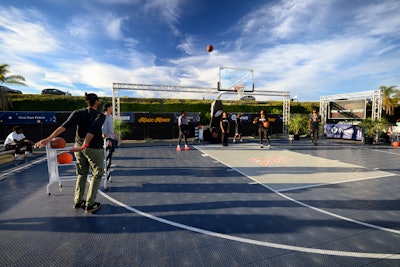 Lessons learned: "Cryptocurrency, specifically bitcoin, is here to stay and is expanding. It was amazing to witness this tightknit, supportive community," said Sampson. Another lesson? "We learned having simplified, understandable packages for the exhibitor and sponsorship program was key. Although it was about 50% corporate sponsors, the other 50% were small businesses participating in a conference for the very first time. Providing simplified packages that are less like traditional trade shows and more all-inclusive [was] more helpful."
---
Learn more about our sponsor:
Pixis Drones is a market-leading drone light show company built with experiential agency DNA and a splash of Hollywood moxie. While the company is known for the drone light shows it did for Super Bowl LVI, the 2022 NBA Draft, and the 2023 NFL Draft, it has delivered shows for noteworthy B2B and B2C brands across various industries and markets.