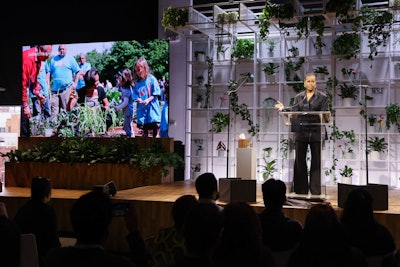 Photo: Gary He for The Wall Street Journal
BizBash's 10 Conferences That Captivate 2023 is sponsored by Pixis Drones.
The basics: The Wall Street Journal's Future of Everything Festival, the brand's largest event of the year, does exactly what its name promises: It showcases innovative ideas around, well, everything. The 2023 event took place May 2-4, 2023, at Spring Studios in New York, and drew speakers like former first lady Michelle Obama; New York Mayor Eric Adams; and executives from companies like Slack, Ford, and Google.
"The spirit of the festival is to create a hub of groundbreaking ideas and what we hope is extraordinary storytelling, with newsworthy and candid interviews and hands-on workshops and experiences, all offering a glimpse at the future and the trends that are transforming the way we live and work and play," explained Helen Bassett, senior vice president of events and experiences for The Wall Street Journal and its parent company, Dow Jones.
Upcycled materials: While The Wall Street Journal works to incorporate sustainable practices into all its events, the team knew that The Future of Everything Festival was the right place to go big. Working with their production partners at Studio Left and E2K, for example, they started considering how the event's set design could look nice for the camera and for in-person audiences—but also have a second life.
Lindsay Meck, the brand's executive director of production and digital strategy, reached out to GreenThumb, the community garden extension of the New York City Parks Department, to ask if they had a use for any of the event materials. While Meck at first assumed they might just want some plants, she quickly learned that elements of the stage design could actually be more useful.
"I think it's very important when you're forging new sustainability relationships that you don't make assumptions [about what they need or want]," she advised. "Ultimately, GreenThumb identified a park, Hart to Hart Community Garden in Brooklyn, and they told us what they really needed was a shade structure—which would allow them to have community meetings and also grow certain plant materials that needed height." So, Studio Left built a modular trellis stage that could be reassembled at the park the following day.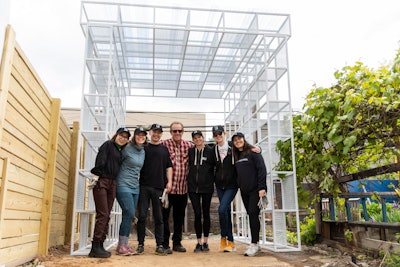 The team took a similar approach when choosing fabrics, eventually settling on 100% merino wool. The wool is completely biodegradable, as well as flame-retardant and sound-dampening, noted Meck. It also can be hung, so it doesn't take up much space in a truck—meaning fewer carbon emissions needed for multiple deliveries.
The merino wool curtains were used to partition the lab, and the materials were later donated to a couple of different places. "We donated half of the material to a community theater in Connecticut, and the rest to a bespoke art project at the LA Design Festival," said Meck. "The rationale there is we have these materials, we're going to use them—how can we extend their life in a way that fulfills our goals of sustainability and looking toward the future?"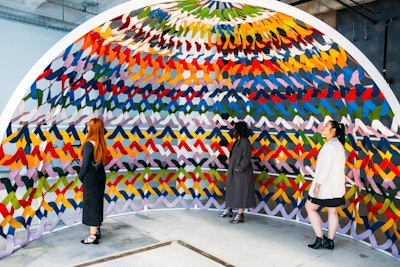 Giving back: Inspired by the WSJ team's own staff volunteer days, the team also incorporated the festival's very first Giveback Day in 2023. On the third day of the event, attendees could opt in to activities at New York's Hudson River Park or the High Line, where they spent the day working with horticultural teams.
"At Hudson River Park, volunteers weeded garden beds, picked up trash—it may not sound like the most appealing activities, but they were learning about the ecosystem as they were doing that. And at the High Line, our volunteers helped identify plant species using an app called iNaturalist," explained Meck. "It was all very cool for our attendees; we sold out, so to speak, of those volunteer opportunities very quickly."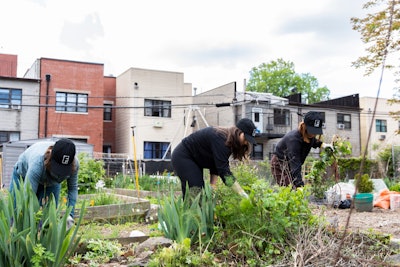 Lessons learned: If you're trying to go sustainable, Meck stresses the importance of asking for help. Agency partners, for example, may have a bigger-picture view of what their other clients are doing, so likely have their own ideas. "Lean on the vendors you have and mine them for ideas, and research sustainability-focused partners," she said, adding that explaining your goals to sponsors is a good idea too. "We got a lot of interest from our festival sponsors on this topic. There's a lot of interest and ideas there."
Above all, be practical. "There's sort of an impossibility of being a fully sustainable event," said Meck. "At some point, it's still a mass gathering. But we took the approach of, 'How can we chisel away at this thoughtfully, and use our creative minds cleverly to make a measurable impact?'"
---
Learn more about our sponsor:
Pixis Drones is a market-leading drone light show company built with experiential agency DNA and a splash of Hollywood moxie. While the company is known for the drone light shows it did for Super Bowl LVI, the 2022 NBA Draft, and the 2023 NFL Draft, it has delivered shows for noteworthy B2B and B2C brands across various industries and markets.