Photo: Courtesy of LEO Events
BizBash's 10 Conferences That Captivate 2023 is sponsored by Pixis Drones.
The basics: Walmart Associates Week brought together almost 15,000 Walmart employees from around the globe to celebrate their achievements, reflect on the brand's values, and look to the future. Produced by LEO Events, the main gathering took place on the University of Arkansas campus from May 31-June 2; it was also streamed to more than 150,000 people.
A focus on storytelling: LEO Events worked closely with the Walmart Solutions Team to bring the complex event—which had four different components—to life. At the U.S. Associates Meeting, hosted by Anthony Anderson and Cedric the Entertainer, Walmart's domestic team was immersed in a day of celebration, showcasing the successes of the past year and honoring those who drove positive change. Presentations were interwoven with entertainment, concluding with a performance from country music star Sam Hunt.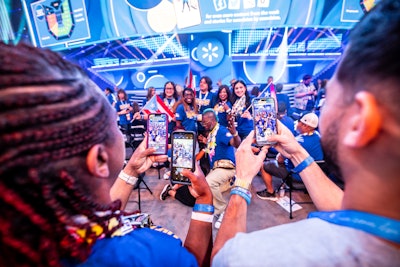 The International Associates Meeting, meanwhile, highlighted key regions' triumphs and future growth plans. Cultural performances accompanied each presentation, and illuminated wristbands synchronized with each nation's flag colors added a unique visual element. And the energetic Sam's Club Associates Meeting emphasized the role associates play in their communities; inspiring messages and company updates were interspersed with live performances from illusionist Justin Flom and musical entertainment by Fitz and the Tantrums.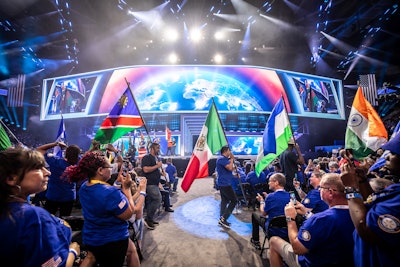 David Kenyon, senior vice president of production for LEO Events, said that the multifaceted programming required a careful balance between creativity and strategy. "On the strategic side, it was about storytelling," he explained. "We wanted each meeting to convey a unique narrative that would resonate with the specific audience it was tailored for. ... We wanted every aspect of the meetings to be engaging and immersive, not just a series of presentations."
The week culminated with the Walmart Associates Celebration for all 15,000 attendees, which highlighted key team members, included key messages from Walmart leadership, and featured special musical performances from the likes of Shania Twain, Kevin Hart, Snoop Dogg, John Legend, and Pitbull.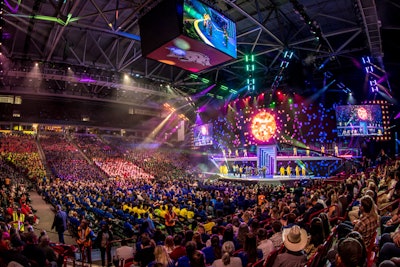 Kenyon described this massive, unifying moment as the cornerstone of the weeklong gathering. "At its core, this convergence signifies a common messaging thread that flows through the organization," he noted. "This single moment unites Walmart Associates under a single umbrella, where the message resonates with everyone, regardless of their specific roles or functions within the organization."
Steal-worthy engagement strategies: Beyond the attention-grabbing headline talent, the Walmart and LEO Events team worked to keep attendees personally engaged. "An annual highlight of the celebration is when hand-selected Walmart Associates from around the world perform an array of talents onstage," noted Kenyon. "This year featured singers, dancers, and even a roller-skating performance."
The event's stage design was also centered on engagement. LEO Events opted to seat attendees in a 270-degree arc around the stage, with several LED screens shaped and angled to create a forced perspective. "Media was mapped to align with this perspective, resulting in an illusion that made the content feel lifelike," said Kenyon. "This effect created an immersive experience for every single audience member."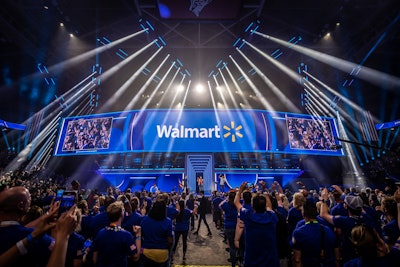 And in a truly memorable moment, the celebration concluded with an address by Walmart CEO Doug McMillon—featuring special guest Tom Cruise. After the Mission Impossible star interrupted McMillon with a "surprise" video call, a stunt person repelled from the ceiling to deliver a package—that quickly started sparking and smoking, causing the executive to run offstage.
"Moments later, blasts of fire erupted from the stage, simulating an explosion," recalled Kenyon. "These effects required pilot lights, custom props, and rigging to support a stuntman. These features formed an environment that definitively expressed Walmart's devotion to its associates."
Lessons learned: "A key takeaway is the need for ongoing change and innovation," said Kenyon. "To stay relevant, we'll consistently introduce new ideas and cutting-edge technologies. LEO's commitment to evolution ensures each year surpasses the last, delivering a dynamic and engaging event. Adapting to and creating new trends is central to our future success."
---
Learn more about our sponsor:
Pixis Drones is a market-leading drone light show company built with experiential agency DNA and a splash of Hollywood moxie. While the company is known for the drone light shows it did for Super Bowl LVI, the 2022 NBA Draft, and the 2023 NFL Draft, it has delivered shows for noteworthy B2B and B2C brands across various industries and markets.