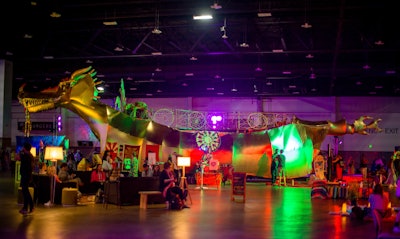 Photo: Ernesto Borges
BizBash's 10 Conferences That Captivate 2023 is sponsored by Pixis Drones.
The basics: Psychedelic Science 2023, the largest psychedelic conference on record, unfolded at the 2.2 million-square-foot Colorado Convention Center June 19-23. Produced by the Multidisciplinary Association for Psychedelic Studies (MAPS) in collaboration with Momentum Events, the five-day symposium attracted 12,300 attendees and 500 educators from 52 countries.
The impressive numbers didn't stop there: Attendees could experience 400 panels and over 30 workshops focused on the power and promise of psychedelics in cultural, medical, and traditional environments; speakers included Colorado Gov. Jared Polis, former Texas Gov. Rick Perry, and New York Jets quarterback Aaron Rodgers. There were also 250 exhibitors. (For reference, the last edition of the event had no expo hall, and featured only 2,000 attendees.)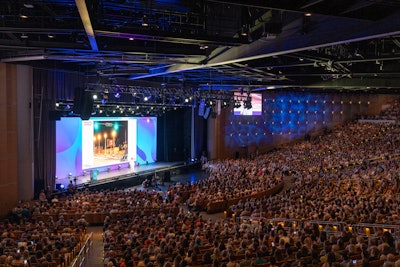 Steal-worthy (and surreal) innovations: Wellness brand Dr. Bronner's—which has donated more than $20 million to drug policy advocacy and organizations in the psychedelic space—co-produced "Deep Space," a 105,000-square-foot, multisensory, Burning Man-inspired exhibit utilizing an entire exhibition hall. A gold Burning Man dragon installation was a focal point in the exhibition, while speakers, performers, and artists utilized the surrounding space for engaging conversations. Additionally, live artists from different mediums created various works, a tearoom invited guests to take off their shoes and relax, and a meditation dome welcomed all for a mind-body refuge.
"Burning Man is a very well-established psychedelic container," said Mia Bronner, Magic Foam experience manager for Dr. Bronner's. "You can feel the vibration of a Burner-friendly environment right away. It made lots of sense to bring the Playa to 'Deep Space,' and that a significant majority of guests passing through would feel at home, or at least curious."
Gina Vensel, director of marketing for both Psychedelic Science 2023 and Momentum Events, noted that the "Deep Space" exhibit tied into the event's overall health and wellness initiatives. "Being able to go from such intense talks, sometimes, to then be able to go sit in a tea lounge and take your shoes off, or be able to lie in one of those meditation beds—that's the type of experience we wanted," she explained. "This is a mental health conference wrapped up in us discussing these psychedelics, but it's really about us taking care of ourselves better, and in all the different ways that we can do that. And I think art and music are a big piece of that."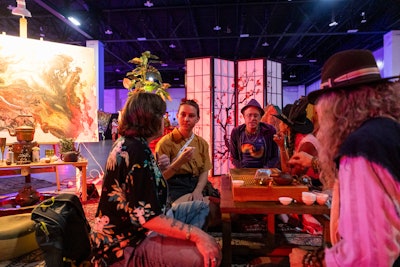 Tech-forward trips: In addition to the more art-focused elements, the expo floor showcased several tech-infused therapies that simulated psychedelic trips. Sponsor roXiva, for example, set up several stations trialing its hypnagogic light machine, stimulating audiovisual brain waves to induce a deeply relaxing or profoundly inspiring state of mind. Like several other immersive therapies at the conference, roXiva promoted its experience as a drug-free psychedelic trip.
Another standout activation came from sponsor Apollo Neuro, which curated a multisensory geodesic dome with elements of light, sound, scent, and touch. The wellness wrist wearable helps relieve stress by partnering with the parasympathetic nervous system. The team explained how to apply the device to a psychedelic experience to help navigate a trip and rewire the stress response, and sold the wearables on site.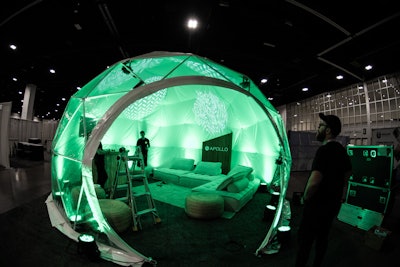 Following the rules: In 2022, Colorado voters approved Proposition 122, which decriminalizes psilocybin (a naturally occurring psychedelic prodrug compound produced by more than 200 species of fungi) and creates a framework for some psychedelics to be used in therapeutic settings. So while magic mushrooms were showcased purely for research purposes on the expo floor, the team was careful to ensure they—and their attendees and exhibitors—fully understood the rules.
"We put together a kit on our website that explains the rules of the state, because we had international people traveling here, and it can be confusing to folks what the laws really mean," noted Vensel. "Right now, psilocybin is decriminalized in Colorado, which made it enticing to the team when they were considering what places to bring Psychedelic Science to next."
---
Learn more about our sponsor:
Pixis Drones is a market-leading drone light show company built with experiential agency DNA and a splash of Hollywood moxie. While the company is known for the drone light shows it did for Super Bowl LVI, the 2022 NBA Draft, and the 2023 NFL Draft, it has delivered shows for noteworthy B2B and B2C brands across various industries and markets.