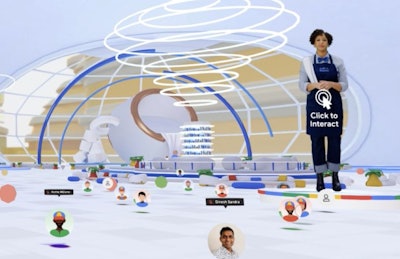 Photo: Opus Agency
BizBash's 10 Conferences That Captivate 2023 is sponsored by Pixis Drones.
The basics: Accelerate23, which took place in January 2023, is Google Cloud's GTM sales kickoff event. Held virtually since 2021, the metaverse-based gathering—called "Beyondverse"—drew 17,642 attendees, who enjoyed featured sessions, Googler stories, networking opportunities, and surprise-and-delight moments. (In person, meanwhile, the brand hosted regional activations in more than 32 cities, where attendees could network and meet with regional leadership.)
The custom 3D "Beyondverse" was hosted entirely on Google Cloud, designed by Opus Agency, built by Gramercy Tech's Eventfinity team, and powered by Vatom.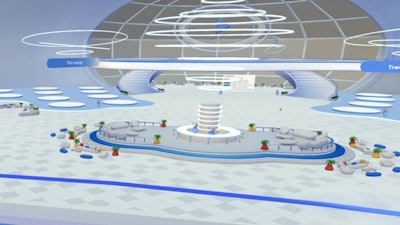 A walkable metaverse environment: The audience was immersed in the Beyondverse from the first touchpoint, "the portal to the Beyond," which featured an interactive map, an orientation video, and a custom avatar station. From there, attendees' avatars could explore various zones, which were all inspired by real-world content from Google Cloud.
"We arrived at five distinct areas for exploration, networking, gamification, and filmed content," explained Jason Curtis, vice president of creative at Opus Agency. "These areas—Acceleration Station, Cafe Beyond, Cloud Commons, the Beyond Bank, and the Transformation Trove—served as a grounded set for our Beyondverse content and an interactive world for attendees to explore. The five zones—complete with fictional businesses, such as a plant store and the Beyondverse Animal Shelter—allowed us to weave filmed content, open attendee exploration, and networking while providing multiple ways for attendees to contribute their stories of Building Beyond."
In each space, leaders were present to interact in real time, with green screens and practical set designs creating standout backgrounds for executive presentations. Featured sessions from speakers like Monique Ntumngia, Erik Weihenmayer, and Lin-Manuel Miranda were embedded for visitors to watch and absorb at their own pace. "We have found that people crave autonomy and personal agency in virtual environments," said Curtis, noting that the practice allowed Google's values of empathy and accessibility to shine through.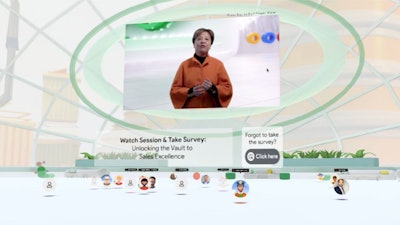 An event guide: In a unique twist that furthered the team's accessibility goals, a professional actor played the fully scripted role of the event guide—inhabiting every space in the Beyondverse and guiding people through the experience with quirky humor. The host appeared in costumes appropriate to each Beyondverse location to introduce spaces, speakers, activations, and other content.
"This project required a different approach to filming where we utilized high cinematic value, a professional host, and a variety of practical and virtual sets to draw the audience into this weird and wonderful world," said Curtis. "Because the world was highly animated and video game-based, we wanted a human to help folks transition from the ordinary world into the Beyondverse. Our guide needed to connect with the Googlers in a familiar form and tone. Our casting goal was to find a relatable presence, but we needed a professional actor to carry the audience with humor and authenticity."
Attendee engagement: Throughout the mobile-friendly environment, visitors could also engage with activities such as a walkable customer story pathway, a video depository, an ideas wall, and a tree-planting game. (Each tree planted contributed to Green Girls Organization, a nonprofit dedicated to providing clean energy to empower women in rural Africa.) Throughout the program, visitors were rewarded with points and virtual swag, so the more they participated, the more they earned. Gamification incentivized attendees to engage directly with interactive content through social posts, surveys, and selfie videos.
Throughout the event, the team saw 73,355 total visits across all spaces within the Beyondverse. Attendees spent an average of 48 minutes in each room, and 66% of attendees engaged in the gamification elements.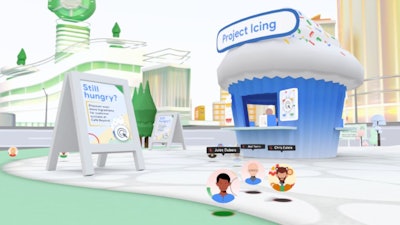 Lessons learned: "The biggest lesson for our team was that some of the most impactful work comes from taking creative chances, diving deep into the beyond, and trusting each other," said Curtis. "No matter what type of experience you are planning, connecting authentically with your audience and providing tools and techniques for empathy, exploration, and accessibility will help us turn passive audiences into protagonists in a bigger story."
Curtis also stresses the value of cutting-edge tech tools—along with hybrid components. "Now that we have really returned to in-person events, we see deeper levels of storytelling and immersive atmospheres advancing with the help of AI, gaming, and filmmaking techniques," he said. "The hybrid counterpart to these in-person experiences will help us extend the reach for learning and play while staying true to an immersive attendee experience that moves folks to action—and ultimately drives progress."
---
Learn more about our sponsor:
Pixis Drones is a market-leading drone light show company built with experiential agency DNA and a splash of Hollywood moxie. While the company is known for the drone light shows it did for Super Bowl LVI, the 2022 NBA Draft, and the 2023 NFL Draft, it has delivered shows for noteworthy B2B and B2C brands across various industries and markets.