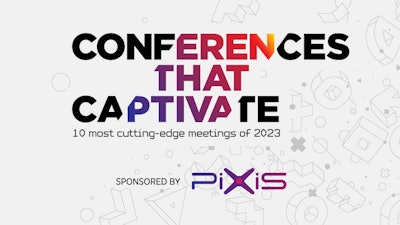 This feature is sponsored by Pixis Drones, a market-leading drone light show company built with experiential agency DNA and a splash of Hollywood moxie. While the company is known for the drone light shows it did for Super Bowl LVI, the 2022 NBA Draft, and the 2023 NFL Draft, it has delivered shows for noteworthy B2B and B2C brands across various industries and markets.
Now in its 13th year, BizBash's annual list of the industry's most creative meetings, conferences, trade shows, and other business gatherings has a fresh new name—but the same mix of steal-worthy inspiration from top companies like Google, The Wall Street Journal, and Walmart.
These case studies each reinforce the power and importance of live events, particularly in a business setting. The organizers behind these creative gatherings understand that live experiences have a unique ability to reinforce a company's values, communicate crucial information, and celebrate internal successes—and that these types of business events don't have to be boring.
From engaging stage designs and clever gamification elements to unique networking components and unforgettable incentive programs, the ideas showcased here offer a wealth of inspiration for business events of all types. Click through the links to learn more.
Horizon 2023 National Sales Meeting
IDEOlogy Health's 2023 Texas Lung Cancer Conference
ManpowerGroup's Circle of Stars "The Art of Success"
SWAN Pacific Bitcoin Conference
The Wall Street Journal's Future of Everything Festival
---
About the list: This annual feature is compiled by our editorial team using a variety of resources, beginning with sifting through dozens of public nominations and conducting internal research on all meetings nominated. While our features may be sponsored by standout companies, to ensure the list remains impartial, sponsors do not have the ability to review or curate any part of the list themselves.