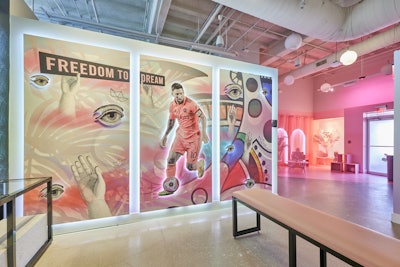 Photo: Courtesy of The Dana Agency
MIAMI—It was David Beckham's dream come true, and the rumor-turned-reality stateside sports fans never thought they would hear.
This past summer, Inter Miami FC announced they had officially landed soccer's living GOAT, Lionel Messi, in one of the most lucrative deals in sports history. Messi's Miami arrival skyrocketed the team's popularity, catapulted ticket sales, and sparked Messi-driven pandemonium across South Florida. And brands didn't miss a beat on getting in on the action.
Adidas has sponsored Lionel Messi for 17 years and signed him to a lifetime contract in 2017. Given this, it's no surprise Adidas was ready and waiting to share the announcement's spotlight. In July, Adidas' Instagram posted the Statue of Liberty with pink fumes (Inter Miami's team color) rising into the sky with the copy "Welcome to America Leo."
Adidas knew they had to make an impression when activating in and around Miami.
"Miami is one of the world's most avid soccer communities, so we wanted to make sure fans were involved in everything we did," said Tor Southard, senior director of Adidas Soccer North America. "We knew we had to do something unprecedented to welcome our partner Messi to the city. We had an entourage of Adidas-branded vehicles—a cargo ship, cigarette boats, and helicopter—decked out in Inter Miami CF black and pink sailing through the Port of Miami. Significant coordination was required between the port, shipping company, City of Miami, and internal partners to ensure everything went according to plan. We're beyond proud of how it turned out."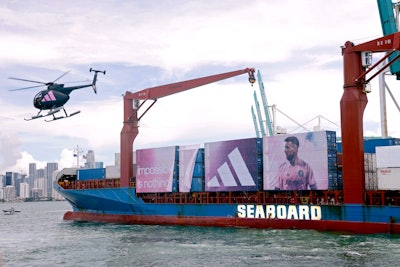 Tor also emphasizes that community-focused outreach was central to their Messi campaign and activations. "We had branded trucks driving around the city, bringing pickup soccer, barbecues, music, and merchandise giveaways to as many fans as possible," Tor added. "We also worked with Inter Miami supporter groups to create authentic experiences throughout the city, including in Little Havana. The excitement was palpable, and I'm glad we were able to involve the community as much as we did."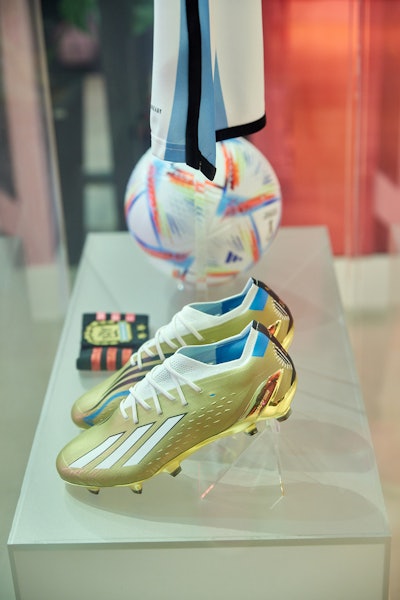 Furthermore, Adidas enlisted longtime event partner, Minneapolis-based Latitude, to design two retail pop-up shops—one in downtown Miami dubbed Fütopia and one on Lincoln Road. The 4,500-square-foot downtown space is described as "equal parts pop-up boutique, soccer clubhouse, and museum of Messi."
"We wanted to design a pop-up to mark this massive moment for Miami fans with Messi's signature jersey and Adidas gear set in a dramatic dreamscape," said Jason Strong, executive creative director at Latitude, "all while building on the Messi mania, the biggest news in U.S. soccer since Beckham."
The Lincoln Road shop even saw a surprise appearance by the GOAT himself and featured a custom mural by artist Rigo Leon. "We've seen businesses across every industry and every size—from local mom-and-pop shops to national brands, curate activations and devise creative ideas to capitalize on Messi Mania," noted Mindy McIlroy, vice president of the Lincoln Road Business Improvement District and president of Terranova Corporation. She added, "We've seen shoppers wait in lines wrapped around the building and couldn't be more excited that Adidas chose Lincoln Road to serve their customers during such an important time for Messi fans in Miami and worldwide."
The activation teams managed to complete the Lincoln Road project in a mere three weeks. "I've been with Adidas for a long time," said Tor, "and I've never seen our brand mobilize around a project across so many functions to bring products to market so quickly. … I'm so proud of the many teams that worked tirelessly to make that happen."
Messi's impact also goes beyond the fandom and into local communities. Together with the U.S. Soccer Foundation, Adidas plans to expand the Just Ball League in Miami: This nationwide initiative supports free neighborhood youth soccer leagues and builds mini-pitches in underserved communities.
Ed Foster-Simeon, president and CEO of the U.S. Soccer Foundation, reflected on how Mess's arrival will have a generational impact.
"We believe we can reach and support even more young people in South Florida as they become drawn to the game through Messi's arrival," he explained. "In Miami alone, we've reached over 10,000 youth and installed five mini-pitches in under-resourced communities. We've done this work in partnership with community-based organizations like FLIPANY and the YMCA of South Florida, with support from the Miami Children's Trust. Earlier this year, we also announced the Miami-Dade County Soccer Initiative that will bring 50 new safe places to play in underserved communities and engage 25,000 children in [Just Ball]."
Messi's domino effect has also trickled into the travel and hospitality space. As Hard Rock International's global ambassador, Messi and the brand launched the Made For You by Leo Messi Messi Chicken Sandwich on July 12. Fans can get a taste of the Argentinian-inspired sandwich at participating Hard Rock Cafes and Hard Rock Hotels & Casinos worldwide via in-room dining—including the Guitar Hotel in Hollywood, Fla.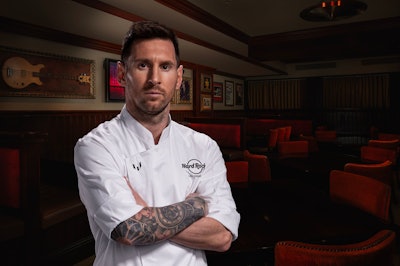 In a statement about the collaboration, Messi said, "I can't wait for my fans all over the world to get a taste of one of my childhood favorites that still makes me feel at home, wherever in the world I am."
Messi-driven tourism also got a boost from Aerolineas Argentinas, who slashed its roundtrip ticket prices from Buenos Aires and Miami until Dec. 10. Then, in September, the airline bumped its weekly flight offerings from nine to 11, with plans on extending the additions through March 2024.
Messi's face is everywhere in South Florida, from bus stops to murals—including one commissioned by Block Capital Group on the side of the Wynd Miami mixed-use building. And with Inter Miami FC's season closing in October, we have to wonder, what's next?
When answering that question, Adidas' Tor is playfully coy. "I don't want to reveal too much, but I can say that our celebration of Messi isn't done."