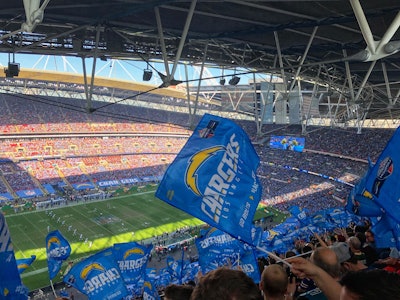 Photo: Courtesy of Unsplash
Will football fans be shouting sláinte next year? That's what Jameson hopes, thanks to its new campaign. The Irish whiskey brand has teamed up with former pro football player Ryan Fitzpatrick to launch an "unofficial" call for a professional American football game to be played in Dublin—where the spirits brand was founded.
Over the last few years, the NFL has hosted games in international markets like Munich, London, and Mexico City, and will continue its global expansion this season, with a roster of games that include two in Frankfurt.
Ireland has never hosted a regular-season NFL game, although the Pittsburgh Steelers did take on the Chicago Bears in a pre-season matchup there in 1997. And college football teams have hit the gridiron on the Emerald Isle in the past, including the recent Aer Lingus College Football Classic, where Notre Dame and Navy played in Dublin's Aviva Stadium in August.
To reach sports fans in the U.S., Jameson is going big on media spend this fall, including strategic ad positioning near stadiums and bars.
"As the brand continues to try and tap into new audiences and consumption occasions, targeting sports fans was an area that just made sense for Jameson. We see so many synergies between those who love the sport and our core values—their welcoming spirit, commitment to what they love, and the inclusivity—making football a game that's enjoyed by so many despite age, race, gender, or background," said Johan Radojewski, vice president of marketing for Pernod Ricard North America, which owns Jameson.
"As a serious whiskey brand that doesn't take themselves too seriously, this campaign embodied the Irish wit and humor the brand is known for, while leveraging the cultural hype of the fall football season and buzz around international games."
As part of the "Jameson Touchdown in Dublin" campaign, Fitzpatrick and Jameson are recruiting fans to join the cause via JamesonSports.com, with the brand pledging to fly select fans to Dublin if a regular-season pro football game is scheduled to take place in the city during the 2024 season. Fans who show their support will also have the chance to win limited-edition football collectibles, including a fanny pack, foam finger, and limited-edition "Jameson Touchdown in Dublin" football flag.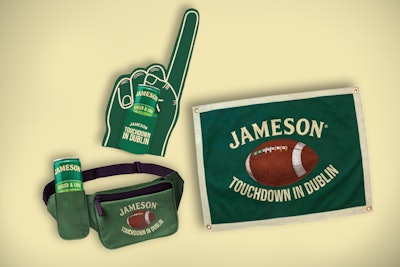 According to a recent Q1 survey of 1,017 football fans conducted by Jameson, more than 85% of football fans are interested in seeing more international cities host professional American football games.
This jives with the NFL's push to expand its audience internationally. Although the league wouldn't comment on a potential game in Dublin, they did provide a statement on their international interests: "The NFL has a passionate and growing international fan base, and a major strategic priority for the league is continuing to spread the game globally. As part of that work, we routinely review cities and stadiums around the world that could potentially host NFL games."
But all signs seem to point to Ireland as a new host city. Earlier this year, both the Jacksonville Jaguars and the Pittsburgh Steelers were awarded international marketing rights in the Republic of Ireland and Northern Ireland. This means the organizations can now carry out in-person activities such as fan and youth football activities throughout Ireland, and partake in corporate sponsorship and merchandise sales, as well as co-marketing relationships throughout the country.
It is the NFL's Global Markets Program that grants clubs access to international markets for marketing, fan engagement, and activations, as part of its long-term strategic effort to build the brands globally while driving fan growth beyond the U.S.
In addition to this cheeky campaign, Jameson has also actively been investing in American football through partnerships with the Tampa Bay Buccaneers, the Philadelphia Eagles, the Minnesota Vikings, the Las Vegas Raiders, and the Baltimore Ravens, "in an effort to continue to make Jameson synonymous with game day."
"We would love to see the league play a regular-season game in Dublin. From the welcoming spirit to our world-famous grass, we think that the city that Jameson was founded in is the perfect backdrop for a pro American football game," Radojewski said about the potential game site. "Fan response to recent initiatives and announcements has been great to see and is a true testament to the city of Dublin and American football being a natural mix."