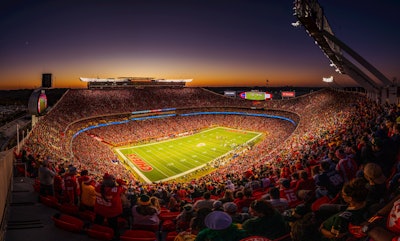 Photo: Courtesy of Kansas City Chiefs
Sign up here to get BizBash Sports delivered straight to your inbox with steal-worthy event inspiration, top takeaways from the hottest sporting events, updates about live and virtual events, and so much more.
KANSAS CITY, MO.—When was the last time you attended a tailgate party with over 2 million people? For fans of the Kansas City Chiefs, the answer is surprisingly easy: Sept. 7, 2023, the first day of the new football season.
OK, sure—it wasn't all in person. The massive hybrid experience—fittingly called the "World's Largest Tailgate"—utilized virtual stadium technology built by the experiential experts at Little Cinema Digital (LCDigital). In-person fans could view the production at Arrowhead Stadium, while more than 2.5 million global fans tuned in at ChiefsLive.com. The 90-minute event featured behind-the-scenes footage, game highlights, a virtual photo booth, guest appearances from SNL's Heidi Gardner and TikTok personality Tabitha Swatosh, live performances by DJ and producer duo Two Friends, and more.
"Chiefs Kingdom is everywhere, so we wanted to create a global event to unite all of our fans in commemorating the 2023 NFL Kickoff Game," said Lara Krug, executive vice president and chief marketing officer for the Chiefs, in a press release. "In addition to connecting with our fans, we also wanted to export our tailgating culture and fan experience to people around the globe who are just as interested in music and entertainment."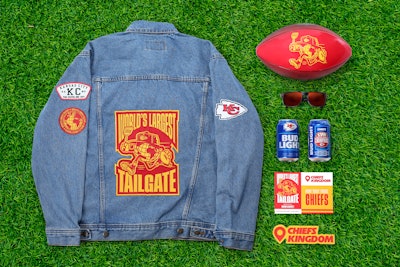 The concept for the event originated with Gelsomina Picariello, director of programming and innovation for the Chiefs. She approached the production company Broadcast Management Group (BMG) to help execute, and, in turn, BMG CEO Todd Mason turned to LCDigital for help on the technology front via its interactive video platform, Backstage.
"LCDigital provides clients with cutting-edge creation tools for crafting interactive digital and broadcast-based experiences—enabling them to connect with audiences through fully tailored and interactive experiences on a large scale," explained Little Cinema COO Chris Schuett in a conversation with BizBash. "These tools also provide major cost savings and faster implementation times because the back end has been already created, while the user experience is completely customized and tailored for the engagement."
For the World's Largest Tailgate, Shuett continued, the primary objective wasn't merely to construct a one-to-one virtual stadium—but rather to serve as a metaphorical representation. "Chiefs Kingdom extends far beyond the capacity of Arrowhead Stadium, so we built the digital platform for every fan, centered on real-time participatory engagement features, a hype-mode chat, exclusive merchandise offerings, and a branded photo booth," he added. "On game day, it functioned as the central hub for all things Chiefs, serving as a global hub for fandom and community engagement."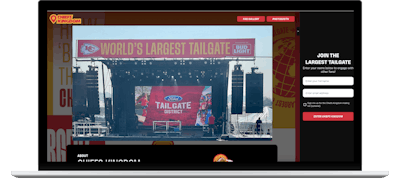 The LCDigital team is finding a lot of success with these types of hybrid experiences—particularly when it comes to fan-focused events. "Fandom is not limited to any one location, and we are seeing a strong demand for fan-centric participatory events at scale," noted Schuett. "Fans are also hungry for new experiences at home when they can't make it out to location."
Jay Rinsky, Little Cinema Digital's co-founder and CEO, agreed. "During the pandemic, all experiences had to be virtual. That opened the world to new possibilities and rapidly showed audiences and companies what can be done and the scale digital can achieve," he told BizBash. "Now, in a post-pandemic world, it's a strategic tool that can enhance and scale experiences."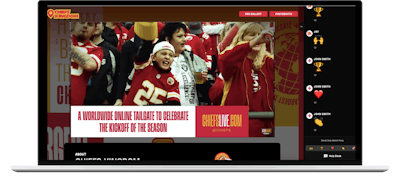 To Rinsky, the key is focusing on engagement. "Those that relied on gimmicks never survived," he said. "We've been focusing on a frictionless, premium user experience that tells a story and adds interactivity and community. Guests at home are used to entertainment being a passive stream; we turn it into a conversation and interactive experience."
In fact, the team notes, they're finding that post-pandemic engagement with virtual components is actually higher than it was early in the pandemic. Schuett credits this to the team's lessons learned while creating more than 500 virtual experiences since 2020. Today, "Fans are eager to engage in longer-form digital events and content outside of social media," he notes. "Experiences built and powered by LCDigital see an average 94% retention rate and over 50% RSVP to attendance conversion—so if you want to engage your audience, investing in a digital strategy is driving higher results than ever before."