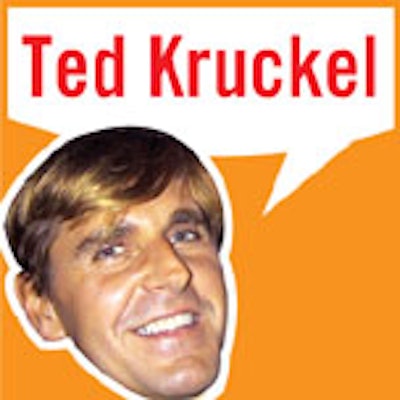 By Ted Kruckel
The dog days of summer are upon us. That's when the novelty of overgrilled meat, tomatoes and, worse, corn at every meal wears off. (There's a reason humans can't digest corn; it's designed for livestock.)
Summer parties and entertaining should be so much fun: You're outside at glamorous destinations, you're as tan and thin as you're ever going to get, the days are long and the stars shine brighter at night. So why do so many summer parties turn into dogs? Herewith, my observations:
GETTING THERE
Since so many summer parties involve driving, why can't people get the directions right? I go crazy when Hamptons invites give you directions from Route 27—I'd rather slit my wrists than get on that tourist road-trap. Then there are the people who send you a
MapQuest
printout. MapQuest is good as a secondary source, but it is so lazy. Good directions take into account landmarks, easy-to-miss turns and odd one-way streets. The best way to put together directions: Drive the route—no matter how many times you've done it—with a friend who doesn't know the way, and take notes on what he notices.
A LONG COOL DRINK
Alcohol needs aside, drinks are even more important in the summer because you get dehydrated. And they must be cold. At the
Hugo Boss
rooftop party last night white wine sangria was served tepid (and it tasted funny). Splurge on ice. I recommend ice cold rose (although wine purists will sniff).
Domaines Ott
has the most beautiful bottles, but they're pricey; at
Restaurant Provence
, where they know about these things, they serve Chateau Sainte Roseline. Also, I've noticed that now everyone serves drinks in real glass outdoors, which seems A.W. (all wrong) to me. Plastic is the way to go. Rental wine glasses on the grass is a telltale that you're not an experienced summer party planner.
IT'S NOT NICE TO FOOL MOTHER NATURE
So don't bother trying with those cute, expensive decorative citronella candles that everyone is pushing. The only kind that work is the bubbly glass kind or the big pots (they have more juice). If you're having a lawn party, fogging for bugs the afternoon of the event is a necessity. Having one can of
Off
at the bar does not cut it. (For guests: I recommend that you must assume the worst before you get to the event, and bring the
Cutter
towelettes yourself.)
GET YOUR TEXTURES LINED UP
Some materials just don't feel right in the summer. Again at Hugo Boss they had a Mylar-ish reflective dance floor, which clashed with the hammock-and-sand vibe they had elsewhere. (Can ya tell I didn't love it? But the PR girls from K2 who invited me were super polite and efficient at the door of the packed house.) My favorite idea this summer was
Kate Mullane
of
Fait Accompli
's giant plain white balloons in clusters at a party thrown by fashion designer
Douglas Hannant
and
Debbie Bancroft
.
GOOD, GOOD, GOOD, GOOD VIBRATIONS
It's tacky year-round to have your cell phone audibly ring at a party, but somehow it's even more obnoxious in the summer. Get the vibe.
GUESTS OF GUESTS MAY NOT BRING GUESTS
Somehow people think it is more acceptable to bring a houseful of unannounced guests to an outdoor party. It isn't. Call and ask. On a related note: If you are a weekend guest or host in a summer house, as a rule it is pretty darn rude to attend an event if the others aren't invited. I'm always amazed at how much of this goes on. Paying to go to a benefit is OK, though, because then the others have the option to go.
Posted 07.21.04
Columnist Ted Kruckel is an experienced and opinionated former event and PR pro who ran events for 20 years for high-profile clients like Vanity Fair, Elle Decor, Christian Dior and Carolina Herrera. He shuttered his firm, Ted Inc., in 2003. You can email him at

[email protected]

.