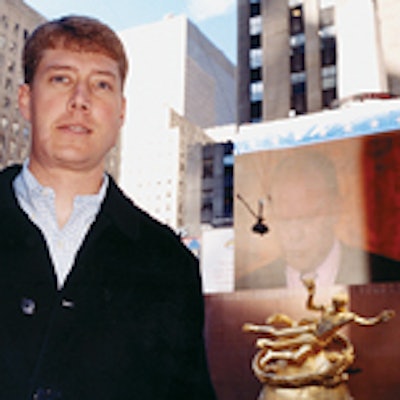 Glenn Mahoney manages a mix of large-scale productions, that keep up Rockefeller Center's status as one of New York's most famous real estate properties. He gives us a behind-the-scenes look at the work behind his events.
Title
: Director of Special Events, Tishman Speyer Properties
at Rockefeller Center
What He Plans
: About 20 public events each year, including the Christmas tree lighting, Orchid show, Christie's Classic Cars, and Farmer's Market, among others. He also often works with other companies who are using the property for their own events. "Rockefeller Center is a beautiful venue," Mahoney says. "It's not so hard to enhance it, so it makes my job
easier."
Staff
: A full-time event staff of seven
Budget
: Mahoney says he does smaller events with budgets under $60,000 and larger events with budgets of more than $1 million.
Career Path
: Graduated from SUNY Oswego in 1995 and then worked "jobs that kept me in food and shelter" for 10 months. He then started at Tishman Speyer, first as assistant property manager, then operations manager, and then director of facilities and special events before moving to his current position. While working at Rockefeller Center for the past nine years, Mahoney has gotten a bachelor's degree in building construction and management and a master's degree in real estate development and investment from New York University.
Age
: 32
Where He Lives
: Upper East Side
Where He Grew Up
: Dix Hills, Long Island
Biggest Challenge
: "Working in a public venue that never shuts down. We can't close doors [while setting up for an event] because of tenants in the building and people who come on vacation to see it, so we work from 8 PM to 8 AM when people aren't around. We try to make it look appealing all the time."
Best Tip
: "Surround yourself with good vendors because they represent you."
Favorite Venue
: Rockefeller Center or the Great Lawn in Central Park
Favorite Drink
: Vodka tonic
CHRISTMAS TREE LIGHTING
Mahoney is involved in practically every.phpect of the Christmas tree lighting, from going up in a helicopter to scout for the tree to providing the infrastructure for the televised lighting. With the tree coming down in January and the search for the next tree starting in February, it requires nearly year-round attention. After the tree arrives, for about two weeks, 20 electricians string more than 25,000 lights, wrapping a strand around each individual branch from the trunk out. "There is an art to putting on the lights," Mahoney says. "Some electricians have been here for 40 years and the technique gets passed down." He says it takes 400 amps to light the tree and the power is dedicated to a separate switch just for the tree. In 2003 Mahoney decided to water the tree for the first time ever. "We thought it would help prolong the life of the tree so it would look fuller throughout the season," he says. So the tree sat on a giant metal pan that held almost 50 gallons of water. The gardening staff checked the pan regularly to refill the water and make sure it didn't freeze. "The tree drank 30 gallons of water a day for the first week and a half," Mahoney says.
DRIVE-IN MOVIES
About four years ago, Mahoney came up with the idea to host drive-in-style movies at Rockefeller Center. He pitched the concept to several clients before
In Style
magazine decided to sponsor it in June 2004. "The natural slope of the Channel Garden worked perfectly as an amphitheater," Mahoney says. Three independent films—
Garden State
,
Napoleon Dynamite
, and
Danny Deckchair
—were shown on a 40- by 60-foot movie screen placed where the Christmas tree stands in December. Two 35- millimeter projectors projected the movies from an
Airstream
trailer on the Fifth Avenue sidewalk through the Channel Garden and over the ice rink. Red-carpeted platforms built on the garden beds displayed classic convertibles, such as a '67
Corvette
and a '57
Mustang
, which were flanked by open seating where the public could enjoy the movies on a first-come, first-served basis. Classic drive-in speakers on the cars provided sound. "I wanted it to look like a traditional movie theater meets a drive-in," Mahoney says, "so we set up black chairs and velvet ropes." In addition to filling 1,000 seats, people brought blankets and chairs to sit on the sidewalk.
Restaurant Associates
provided a concession area with typical drive-in and movie theater food, such as hot dogs, popcorn, and beer. Mahoney estimates attendees numbered more than 1,600.
REOPENING OF THE ICE RINK
For the 2003 reopening of the Rockefeller Center ice-skating rink, Mahoney wanted to host the event on a carpeted island in the middle of the rink with figure skaters performing on a 12-foot-wide strip of ice circling the island. "The challenge was how to get guests out to the island but allow skaters to circle the island [uninterrupted]," Mahoney says. He came up with the idea of building an ice bridge from the bull pen to the island. He approached
Iceculture
, a Canadian ice sculpture company, which originally said it couldn't be done. But after a couple of months of figuring out the engineering, the company built the bridge in Canada, where it could test the structure in its facilities, and then broke the bridge into numbered blocks and shipped it in large dry-ice containers. The 30-foot-long, 7-foot-tall bridge was then reassembled at Rockefeller Center, making a dramatic statement at the opening-night event.
DEMOCRACY PLAZA
In the two weeks leading up to Election Day, Mahoney and
NBC Universal
made over Rockefeller Center into
Democracy Plaza
, which provided a public civics lesson and a home base for the media company's various news outlets. "It is the largest event we've ever done at Rockefeller Center," Mahoney says, and preparations happened in just two months—the venue's quickest turnaround time ever.
A 65-foot-tall media tower held two 10- by 12-foot LED screens showing old campaign videos and memorable political speeches, and a 25- by 35-foot television screen showed a live broadcast from the broadcast booths cantilevered over the skating rink for NBC's local and national news teams and various cable outlets.
On the rink itself was a map of the United States used in NBC's election night broadcast. As each state was called, the state's color changed from clear to red or blue as a piece of fabric was placed within the state's borders on the rink and sprayed with water to freeze it to the ice.
The free exhibits—coproduced by event marketing company
Jack Morton Worldwide
—included the "Timeline of Democracy," a 50- by 200-foot tent with artifacts and memorabilia from 1776 to the present, including a full mockup of the Oval Office, one of the 25 original copies of the Declaration of Independence, and a section of the fuselage of
Nixon
's Air Force One. In the kids' area, children could write letters to the next president and pin them to a flag and learn how to vote at computerized stations. Before Election Day, Mahoney estimated that 1.5 to 2 million people had already walked through the exhibits. "Our goal was to create a lot of excitement and get people excited about voting and being a citizen," he said.
—
Ellen Sturm Niz
Posted 12.01.04
Photo: Dan Hallman for BiZBash (Mahoney)