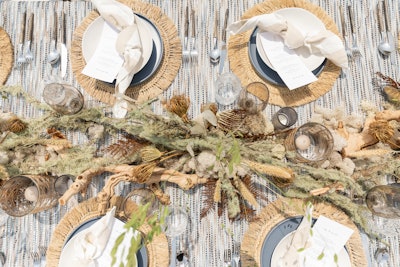 Photo: Kim Lyn Photography
Ah, Labor Day. The unofficial last day of summer that has Americans stashing away their white jeans and kissing summer Fridays goodbye. (Although, let's be real, do event profs ever truly log off?)
While summertime isn't officially over until Sept. 23, with Starbucks already manifesting cooler days with the release of its famed Pumpkin Spice Latte, we figured it's about time to ready the event industry for the changing of the leaves.
With that, treat this story as your September issue of Vogue, if you will, as we're serving up not only the latest and greatest, but also the forthcoming trends that are set to hit the event industry this upcoming season…
Natural Decor
After a summer of punishing heat waves, Jhona Ireland, an event sales manager at Center City District and the president of the Greater Philadelphia chapter of the International Live Events Association, has already noticed "a desire for people to be outside." And if you're already hosting an alfresco affair, Ireland challenges planners to "use an outdoor space's native elements to help the event feel more natural."
"The seasonal change in leaves already adds a golden glow to an outdoor space," Ireland says, so go leaf-picking to incorporate that auburn foliage into table decor, for example, or "incorporate a similar color palette" with human-made decor.
If you don't want to disturb a venue's natural landscape, opt for "pampas grass and dried floral elements [that] can unify the entire event space," or weave "ivy- and vine-inspired garlands [through] your food and beverage stations," Ireland suggests.
"From a sustainability perspective, using these native elements can also reduce the amount you need to bring in," points out Ireland, who also manages rental sales at public parks in the Philly area. "For example, if your space already has well-maintained flowers around, you may not need as much nonnative decor, which can secondarily lower your total budget."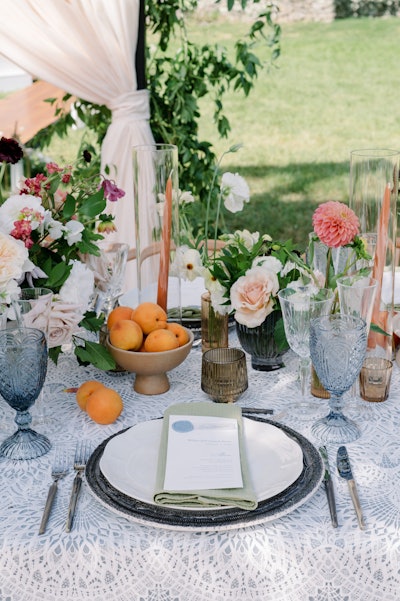 Layered Textures
It appears that layering doesn't only apply to fall fashion. Stefanie Skelley, the director of business development at New England-based event rental firm Reverie Social, says "tablescapes are no exception" to the mixing and matching characteristic of fall colors and textures.
Therefore, apply the same mentality of slipping a chunky sweater over a collared plaid button-down to your upcoming table decor. For Skelley, that means "juxtaposing textures, such as velvets, boucles or even crochet overlays." She pointed to Reverie's own fabrics, the Sophia Lace linen, which Skelley describes as "a delicate and vintage-inspired overlay" and suggests pairing with the plush Velvet Ocean linen. (The linens start at $75 and $3.95, respectively, depending on if they're used for a dinner napkin or tablecloth.) The duo "creates a tablescape of depth and intrigue," Skelley says.
The layering technique can also apply to colors, Skelley adds, noting that fall events can be "classic and refined without committing to an exclusively neutral or warm-toned color palette." In fact, opting for "moodier, darker hues" could make for a clever nod to temperatures beginning to cool down—something Skelley says she predicts will "become every event's staple" as of September. Look no further than Reverie's High Contrast Collection for inspiration, which features four different black and white patterned linen options.
Dan Carter, the senior vice president of creative at Freeman, agrees, and says his team has been exploring what he's dubbed "confidence in color," which are "rich, bold tones that help define modern [and] refined yet approachable environments."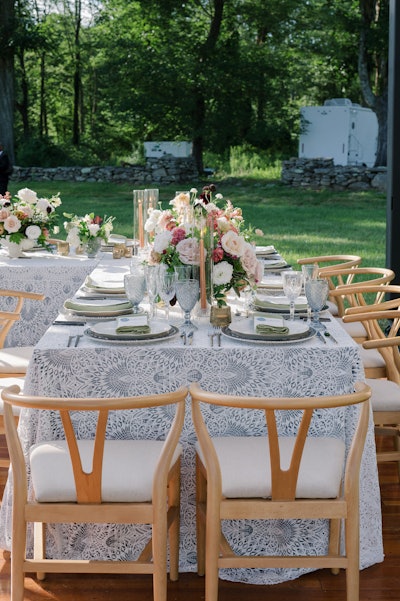 Quiet Luxury
There are always two color camps–those who won't shy away from a multicolored display and those who prefer neutral tones in what Gen Z has dubbed the "coastal grandmother" vibe. Luckily for event profs, Johanna Walsh, the vice president of production for experiential event tech firm Encore, says neutrals and beige are all the rage for establishing "quiet luxury."
"I anticipate soothing, neutral scenes and sets with a variety of wood tones and natural elements that are elegant and grounding," Walsh says.
Bobby Taylor, the principal and CEO of bicoastal furniture rental company Taylor Creative Inc., has been predicting the same forecast, hence the brand's foray into "transitional neutral palettes of sand, cream, and ivory" that are featured in boucle-upholstered sofas, subtly patterned pillows, and other lounge seating options that incorporate rattan features.
"This look is full of rich textures and sophisticated materials," Taylor says of a neutral motif.
Carter's favorite combos: dark blues and grays with deep greens, magenta, and even purple. For an added element of drama, the New York-based exec suggests bringing these tones into florals—which, yes, you can also incorporate into a trade show booth or convention pit stop. "This is a great response to the sea of washed-out tones and materials we often experience at trade shows… literally bringing the space to life," he says.
Dopamine-Enhancing Elements
Because events are a five-sensory experience, we couldn't leave out upcoming trends that go beyond decor and tap into emotions in ways beyond the physical space.
Jordan Kaye, the CEO of California-based Analog Events, says he's already seeing an increased amount of industrywide empathy, and we're here for it. "We've been in this spring coming out of COVID," Kaye says, citing the recent Hollywood strike between studios and unionized writers as well as West Coast-based hospitality on the picket lines as direct examples of "overworked vendors and clients."
However, "we are finally starting to see more empathy," Kaye explains, "from within the industry but especially from guests, [who] have become more understanding than ever."
In the spirit of being more human, Joe Rivers, the senior director of business development at Chicago-based event services company Czarnowski Collective, says robots will be more integrated into the IRL experience this fall. "Robots are retail marketing—and everything else," Rivers says.
"We're seeing increasingly frictionless, personal data-driven experiences, interactive displays, and brand narrative experiences," Rivers explains. "The robots are bringing a more 'human' and lucrative experience that blends URL data with IRL experience that is far more personal."
In fact, consumers can already see this type of tech in action, like at Amazon's cashier-less grocery stores, Rivers points out. Walsh adds that tech like this "captures attention and provides instant gratification, and the forthcoming dopamine hits are going to continue to drive content."
Event profs who are wary to start collaborating with computerized companions can still incorporate dopamine-enhancing elements into an affair by utilizing short-form video sizzle reels for pre-, during, and post-event marketing and engagement. For example, "YouTube shorts are taking over versus the long-form content that originally made the platform a household name," Walsh says.
"Shorter content 'bites' are going to go a long way. Keep people moving, interacting, and learning in tune with their shortened attention spans," she suggests.
Not sure where to start? Get inspired by these 15 event profs who have garnered a following on TikTok with their quick-hit videos on event inspiration, insights, and more.