Photo: Courtesy of Event Society
Want more content like this sent directly to your inbox? Then sign up for our brand-new BizBash Experiential monthly newsletter to stay in the know on the coolest, most creative ideas for engaging consumers and attendees!
Food is an essential piece of any event pie. After all, there's nothing that facilitates social connections like a tasty passed hors d'oeuvre or beautifully plated meal. Whether it's a food truck pop-up, fully immersive evening soiree, or even a rendezvous in a video game, event professionals have shown that there's truly a bite for all tastes.
Keep scrolling for a glimpse into summertime events from Tzuco, Tin Building, Event Society, and Heura—plus hear from the pros behind the experiences on how they used food to entice attendees, not to mention drive brand awareness and business.
---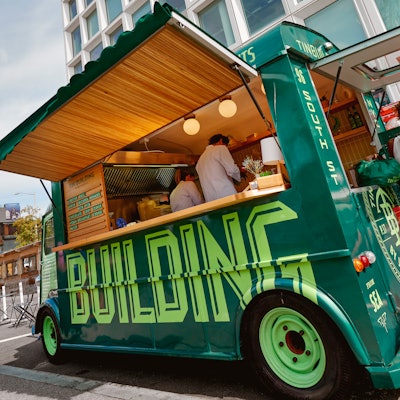 World-renowned French chef Jean-Georges Vongerichten knows the power of food first-hand. In New York City alone, chef Jean-Georges spearheads ABCV, ABC Kitchen, The Mercer Kitchen, The Fulton, and many more, including his newest venture, Tin Building. The historic culinary destination celebrates all-things food in a sprawling, 53,000-square-foot marketplace in lower Manhattan's historic Seaport neighborhood.
And to mark the opening of the food hall—which debuted earlier this month in what was formerly the Fulton Fish Market at The Seaport—chef Jean-Georges tapped local creative agency MKG to entice New Yorkers to the Tin Building with a mobile kitchen. Dubbed the Tiny Tin Food Truck, the 1970s-era vintage Citroen Truck traveled around New York state and served up chef Jean-Georges's favorite summer recipes, inspired by the new marketplace.
The rare vehicle became a must-visit food vendor with a design that incorporated faux tiles, an awning, and traveling outdoor furniture reminiscent of the ones in Tin Building. In an added nod to the venue opening, the Tiny Tin Food Truck was outfitted in the same green hues and industrial signage that appear in the Tin Building's branding.
Highlights on the complimentary sampling menu included lobster rolls, green chickpea hummus with pita, and cookies—all prepared in the food truck's full kitchen with hopes to draw hungry customers to the Tin Building.
The truck made its first appearance in the Hamptons in early August, followed by Domino Park, NYC's Meatpacking District, and Brookyln Bridge Park. Mark your calendars because in the weeks to come, the Tiny Tin Food Truck will pop up at Richard Tucker on Sept. 25, Bowling Green Sept. 27, and the New York Stock Exchange (NYSE) Sept. 28.
---
If 2022 brought the events industry anything, it was the emergence of the metaverse. From pop-ups, to a distillery experience, and a hotel stay—just to name a few—it seems only natural that it was time for a food-focused affair. Cue sustainable food brand Heura Foods, which took to Minecraft (yes, you read that correctly) to launch its newest product via online video game stream.
On Sept. 8, Heura unveiled Heura City in Minecraft to send more than 300,000 global participants on a journey through five mini-games to learn about the new plant-based offering, which has 22 grams of pea protein, 30% less saturated fat than a traditional burger, iron, and vitamin B12.
"We wanted to find an exciting way to let people know that there are delicious, healthy, and more sustainable options to enjoy your favorite foods," said Marc Coloma, Heura's CEO and founder.
And the benefit of going virtual? Minecraft, which boasts more than 3 million players each month, allowed Heura to reach a much wider "online community that understands the power of plant-based eating."
As a food activist himself, Coloma explained that he chose Minecraft as the event's platform as a way to partner social activism with technology to create an "inclusive food system that benefits everyone involved." The host of the event also modeled Coloma's values: Elisa Waves, a vegetarian gaming influencer who hosted the launch via her Twitch channel.
Heura City was a series of five interactive mini-games that served to highlight the benefits of plant-based eating. The crowd favorite? A parkour landscape where players needed to rescue animals by going through a series of obstacles.
And for the final challenge, players faced off with a labyrinth and had to construct an in-game Heura burger by selecting up to 10 ingredients used in a real-life burger to escape. Coloma noted that such interactive education fostered "community, learning, and solving real-world problems in a digital world."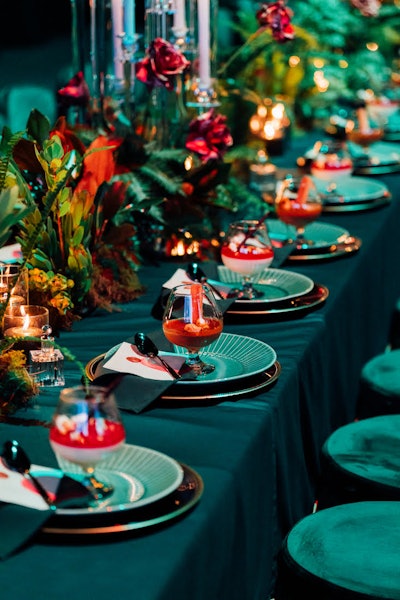 And during the event, educated spectators, including Waves, informed players on the brand's clean label claim, as well as its connection "to Mediterranean culinary heritage."
"By promoting this event, we were able to reach more Good Rebels in an online community that understands the power of plant-based eating," Coloma said.
---
On May 22, Australian event planning company Event Society invited 150 guests to the Gold Coast Convention and Exhibition Centre (GCCEC) where, upon entering the opulent Emerald Room, they were transported into a never-before-seen, fantastical world.
As if it were straight out of a fairytale, projected lighting and a sea of candelabras drenched the room in an ethereal glow. And to further lean into the venue's name, tablescapes boasted emerald linens, crystal glassware, and over-the-top arrangements of live greenery and lush roses.
And although the room's decor was a notable element of the dinner affair, which was created for local and international event professionals to get a taste—literally—of what the Emerald Room at the GCCEC is like, it was the accompanying menu that the industry profs were sure to write home about.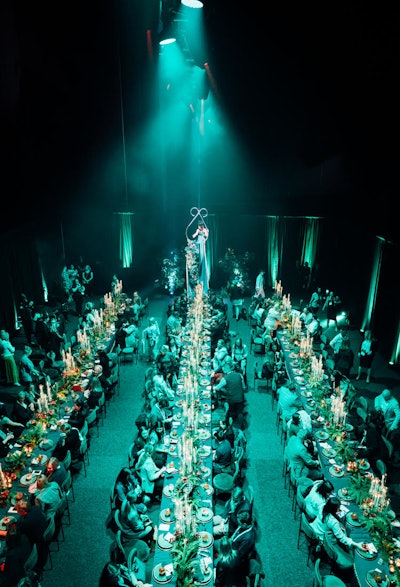 Event Society's creative director Decinda Burrell explained how the progressive dessert menu indulged taste buds in an effort to entice planners to host their next to-do at the beachside venue. On the menu: a chocolate mousse drenched in orange syrup and a vanilla crème mousse and topped with strawberry film, both paired with an Australian white sparkling wine.
"The dessert was presented to match the beauty of the room, in colors that popped against an all green color palette of the rest of the room," Burrell said, adding that "it was designed to fill the brief on a practical level, but also to be a feast for the eyes and the tastebuds."
To indulge all five senses, perfumed oil bottles were available at each table setting, and entertainment included an aerialist playing Persephone—a goddess named after spring and immortality—who sat perched stop an aerial apparatus dressed in an emerald gown that trailed down to become the tablecloth.
"This installation created layers upon layers of experience for our guests," Burrell said. "[It] was a true feast for the senses."
---
Mexican restaurant Tzuco in Chicago celebrated its third anniversary on Sept. 15—the day before Mexican Independence Day—with a five-course feast paying homage to the country.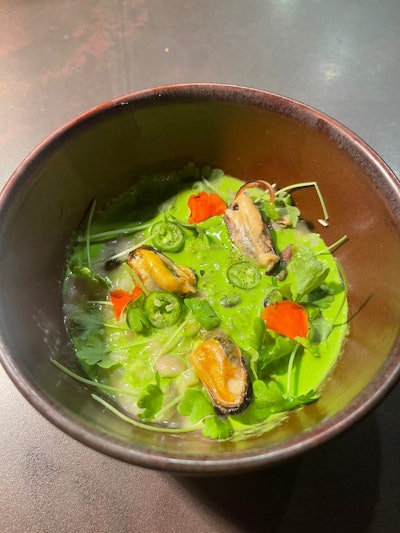 Head chef and owner Carlos Gaytán invited 250 guests, including acclaimed chefs from Mexico and Latin America, to prepare dishes for the farm-to-table experience. The evening affair tantalized tastebuds by taking attendees through a culinary Mexican experience, beginning with a welcome cocktail that was made of a blend of Herradura Reposado, Cointreau, cactus syrup, Cocolero, and lime juice.
For the first course, chef Claudette Zepeda served guests huitlacoche tlacoyo, a classic Mexican appetizer chef Zepeda elevated with tuna, oaxaca beans, and pasilla chili mixe. Chef Yvan Mucharraz helmed the second course, which consisted of madai "zarandeado" (a type of grilled fish), ayocotes, grilled avocado, tomato raisins, quelites, and a spicy bottarga emulsion.
The third course, chef Javier Plascencia excited guests' palates with green rabbit, pork chorizo, and mussels served with rice while the fourth course—prepared by chef Gaytán himself—was noteworthy for its Kobe beef, burnt onion puree, and pickled black trumpet mushrooms.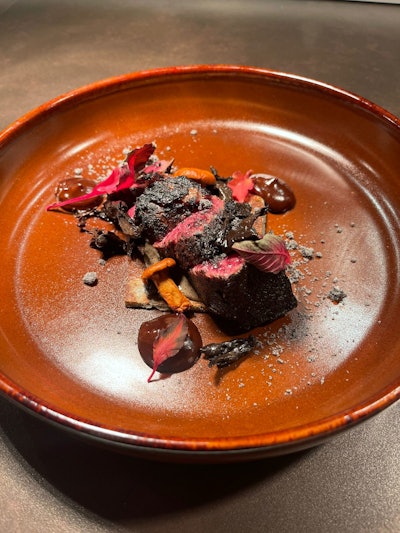 "When I think about elevating Mexican gastronomy, I always think about phenomenal ingredients that represent my homeland and securing the absolute best quality to make every dish authentic," chef Gaytán said.
Have room for more? The fifth and final course finished the meal with "Coco 5 Ways," a dessert with coconut sponge, coconut praline, and coconut rocks by chef Juan Gutierrez.
"These guest chefs helped us pay tribute to Mexican cuisine today, honoring the Pacific side of the country, by elevating the ingredients to the next level," chef Gaytán explained of the night.
And to ensure a one-of-a-kind dining experience that really showcased Mexican cuisine to customers, Tzuco even flew some ingredients in from Baja California to ensure they were altogether authentic, seasonal, and fresh.