Giving Thanks
Kim Crawford Wines held a midnight masquerade party and wine tasting Thursday night to thank—and market to—the bar and restaurant staff who serve their products.
November 11, 2008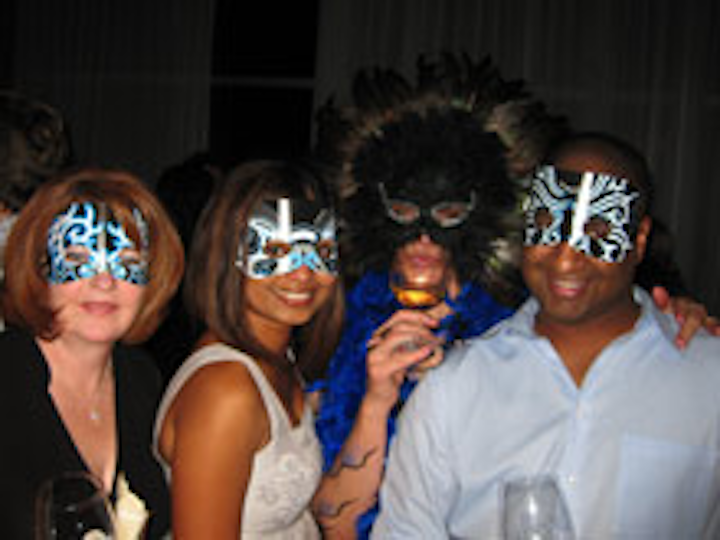 Photo: Amanda Dolotowicz
To thank the hundreds of Toronto bar and restaurant staffers who serve Kim Crawford Wines, the winery and its Canadian owner Vincor held a midnight masquerade party Thursday night at Panorama. The appreciation event—which the winery's cofounder Erica Crawford first hosted in Auckland, New Zealand—ran from 11 p.m. to 2 a.m. to accommodate guests' work hours.

Vincor skipped the usual May date for the party due to a busy schedule, but Colin Brodie, marketing manager for Kim Crawford Wines at Vincor, said the feedback they got from previous attendees pushed them to reschedule for November. "So many wine brands are conservative, but we want this brand to be hip and edgy, and this event gets people excited about it," said Brodie.
Vincor played up the midnight masquerade theme of the event by sending out paper masks with six different designs as invitations and using black light in Panorama for a glow-in-the-dark atmosphere. Due to the venue's location on the 51st floor of the Manulife Centre, the more than 200 guests who stopped by the party had to wait in line before entering the elevator with a wine glass for the upstairs sampling of seven wines.

Erica Crawford, who flew in from New Zealand for the event, thanked guests for their contribution to Kim Crawford Wines' success in Canada. As a further thank-you gesture, attendees received a bottle of wine as they left the party.
Featured Venues/Suppliers: