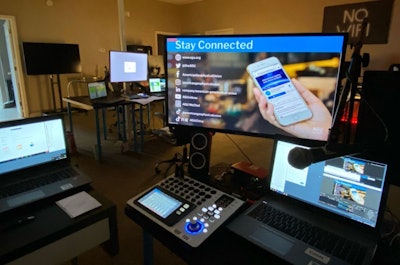 Photo: Courtesy of the American Geophysical Union
As many meeting planners have learned over the past year, there may be nothing more intimidating than sitting in your home office, taking a virtual event live and hoping all goes well. In addition to the stress of troubleshooting remotely, you're missing the camaraderie of a group of people working together to get it done.
So when planning the American Geophysical Union's virtual annual meeting—which spanned 13 days, with 27,000 attendees and thousands of sessions running nonstop for 20 hours each day—the team knew that having producers spread through the country just wasn't feasible.
The solution? A central, socially distanced command center where an in-person team of 11 people could safely work together on-site for the duration of the almost two-week meeting, which ran from Dec. 1-17, 2020, and featured 1,000 semi-live sessions and a whopping 10,000 prerecorded sessions.
Each person in the group—made up of American Geophysical Union (AGU) staffers as well as members of the event's production team, Projection—had their own station 10 feet from anyone else, and they communicated through headsets. (More members of the production team worked from home offices.) Between the headsets and a massive, 26-screen viewing center, producers could see and hear every single session taking place at a time, communicate with the team in charge of each and troubleshoot in real time.
"We realized as the meeting grew that managing that scale of complexity, remotely, is really hard to do," explained Lauren Parr, vice president of meetings at AGU, who insisted that her desk be positioned directly in the center of the command center. "With all of these people working together behind the scenes, we were much more quickly able to troubleshoot issues and repair them or fix them. Blood pressure-wise, stress-wise, I would not have survived this remotely. I needed to be with my people."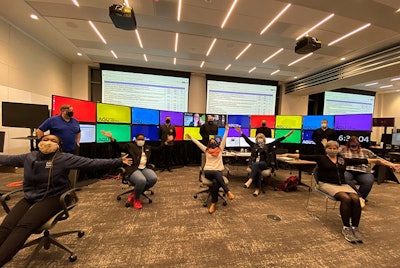 Conscious of the massive undertaking, the team didn't immediately launch 26 concurrent sessions on day one; instead, they launched seven or eight tracks the first day, and a few more the following day, to get "our sea legs," said Matt Hughes, senior account manager of Projection, noting that the team was coordinating with 12 different companies at once, including main platforms Confex and Intrado—which led to some growing pains the first few days. "We had a daily meeting every day to figure out how the morning went, because we had kind of a heavy morning, and then a light afternoon and a heavy evening. It was a very fluid situation the entire time."
He added, "By the time we got to week two, we were ready, ripping and roaring. We got all of our protocols down exactly the way we needed to be."
To further accommodate any tech glitches the first few days, the team treated it as a sort of "soft launch," noted Parr, adding that sessions were simultaneously streamed live on Facebook. "So in the event that you couldn't get into the platform, or didn't have the bandwidth or were just figuring it out, you could still get that content."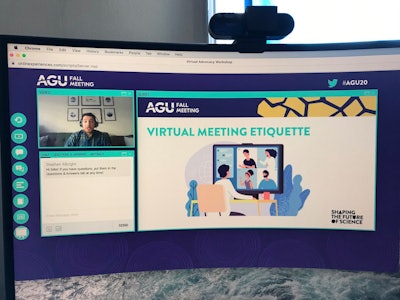 Parr said the majority of attendees—who were primarily earth and space scientists as well as educators and students—joined the event for about three to four hours per day. The team tried to be conscious that almost 40% of attendees were not based in the United States, so there was what she called a "chase the sun" model, where people could tune in when it made sense in their own time zones. (The AGU, which was founded in 1919, is headquartered in Washington, D.C., but has over 62,000 members in 144 countries.)
There were also captions and accessibility features to offer interpretation, and participants could enable captions for both live and prerecorded sessions. Much of the content, like main lectures and union sessions, is still available online—though Parr is careful not to make everything available. "Because we did charge a registration fee, we're also working to protect the value of that virtual registration," she said.
For its 2021 meeting, taking place Dec. 13-17, 2021, the team is planning a hybrid experience, with worldwide virtual participation along with in-person attendees in New Orleans.
"We view virtual meetings in the future, as a fantastic accelerator to the meetings we want to create—the most diverse meetings, the most inclusive meetings, with ways to include people who could never afford to travel or take the time to travel," said Parr. "And now we have this really unique and robust way to include them."
This story originally appeared on BizBash's parent site, connectmeetings.com, here.