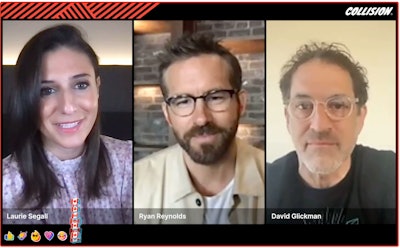 Photo: Courtesy of Collision
TORONTO—A year ago, Web Summit announced that its widely attended Toronto-based technology conference would be taking place entirely online. Despite having provided remote access to the event in previous years, the idea of virtually navigating hundreds of activities and trying to network among thousands of people was daunting—especially early into COVID-19 lockdowns.
But "Collision From Home" attracted 32,000 people in 2020—a 25% increase compared to 2019—effectively demonstrating the value of enabling startups, investors, business leaders and tech influencers from around the world to gather from their own homes. (It even earned a spot on our list of 2020's most innovative meetings for its creative two-screen approach.)
Collision 2021, which ran from April 20-22, built on that success, welcoming around 38,000 attendees from roughly 100 countries. The event featured a star-studded speaker lineup that included Ryan Reynolds, David Beckham, Nicole Kidman and Mark Ruffalo, while talks focused heavily on health tech, smart cities and social inequality issues.
All the same, organizers emphasized that helping attendees make connections is central to the success of an online conference. "Ideally, the software itself should feel like it doesn't exist, and simply facilitate meaningful interactions between people," Web Summit co-founder Paddy Cosgrave told BizBash. "In my view, the main purpose of an online conference isn't to consume content, but to create a space for attendees who may be geographically disparate to connect. That's what we've really focused on providing this year."
BizBash explored Collision's 2021 experiences available through a web and mobile app. Here are our key takeaways for event and meeting pros planning their next virtual or hybrid conference.
Build on attendee expectations.
Over the past year, Web Summit focused on upgrading the platform that hosts Collision to accommodate bigger audiences and improve user experiences. "Last year, we had a very short turnaround time," said Dr. Michael Sexton, CMTO for Web Summit. "But months later, we ran our main Web Summit conference online, with an even larger audience. Now, we've put about 200,000 people through the platform, so we've gotten a lot more comfortable with the scale, and have iteratively enhanced the platform's UX and UI to make it easier for people to socialize."
Simplify schedule management.
Both the web and mobile app for the conference were designed to make day-planning easier. The web app allowed attendees browsing through activities to filter by date, topic, duration and format, and manually search for events of interest. The mobile app allowed users to review channels used to group activities by type and update their calendar on the fly. Both options displayed reminder notifications throughout the day and automatically grayed out past events.
Offer intelligent recommendations.
Choosing from more than 75 hours of activities to attend over three days may feel overwhelming. When completing their profiles, attendees were asked to share topics they have expertise in, as well as those they're interested in and their social media accounts. Based on this information, the platform's algorithm determined roundtables, masterclasses, Q&As and more to recommend. It matched attendees using the Mingle networking feature for three-minute video calls.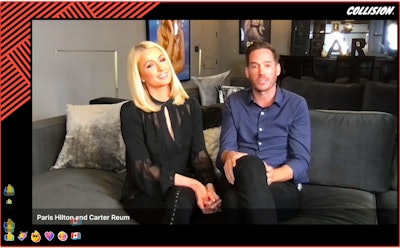 Nonstop networking is key.
At any time, users had the ability to send connection requests, introductory messages and calendar invites for private one-on-ones to companies or individual participants. The mobile app also provided a suggested list of contacts to network with—and showed a selection of similar contacts within each profile. Attendees could also export and email a complete list of new contacts, and users could be blocked and reported for inappropriate behavior.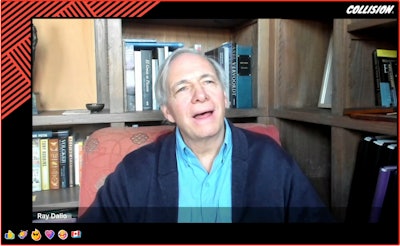 Spotlight partners.
Promoting opportunities for attendees to engage with partners and sponsors can present a challenge in a virtual setting. In addition to highlighting various talks hosted by Collision partners and showing video pre-roll ads showcasing their initiatives, the mobile app provided a full list of partners available for meetings, as well as a series of exclusive offers such as free trials, service discounts and industry insight reports.
Make time for fun.
It goes without saying that finding innovative ways to keep audiences entertained should always be top of mind. This year, Collision offered a variety of fun experiences, including a Jägermeister mixology class, a skincare secrets school led by Dr. Barbara Sturm and a crash course on becoming a social media influencer with Flighthouse CEO Jacob Pace.
Champion thought leadership.
Collision 2021 included numerous talks addressing the return to live events, virtual entertainment opportunities, the future of conferences and tradeshows, and more. Web Summit also provided insight into what hybrid events beyond the pandemic may look like: "Once a conference starts—whether you're attending in-person or online—you have a very finite window to meet people," said Cosgrave. "But imagine doing a series of quick video chats with other attendees during the weeks leading up to the conference to determine who you really want to book 30-minute meetings with. That's just one way software can help transform the hybrid event landscape."