Most Innovative Meetings 2019: #6 Collision Conference
The tech conference, held in Toronto for the first time, made big strides toward gender equality.
November 5, 2019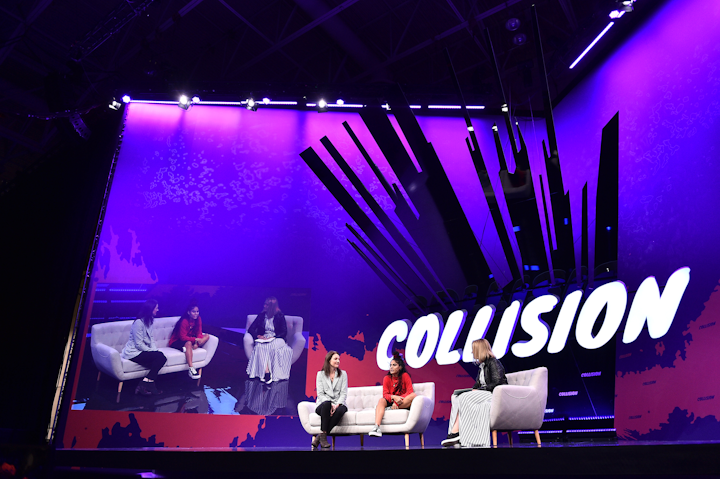 Photo: Sam Barnes/Collision via Sportsfile
The annual Collision tech conference—which has been nicknamed "Coachella for Geeks" and is now one of the biggest events in North America for tech entrepreneurs—made a major move for its sixth edition in May. The event relocated to Toronto, marking the first time the conference took place outside of the U.S.
This year's Collision reported its best gender ratio among attendees so far—45.7 percent of conference attendees were female, compared to 42.5 percent at last year's event in New Orleans. The increase correlates with Collision's Women In Tech program, which was established in 2016 in an attempt to boost women's attendance at the event.
The initiative—which also applies to Web Summit, Collision's popular sister event in Portugal—offers heavily subsidized tickets to women around the world; in 2016, 10,000 tickets were offered, and that number has since grown to 25,000. The way it works: When women refer each other to Women in Tech newsletter, they get a discount code for general attendee tickets.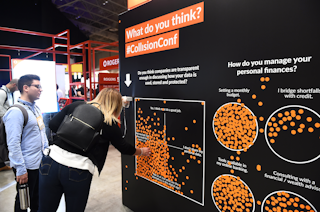 Several "What Do You Think" structures on the conference floor asked guests questions on everything from monthly budgets and social media to work-life balance and A.I. People could place orange dots in a circle that corresponded to their answer.Photo: Eóin Noonan/Collision/Sportsfile
Within the event itself, Women In Tech attendees could choose between three tracks: "grow," "lead," or "change," and then schedule 20-minute mentoring sessions with prominent female leaders. There were also a series of high-profile women speakers, including Kara Swisher, editor at large at Recode; Laura Miele, chief studios officer at Electronic Arts; and Peggy Johnson, executive vice president of business development at Microsoft.
Collision, which organizers say has "the energy of a music festival and the output of a business conference," overall had 730 speakers across 14 tracks, including marketing, design, coding, robotics, SaaS, big data, and content creation. Other speakers included celebrities who have ventured into the tech sector, including Seth Rogen, Joseph Gordon-Levitt, and Timbaland; Canadian Prime Minister Justin Trudeau spoke at the conference's opening night.
Attendees could also attend roundtables and workshops, plus networking events on and off the conference floor, which were discoverable via the conference app. The conference also featured numerous tech-focused partner activations and lounges from brands such as Interac, Bank of Montreal, Air Canada, Airbnb, and Engineer.ai.
Next: #7 Staples Sales Conference
Back: #5 Summit L.A.
Back to the 15 Most Innovative Meetings 2019 list