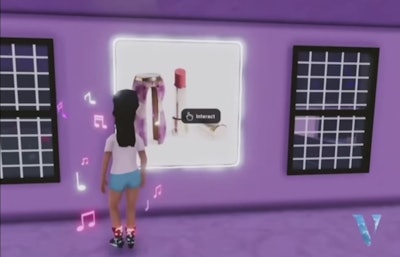 Screenshot: Courtesy of Fournier PR + Consulting
Want more content like this sent directly to your inbox? Then sign up for our brand-new BizBash Event Tech monthly newsletter to stay in the know on the latest event technology news and tools to elevate your meetings and events.
Back in January, Valdé Beauty hosted a product launch party. It featured a live DJ, product displays and industry influencers. The venue, though, was anything but ordinary.
Held inside the Ainsley Gallery in Decentraland, a metaverse where investors can purchase "real estate" for virtual storefronts, the event celebrated the launch of three limited-edition luxury lipstick cases, which were displayed in the site's NFT gallery. The brand's Divine Crystal Lipstick Armors were also accompanied by NFTs that were created in collaboration with Latina artist Serena Elis and fashion artist Adriana Krawcewitz.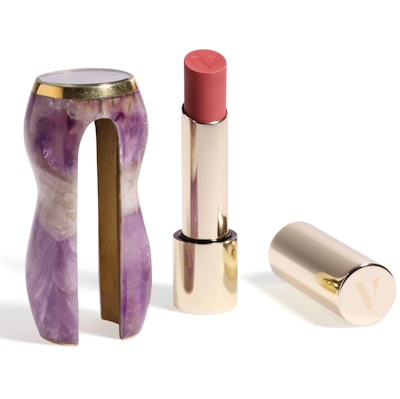 But why launch a lipstick in the metaverse?
"It is more interactive and also more fun to be completely honest," explained Marie-Laure Fournier-Uder, president of Fournier PR + Consulting, about the decision to host the event in the virtual space. Valdé Beauty is a client of the New York-based PR agency. "We were able to attract a crowd passionate about NFTs and art, and supporting women from all other the world at the same time and the same place."
Built by World of Women, a project composed of 10,000 NFTs by women, the Ainsley Gallery aims to elevate and support female-led projects. It allows users to rent frames, so they can display their work without buying space. The virtual venue also plans to host events that align with female empowerment, digital art, fundraisers and female-first initiatives such as book clubs, wine tastings and more.
"Decentraland has been one of the metaverse worlds which has been very open to women-led projects and is a very interesting space for art collections," Fournier-Uder said. "They have different spaces and galleries that have the support of strong female-empowering groups who are making a real change in the metaverse universe for women and encouraging female artists from all over the world." The agency claims that the event was the first launch party held by a beauty brand in the metaverse.
Later this month, Decentraland is also hosting its first Metaverse Fashion Week, where attendees will be able to virtually experience fashion shows, attend live music sessions at branded after-parties and buy and wear digital clothing directly from avatars. There will be showrooms, stores, talks and events during the four-day virtual event.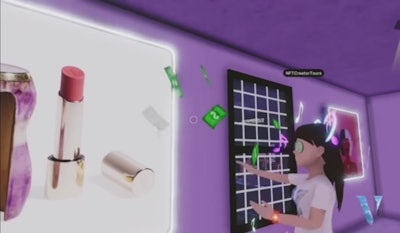 Unlike other avatar-based virtual event platforms, people are able to own their digital assets in Decentraland, while exploring and communicating with others within the virtual world. The platform also uses blockchain technology to power everything—from buying land to making transactions. "Seeing how blockchain technology empowers artists to gain ownership of their work, create legacy and record authenticity, we knew we could influence this space for good and create something amazing while doing it," said Margarita Arriagada, founder of Valdé Beauty.
Attendees were able to purchase the products through NFT platform Bitski. A $1,200 lipstick case comes with the brand's full collection of shades. Plus, along with the corresponding digital artwork, buyers receive lifetime membership to the brand's newly created Valdé NFT Collective. Members enjoy access to VIP community experiences and perks, as well as invites to talks with the brand's founder, celebrity makeup artists and musical artists. Members also receive a special digital wearable to sport at future metaverse events.
In Decentraland, events are publicly listed, allowing anyone—not just those on the guest list—to attend. You just need an avatar. More than 600 attendees showed up. "At our Valdé Beauty launch party, people were using their avatars to speak, dance, clap and even blow kisses as a way of communicating with one another," Fournier-Uder said. "People were making genuine connections with one another, and through this were able to discuss the collection, explore the gallery and dance to the live music there together. It was magical."
As we've seen with other types of virtual event tech, a digital experience in the metaverse can be less costly than an IRL one—making it an attractive option for smaller, indie brands. Valdé Beauty hired a digital technology developer to construct the virtual environment.
"I think after what we have lived through, the metaverse enables us to create worlds and images that are a complete escape and reflect the values of the brand," Fournier-Uder said. "People do not need to leave their house and they can jump in for 10 minutes or an hour; it is very convenient. You also are able to meet other people from different continents that share the same interest, and this is a wealth on its own—to learn and discover other people's points of view and values."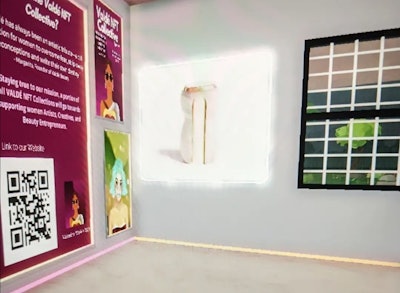 Want more content like this sent directly to your inbox? Then sign up for our brand-new BizBash Event Tech monthly newsletter to stay in the know on the latest event technology news and tools to elevate your meetings and events.