Podcast: Why Event Design Should Never Come First, and Other Tips from a Top Event Producer (Episode 187)
Author and event planner Gianna Gaudini discusses the power of emotion, why producing events is a team sport, staying healthy on event day, and much more.
March 10, 2020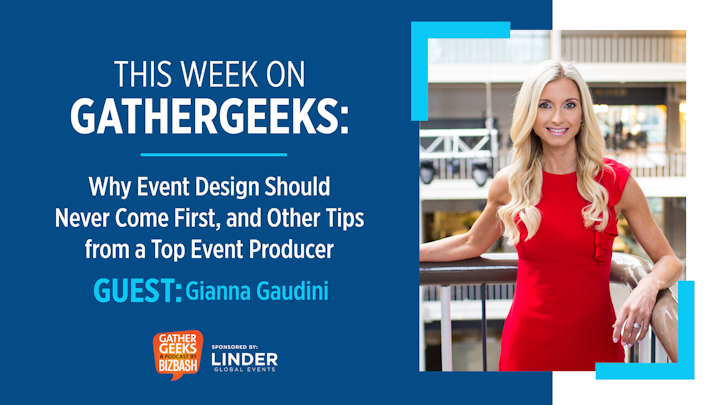 Hosts: David Adler, Beth Kormanik
Guest: Gianna Gaudini
In this episode of GatherGeeks, BizBash C.E.O. David Adler chats with Gianna Gaudini, author of The Art of Event Planning: Pro Tips From an Industry Insider. Gaudini discusses what she learned in a decade of planning events for Google, why she says that "everyone is an event planner," and tips for creating a cohesive event narrative from start to finish. She also shares tips for staying healthy and focused on event day, why personalization is crucial for attendees, learning to trust your team, and much more.
Sponsored by Linder Global Events. Running time: 1:01:26
Show Notes
Roundtable Discussion: why event planning will never be automated; how event teams work at large corporations like Google; best practices for press lounges; learning to own up to your mistakes; future trends she's excited about
Further Reading:
Q&A: 'Everyone Is an Event Planner,' and Other Insights From a Veteran Google Producer: https://bit.ly/32LScba
Buy Gianna Gaudini's book: giannagaudini.com
This Episode Is Sponsored By: 
Linder Global Events
A leading events agency based in Washington, D.C., Linder has a global footprint. Since their founding in 1996, they have partnered with internationally recognized clients such as the Smithsonian Institution and the iconic National Cherry Blossom Festival to produce and manage innovative and experiential events that don't just engage—they inspire. To learn more about Linder Global Events, visit linderglobal.com.