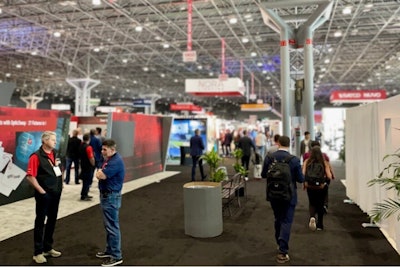 Photo: Courtesy of Map Your Show
It's easy to say that exhibitors are one of the pillars of your event's success. Understanding how to attract and retain them is a science. Read on as we uncover five quick tips on increasing and maintaining your exhibitor count for years to come.
1. Know Your Exhibitor
Understand that each event is unique, and so are your exhibitors. Identify key exhibitors to target and create unique buyer personas for them. Once you have created the buyer personas, you can focus on tailoring your trade show to their needs and offering experiences that each persona may be interested in.
2. Offer Versatile Booth Spaces
Adapt to changing exhibitor needs by providing diverse booth space options. Allow exhibitors to customize their booths and consider including Island Booths and Peninsula Booths for added appeal and increased foot traffic. Within the Map Your Show Floor Builder module, show management teams can also view the maximum fit for their exhibit halls to assist with placement before the booth selection process.
3. Effective Communication and Education
Keep open lines of communication with your exhibitors. To engage them, utilize various communication methods, including email, social media, and other notifications. Prioritize exhibitor education with pre-show webinars and comprehensive checklists to ensure their success.
4. Enhance Marketing and Sponsorship Opportunities
Elevate exhibitor returns by offering a range of marketing and sponsorship options. Consider online content, on-site sponsorships, and unique opportunities that benefit both exhibitors and your event's revenue.
5. Analyze Exhibitor Statistics
Continually improve exhibitor experiences by collecting and analyzing exhibitor-specific data. Use insights to demonstrate the value of your show and the impact of sponsorships on exhibitor success.
---
By understanding your exhibitors, providing versatile booth options, fostering effective communication and education, enhancing marketing opportunities, and analyzing exhibitor data, you are implementing key strategies to increase exhibitor participation and ensure your trade show's long-term success.
For more in-depth guidance, including buyer persona templates and examples, a comprehensive checklist for exhibitors, and more, explore Map Your Show's additional resources and connect with the Exhibitor Engagement Team. Together, we can elevate your trade show to new heights.