Wynn Las Vegas: Five-Year-Old Rooms Get Decor Overhaul
September 13, 2010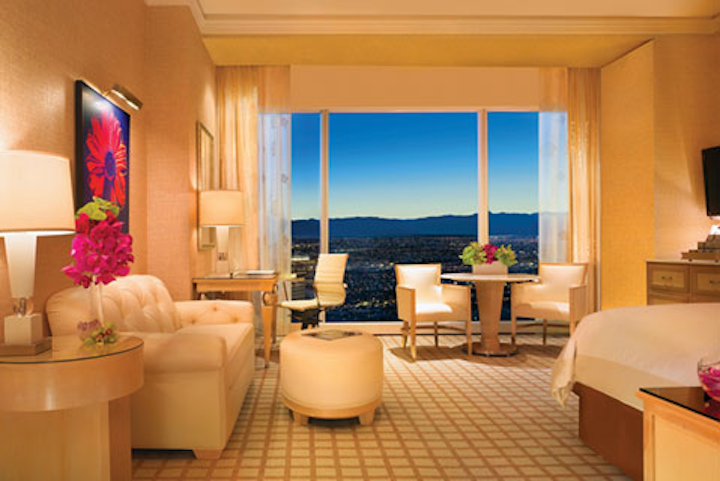 Photo: Barbara Kraft
Gathering no moss, Wynn Las Vegas has unveiled the first of its completely renovated resort rooms. Designed by Roger Thomas, executive vice president of design for Wynn Design and Development, the rooms have new wallpaper, carpets, chairs, couches, and lamps. The property says the rooms continue to maintain the functionality, spaciousness, configuration, and "casually elegant residential quality" they've had since the hotel opened in 2005. The renovation at Wynn Las Vegas encompasses all guest rooms and suites and is slated to continue through early 2011.

With neutral and creamy decor, the Resort Deluxe room offers a flood of natural light from floor-to-ceiling windows, and has new modern furnishings and fabrics. Technologies like remote-control lighting, drapery, and room service messaging provide additional comforts and privacy. Rooms include either one king bed or two double beds in 640 square feet with a view of the golf course or the Las Vegas Strip.
Views of the Strip and the 18-hole golf course are also available from the upgraded Panoramic View Deluxe room, which has wall-to-wall, floor-to-ceiling windows. Evocative of a residence, the room also feels resort-y, with automated technologies. Panoramic Corner View Deluxe rooms have views of both the Strip and golf course.
"Wynn has been open for just over five years, and we felt is was time to do more than just refresh the rooms, but to really give them a completely different feel," said Wynn Las Vegas and Encore president Andrew Pascal in a release. "The new rooms are fresh and crisp and light; they are incredibly uplifting."
Featured Venues/Suppliers: